Nazwa dramy: Eulachacha Waikiki/ Go Go Waikiki / Welcome to Waikiki / Laughter in Waikiki
Hangul: 으라차차 와이키키
Reżyser: Lee Changmin
Scenarzysta: Kim Kiho
Stacja telewizyjna: jTBC
Ilość odcinków: 20
Długość odcinka: 1 h 5 min
Wskazana dla widzów: 15+
Data wydania: 5 luty 2018 – 17 kwietnia 2018
Czas emisji: Poniedziałek, Wtorek o 23:00
Gatunek: Komedia, Przyjaźń, Romans, Obyczajowa, Młodzieżowa
Zarys fabuły:
Kang Donggoo marzy by zostać reżyserem, jednakże jest cyniczny przez swojego pecha. Cheon Jooki chce podążać drogą swojego ojcia i chce zostać aktorem, ale gra tylko małe, bezimienne role. Bong Doosik przyjechał do Seulu by zostać scenarzystą, jednakże dla niego też nie było łatwo.
Tych trzech mężczyzn zakłada guesthouse Waikiki w Itaewon. Ich noclegownia chyli się ku bankructwa dopóki tajemnicze dziecko i jego samotna matka nie pojawiają się w Waikiki.
OBSADA:
GŁÓWNE ROLE: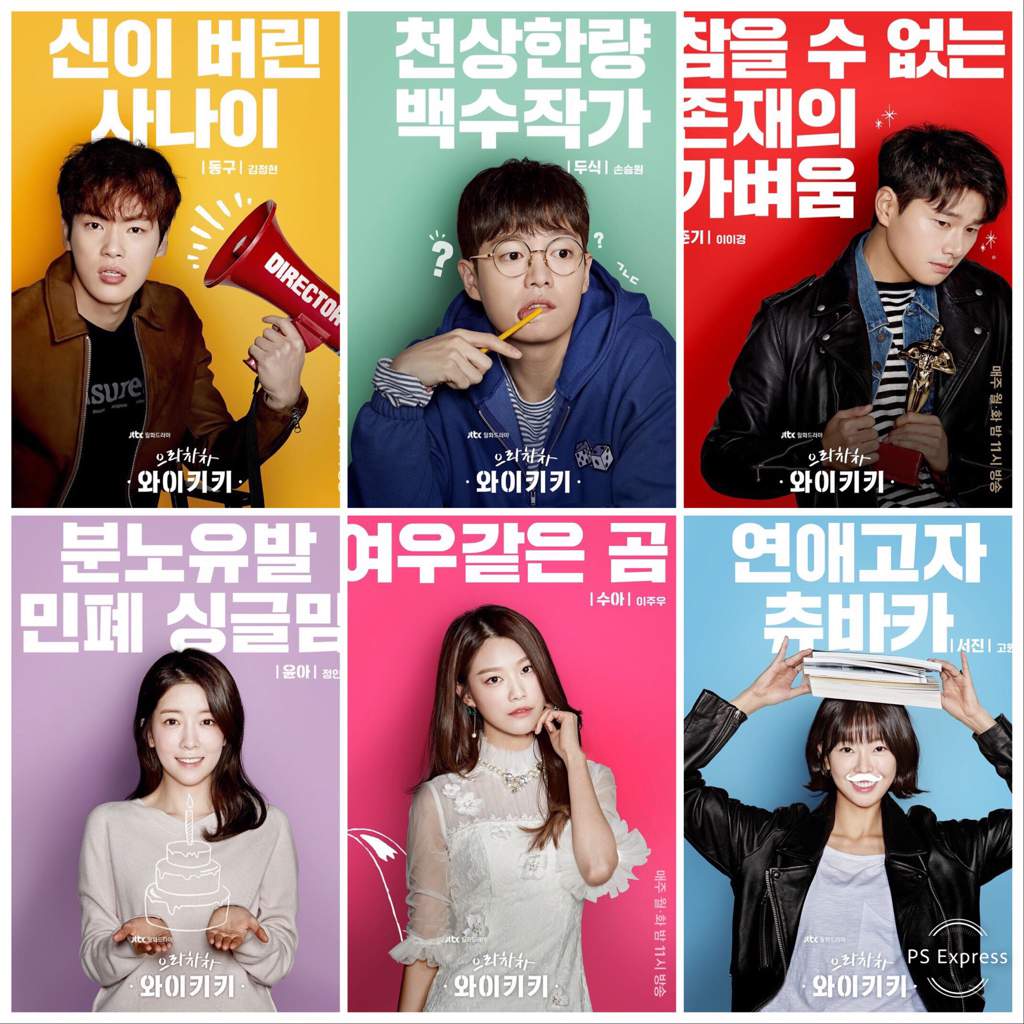 POZOSTAŁE ROLE:
Kang Kyungjoon – Son Hyunjoon
Go Minshi – Lee Mina
Kim Hochang – Lee Sanghyun
Park Wangjae – prowadzący wywiad
Park Youngsoo – właściciel sklepu spożywczego
Kim Hochang – Lee Sanghyun
GOŚCINNE ROLE:
Jung Gyoosoo – szef agencji (odc. 19-20)
Kim Byungse – Park Changho (odc. 12)
Tae Inho – Kim Jaewoo (odc. 11-12)
Kim Kanghyun – ojciec (odc. 17)
Shin Hyunsoo – Filip [model](odc. 16)
Lee Hayul – Seo Jinwoo (odc. 16)
Jeon Sookyung – właścicielka budynku
Song Jaehee – Jae Hyun
Park Sungwoong – siebie
Han Jisang – chłopak Seojin
Han Bobae – Yoon Malgeum / Cherry (odc. 8-9)
Shin Damsoo – Tak Myunghwan [reżyser filmowy]
Jung Sooyoung – pracownica sklepu sieciowego
Kim Seohyung – Kim Heeja
Lee Dukhwa – siebie [ociec Joonki'ego]
Kim Youngok – babcia na imprezie
Wheesung – siebie (odc. 6)
Kang Kyunsung – siebie
Seo Eunwoo – Ji Soo (odc. 3)
Minha – Yerin (odc. 8)
Seol Junghwan – Lee Yoonseok (odc. 1-2, 10-11)
Yoon Seah – nauczycielka Gonggi (odp. 12)
Jo Woori – Sunwoo (odc. 5)
Kim Kiri – MC Dacopy (odc. 19)
Kim Jinwoo – ojciec Sol (odc. 19-20)
Lee Jinha – matka Jisoo
Ryu Hyerin – Jin Joo (odc. 18)
Hwang Injoon – detektyw
Lee Jinmok – kierowca busa
Kang Hongsuk – fałszywy chłopak Seojin
Choiri – Jimin, dziewczyna, która robiła brazylijską depilację Junkiemu (odc. 3)
Lee Yoomi – Jiyoung
Choi Gyoshik – reżyser filmowy
Shin Seunghwan – Min Soobong
Lee Jaewook – reżyser filmowy
Jung Jongwoo – facet noszący wodę (odc. 17)
Mi Seok – szef budowy
Kim Kihyun – Min Kiyoung (odc. 13)
Seo Eunyool – Joon Yi
Min Daeshik
Sung Changhoon
Kim Ohbok
Kwon Soohyun
Chang Taemin
Hwang Sangkyung
Lee Chang
Hong Boohyang
Sung Chanho
Ciekawostki:
Przed tą dramą o tej godzinie leciała drama "Rain or Shine", a po niej leciała drama "Ms. Hammurabi", która rozpoczęła się 21 maja 2018.
Jedna z głównych ról była zaproponowana Ryu Hwayoungowi, jednakże on odrzucił tę rolę.
Pierwsze czytanie skryptu odbyło się 18 grudnia 2017.
Z powodu tego, że drama była bardzo popularna rozszerzona o 4 odcinki z 16 do 20.
W 2019 roku drama doczekała się sequelu w postaci "Eulachacha Waikiki 2".
Teasery:
RECENZJA:
Neko:
Ogólnie nie przepadam za bardzo za tym jak drama jest przedłużana, choć tutaj w miarę scenarzyści zachowali fason. Drama rozbawiła mnie do łez i szczerze dalej mnie rozbraja(zaczęłam ją oglądać jeszcze raz z przyjaciółką). Żarty są świetne, nie jest to również typowa koreańska drama. Ogólnie jak nie lubię dzieci to Han Yeoreum zdobyła moje serduszko, to dziecko jest takie śliczne i urocze…
W sumie z lekkim sercem polecam wam tę dramę 🙂 Miłego oglądania!
Gra aktorska: 8/10
Muzyka: 9/10
Ogólna ocena: 8,5/10