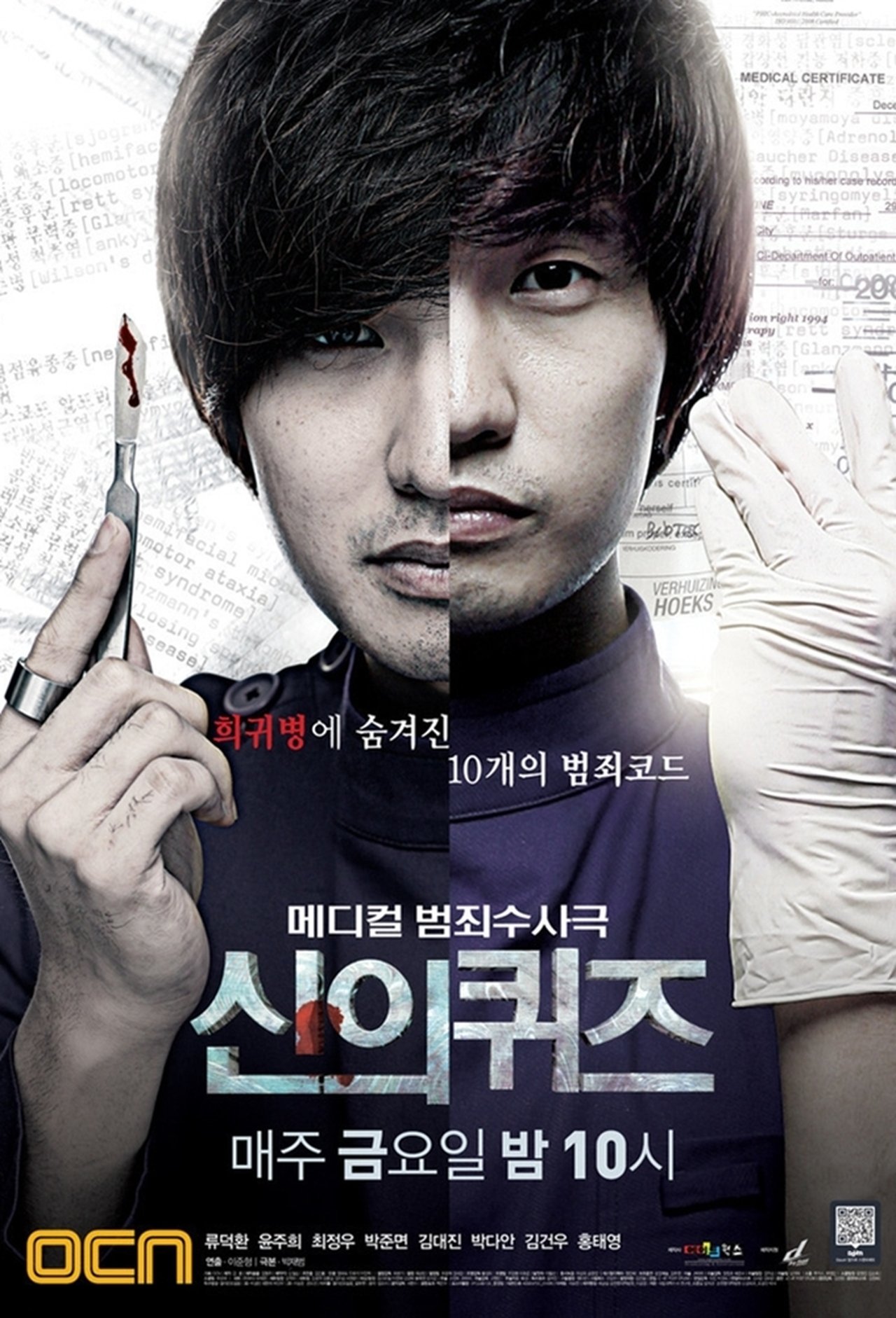 Nazwa dramy: God's Quiz / Quiz from God
Hangul: 신의 퀴즈
Reżyser: Lee Joonhyung
Scenarzysta: Park Jaebum
Stacja telewizyjna: OCN
Ilość odcinków: 10
Długość odcinka: 60 min
Wskazana dla widzów: 15+ (niektóre odcinki 18+)
Data wydania: 8 października – 10 grudnia 2010
Czas emisji: Piątek o 22:00
Gatunek: Medyczna, Kryminał, Mystery, Suspennse
Zarys fabuły:
Han Jinwoo to najwyższy lekarz sądowy, który prowadzi zespół ekspertów w sprawie przestępczości medycznej po dziwnych śmierciach w szpitalu. Najpierw stara się zmierzyć, ale później zaczyna współpracować z Kang Kyunhee, która jest atrakcyjną panią detektyw o doskonałych zdolnościach w sztukach walki oraz silnym poczuciu sprawiedliwości.
OBSADA:
GŁÓWNE ROLE:
POZOSTAŁE ROLE:
Choi Jungwoo – Jang Kyutae
Kim Gunwoo – Nam Joonam
Park Doan – Go Yoonjeong
Na Yoon – Kim Seongdo
Park Jungmyun – Jo Yeongshil
Choo Seungwook – Park Dojoon
Yoo Haejung – Eunok
Ri Woojin – Pan Choi
Kim Joohwang
ROLE GOŚCINNE:
Kim Byungok – CEO (odc. 2)
Lee Jieun – Hong Sungmi (odc. 3)
Park Noshik – Choi Kyungho (odc. 3)
Im Hwayoung – Yeorang (odc. 4)
Im Jeno – Joonseo (odc. 5)
Jung Eunpyo – Ho Youngcheol (odc. 6)
Lee Dalhyung – (odc. 7)
Seo Jiseung – Shieun (odc. 8)
Ahn Yongjoon – Hayoon (odc. 9-10)
Kim Taewoo – Jaesuk (odc. 1)
Kim Youngwoong
Ciekawostki:
Zajęła miejsce dramy "Someday", a po niej leciała drama "Yaksha".
Sequel dramy "God's Quiz 2" pojawiło się w 2011 roku.
Doczekała się aż 5 sezonów.
RECENZJA:
Neko:
Bardzo dawno słyszałam o tej dramie, jednakże dopiero w 2016 zabrałam się za nią i powiem wam, że wdziałam ją już dwa razy, bo powtarzałam sobie historię przed najnowszą częścią.
Szczerze mówiąc najpierw byłam do niej sceptycznie nastawiona, jednakże główny bohater skradł moje serce dość szybko. Podobało mi się również bardzo to, że jest w niej bardzo wiele rzadkich chorób, które są tłumaczone w przystępny sposób i pokazują światu, że tacy ludzie to nie potwory. Ogólnie jest wiele spraw rozwiązywanych w tej dramie, ale wiodącą jest historia życiowa głównego bohatera. Dodatkowo relacja między głównymi bohaterami typu love-hate, jest czymś wspaniałym. Co ciekawe pierwsza część dramy kończy się w taki sposób jakby historia nie miała mieć kontynuacji.
Jedynym minusem teraz jest tylko jakość w jakiej możemy znaleźć tę dramę, ponieważ nagranie jest stare i nie jest w HD, ale by się pośmiać i dowiedzieć czegoś w bardzo przystępny sposób warto się przemęczyć te 10 odcinków. Gwarantuje, nie będziecie żałować.
Gra aktorska: 8/10
Muzyka: 5/10
Ogólna ocena: 7 / 10