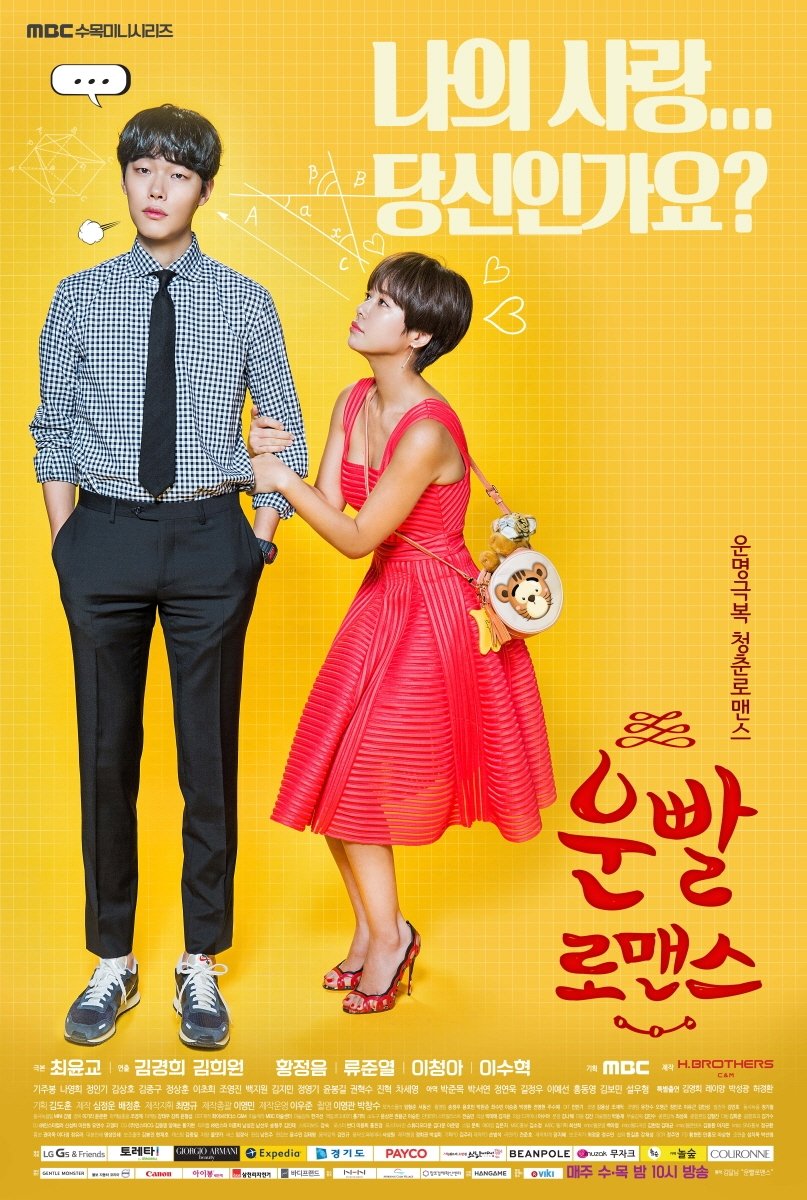 Nazwa dramy: Lucky Romance
Hangul: 운빨로맨스
Reżyser: Kwak Junghwan
Scenarzysta: Choi Yoonkyo
Stacja telewizyjna: MBC
Ilość odcinków: 16
Długość odcinka: 60 minut
Wskazana dla widzów: 15+
Data wydania: 25 maja – 14 lipiec 2016
Czas emisji: Środa, Czwartek 22:00
Gatunek: Komedia, Romans, Biznes
Zarys fabuły:
Bo Nui jest przesądną kobietą, która przesadnie wierzy w przepowiednie z powodu powtarzających się nieszczęść, które spotkały ją w przeszłości. Pewnego dnia dowiaduje się, że jeśli nie prześpi się z prawiczkiem urodzonym w roku tygrysa, to jej siostra wkrótce umrze. Potem spotyka Soo Ho. Okazuje się, że spełnia on warunki określone przez wróżbitę, więc Bo Nui postanawia go uwieść. Na jej nieszczęście, Soo Ho jest frajerowatym geniuszem oraz prezesem firmy tworzącej gry oraz wierzy tylko w logiczne i naukowe rzeczy.
OBSADA:
GŁÓWNE ROLE:
Hwang Jungeum– Shim Bonui
Ryu Joonyeol – Je Suho
Lee Soohyuk – Choi Gunwook/ Gary Choi
Lee Chungah – Han Sulhee/ Amy
POZOSTAŁE ROLE:
Kim Jimin – Shim Bora
Kim Sangho – Won Daehae
Kim Jonggoo – Gooshim
Jung Sanghoon – Han Ryangha
Ki Joobong – Je Mulpo
Na Younghee – Yang Heeae
Jung Inki – Ahn Youngil
Jo Youngjin – Choi Ho
Lee Chohee – Lee Dalnim
Jung Youngki – Song Daekwon
Yoon Bonggil – Lee Hyunbin
Jin Hyuk – Ryu Jihoon
Kwon Hyuksoo – Chow Yunfat
Hong Dongyoung – Gunwook (młody)
Jung Yooahn – Choi Gunwook (młody)
GOŚCINNE ROLE:
Kim Younghee – dziewczyna w toalecie
Park Sungkwang – staff w biurze
Heo Kyunghwan – staff w biurze
Ray Young – ?
Choi Woong– sunbae Bonui
Jo Bokrae – Ojciec Bonui
Seo In – ?
Joey Albringht – Tom
Ciekawostki:
Zajęła czas antenowy dramy "Goodbye Mr. Black", a po niej zaczęła lecieć drama "W – two worlds".
Bazuje na webtomie.
Pierwsze czytanie skryptu odbyło się 6 kwietnia 2016.
Teasery:
RECENZJA:
Neko:
Drama ta była dość szablonowa jak na romans, jednakże nie mogę powiedzieć, że mnie nie wciągnęła. Bardzo lubiłam niektóre smaczki i wyrafinowane żarty. Co do gry aktorskiej była ona charakterystyczna jak zawsze przy Hwang Jungeum. Jest tak dość charakterystyczna aktorka, która zazwyczaj gra podobne role. Ogólnie nie mogę narzekać na aktorów i na grę w tej dramie. Jedyne co to powtórzenia w ostatnich odcinkach i czasami granie na czas. Co prawda scenarzystę poniosło przy tej dramie, ale nie była najgorsza, jak na jego pierwszy scenariusz.
Gra aktorska: 7/10
Muzyka: 5/10
Ogólna ocena: 6/10
Alieena:
Byłam tą dramą bardzo zainteresowana. Jenak ta drama była meh … Kiepska. Pomysł nawet nawet, wykonanie dużo gorsze. Od sztywnej gry aktorskiej, po przez naprawdę nie zrozumiały dla mnie momentami scenariusz. Ja wiem, że osoby piszące scenariusze są gotowe na wszytko, można zobaczyć to nie tylko w Korei, ale i w nowej grze o tron, jednak w  tej dramie poszli za daleko. Dla mnie, osoby kochającej koreańskie romanse ta drama była stratą czasu. Niestety nie kupiła mnie.
Gra aktorska: 4/10
Muzyka: 5/10
Ogólna ocena: 4/10