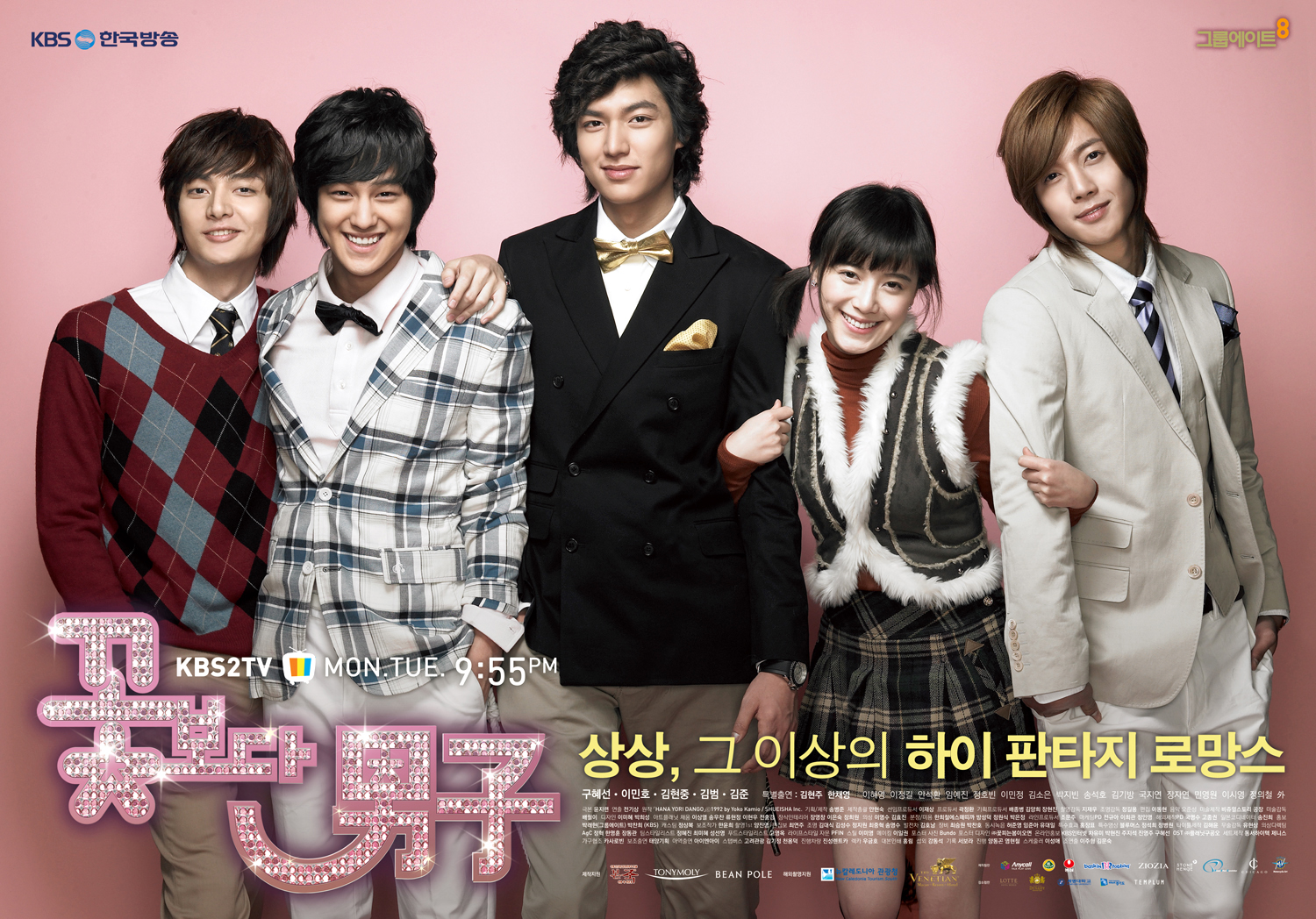 Nazwa dramy: Boys Over Flowers / Boys Before Flowers
Hangul: 꽃보다 남자
Reżyser: Jeon Kisang
Scenarzysta: Yoon Jiryun
Stacja telewizyjna: KBS2
Ilość odcinków: 25
Długość odcinka: 1h 5 min
Wskazana dla widzów: 15+
Data wydania: 5 stycznia – 31 marca 2009
Czas emisji: Poniedziałek, Wtorek o 21:55
Gatunek: Szkolna, Komedia, Romans, Młodzieżowa, Dramat
Zarys fabuły:
Jandi, główna bohaterka, jest biedną, ale bardzo optymistyczną dziewczyną, która ma silne poczucie sprawiedliwość i jest pełna energii. Przenosi się do ekskluzywnej szkoły średniej, do której chodzą zazwyczaj tylko bogaci ludzie. Tam spotyka czterech bogatych i dość dziwnych chłopaków oraz doświadcza miłości i przyjaźni.
OBSADA:
GŁÓWNE ROLE:
POZOSTAŁE ROLE:
Kim Soeun – Cha Gaeul
Lee Hyeyoung – Kang Heesoo
Kim Jongjin – So Hyunsub
Jang Jayeon – "Sunny" / Park Sunja
Gook Jiyun – "Ginger" / Choi Jinhee
Min Youngwon – "Mirande" / Lee Misook
Jung Hobin – Jung Sangrok
Kim Gibang – Bom Chunshik
Jung Euichul – Lee Minha / Min Jaeha
Lee Junggil – Yoon Seokyoung
Lee Minjung – Ha Jaekyung
Ahn Sukhwan – Geum Ilbong
Im Yejin – Na Gongjoo
Park Jibin – Geum Kangsan
Kim Youngok – Główna Pokojówka
Kim Hyunjoo – Goo Joonhee
Song Sukho – Lokaj Lee
Park Soojin – Cha Eunjae
Jung Chanwoo – młody Goo Joonpyo
Kang Hanbyul – młody Goo Joonpyo
GOŚCINNE ROLE:
Han Chaeyoung – Min Seohyun
Moonbin – młody So Yijung
Nam Dareum – młody Jihoo
Im Shieum – młoda min Seohyun
Lee Siyoung – Oh Minji
Lee Jungjoon – Kong Soopyo
Jang Sehyun – związany uczeń
Seo Jooae – właścicialka klubu (odc. 10)
Hai Ming – Ming (odc. 14-25)
Lee Haewoo – Host Q (odc. 4)
Kim Minji – Jung Yoomi
Im Joohwan – So Ilhyeon
Jung Dasol – dziewczyna Kong Soopyo
Heo Kyunghwan – siebie
Heo Youngsaeng – siebie (odc. 4)
Kim Kyujong – siebie (odc. 4)
Kim Hyungjun – siebie (odc. 4)
Ciekawostki:
Drama oparta jest na dramie "Hana Yori Dango" napisanej przez Yoko Kamio.
Chociaż do koreańskiej wersji dramy zmieniona imiona na koreańskie to dalej chłopcy pozostali znani pod nazwą "F4".
Aktorka drugoplanowa Jang Jayeon, która grała Sunny(jedną z tria złych dziewczyn) popełniła samobójstwo 7 marca 2009.
Odcinek 17 dramy został przesunięty z poniedziałku 9 marca na wtorek 10 marca, z powodu wypadku samochodowego, w którym udział brała aktorka Koo Hyesun. Aktorka miała 3 szwy na ustach, jednakże powiedziała, że po tygodniu spokojnie może wrócić do nagrywania.
Drama ta weszła na czas antenowy dramy "Worlds Within…", a po niej leciała drama "The Slingshot" od 6 kwietnia.
Jest remakiem dramy "Hana Yori Dango" z 1995, 2005-2008 oraz tajwańskiej wersji "Meteor Garden" z 2002.
W 2018 roku wyszła nowy tajwański remake "Meteor Garden".
Teasery:
RECENZJA:
Neko:
W sumie widziałam chyba już wszystkie ekranizacje tej dramy jakie wyszły. Na tą nie mogę narzekać, bo moje serce zostało skradzione przez Kim Hyunjoonga(w sumie dla niego skusiłam się na tę dramę w 2011 roku). W tamtych czasach jeszcze lubiłam Lee Minho, ponieważ uważałam, że jeszcze się wyrobi jako aktor. Muzykę z dramy bardzo lubię. Ogólnie drama dość dobra na odstresowanie.
Gra aktorska: 6/10
Muzyka: 8/10
Ogólna ocena: 7/10
Alieena
Jest to jedna z moich pierwszych dram. Ma swój niezaprzeczalny urok. Jednak niestety skusiłam się po tym jak widziałam japońską wersje. I japońska jest dużo lepsza! Natomiast koreańska nie jest najgorsza. Na pewno jest dramą, którą można obejrzeć w gorszy dzień. uważam też, że jest to swoisty klasyk koreański i każdy dramomaniak powinien ją obejrzeć.
Gra aktorska: 6/10
Muzyka: 7/10
Ogólna ocena: 6/10