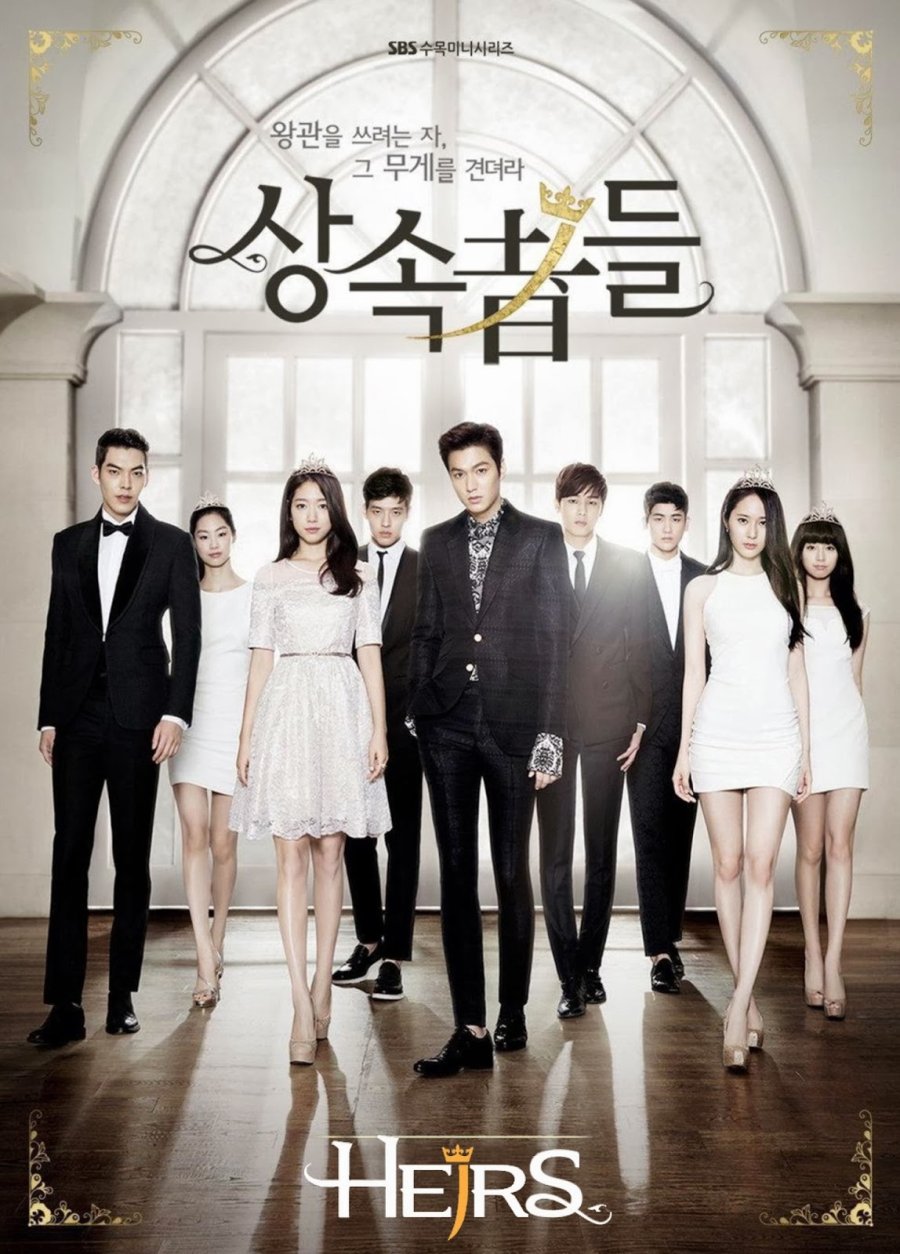 Nazwa dramy: The Heirs
Hangul: 상속자들
Reżyser: Kang Shinhyo, Boo Sungchul
Scenarzysta: Kim Eunsook
Stacja telewizyjna: SBS
Ilość odcinków: 20
Długość odcinka: 60 minut
Wskazana dla widzów: 15+
Data wydania: 9 październik 2013 – 12 grudnia 2013
Czas emisji: Środa, Czwartek 21;55
Gatunek: Przyjaźń, Szkoła, Komedia, Młodzieżowa
Zarys fabuły:
Historia o Cha Eun Sang – młodej i pracowitej dziewczynie, która musi pracować na swoje utrzymanie i opłaty za szkołę. Przez dziwny zbieg okoliczności zostaje wplątana w rywalizację "młodych, pięknych i bogatych". Czy spotkanie ludzi z zupełnie innego świata odmieni życie dziewczyny na lepsze?
OBSADA:
GŁÓWNE ROLE:
POZOSTAŁE:
Choi Jinhyuk – Kim Won
Park Joongeum – Jung Ji Sook
Kang Minhyuk – Yoon Chan Yeong
Krystal – Lee Bo Na
Kim Seungwook – Jung Ji Hoon
Seo Yisook – matka Lee Hyo Shin
Park Hyunsik – Jo Myung Soo
Jung Wonjoong – Lee Chan Hyuk
Ra Miran – matka Joo Myung Soo
Choi Jian – Yoo Kyung Ran
Kang Haneul – Lee Hyo Shin
Beak Seunghyun – Sekretarz Jung
Jeon Soojin – Kang Ye Seol
Choi Jinho – Choi Dong Wook
Jung Chaewoo – Kim Tan [młody]
Choi Taehwan – Lee Sang Woo
Choi Eunkyung – Matka Kang Ye Seol
Jo Yoonwoo – Moon Joon Yeong
Jung Donghwan – Kim Nam Yoon
Choi Wonyoung – Yoon Jae Ho
Im Jueun – Jun Hyun Joo
Yoon Sonha – Lee Esther
Kim Sungryung – Han Ki Ae
Kim Jiwon – Yoo Rachel
Kim Minkyung – Park Hee Nam
Yang Seungpil – Hyo Jun
Hwang Bomi – Kang Han Na
GOŚCINNIE:
Jeon Jinseo – Kim Tan [młody]
Park Woocheon – Kuzyn Kim Tana
Wang Jiwon  – Yang Da Kyung
Lee Minhyuk – On Sam (odc. 4)
N – Sam siebie (odc. 4)
Kim Heechul – Sam siebie (odc. 4)
Ravi – Sam siebie (odc. 4)
Ken – Sam siebie (odc. 4)
Hyuk – Sam siebie (odc. 4)
Leo – Sam siebie (odc. 4)
Yang Hyunmo – Choi Yeong Do [młody]
Sungjae – Sam siebie (odc. 4)
Jung Ilhoon – Sam siebie (odc. 4)
Hongbin – Sam siebie (odc. 4)
Ciekawostki:
Drama weszła na miejsce dramy 'Master of the Sun', jej miejsce zajęła drama 'My Love from Stars'.
 W początkowej obsadzie był jeszcze Jung Yunghwa z CNBlue, jednak po przez niedogadanie się FNC Entertainment z producentami jego postać musiała zostać skanowana.
Pierwsze czytanie skryptów zajęło tylko 4 godziny.
Nagrywano nie tylko w Korei, ale i w Kalifornii. Lee Minho poleciał do USA 2 września, a Park Shinhye doleciała do niego 6 września.
Teasery:
RECENZJA:
Neko:
Oglądałam tę dramę jeszcze pełna nadziei, że Choi Minho jest dobrym aktorem, jednakże przez tę jego rolę, a w sumie jego odgrywanie jej, stwierdziłam, że chyba postać dupka mu pasuje. Co gorsza choć jestem wielką fanką Kim Woo Bina i Park Shin Hye, uważam, że oni w swoich rolach też się nie popisali. Uważam, że ta drama byłaby o wiele lepsza z lekko zmodyfikowaną obsadą.
Gra aktorska: 4/10
Muzyka: 5/10
Ogólna ocena: 4,5 /10
Alieena
Jest to jedna z moich pierwszych dram i oglądając ją wtedy byłam zachwycona, jednak teraz widzę w niej wielkie braki, a także schematyczność. Jednak mimo wszytko uważam ją za coś co bardzo przyjemnie się ogląda, jeżeli nie chce się czegoś wybitnego. Co ciekawe aktorzy, którzy tam grają są raczej lepszego wyszkolenia niż w wielu innych dramach, które oglądałam, jednak niestety przynajmniej z pierwszoplanowych nikt się nie opisał, najlepiej pamiętam postaci grane przez Krystal i Kang Minhyuka i nie powiem, dla mnie oni lekko ratują dramę. Nawet Choi Jinhyuk nie do końca mi tam odpowiadał.
Gra aktorska: 4/10
Muzyka: 4/10
Ogólna ocena: 4/10