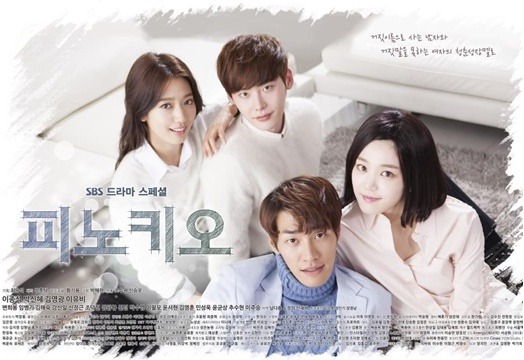 Nazwa dramy: Pinocchio / Pinokio
Hangul: 피노키오
Reżyser: Joo Soowon
Scenarzysta: Park Hyeryun
Stacja telewizyjna: SBS
Ilość odcinków: 20
Długość odcinka: 1h 10 min
Wskazana dla widzów: 15+
Data wydania: 12 listopada 2015 – 15 stycznia 2016
Czas emisji: Środa, Czwartek o 21:55
Gatunek: Thriller, Mystery, Komedia, Romans, Dramat, Melodramat
Zarys fabuły:
Idealistyczna Choi Inha rozpoczyna pracę jako dziennikarka telewizyjna, jednakże cierpi na chorobę zwaną "syndromem Pinokia", ponieważ za każdym razem, gdy skłamie czka. Wraz z nią debiutują Choi Dalpo, który jest niechlujny czym maskuje swoją prawdziwą elokwencję i bardzo dobrą pamięć, Seo Bumjo, który jest bogatym spadkobiercą, co dostał wszystko co mógł w swoim życiu, oraz Yoon Yoorae, która jako fangirl wie wszystko, co pomaga w omawianiu wiadomości. Dwudziestokilkuletni reporterzy dążą do sprawiedliwości i starają się odkryć prawdziwych siebie w tym samym czasie.
OBSADA:
GŁÓWNE ROLE:
POZOSTAŁE ROLE:
Lee Pilmo – Hwang Gyodong
Min Sungwook – Jang Hyungyu
Kang Shinil – Lee Yeongtak
Choo Soohyun – Im Jaehwan
Jin Kyung – Song Chaok
Kim Kwanggyu – Kim Gongjoo
Byun Heebong – Choi Gongpil
Shin Jungkeun – Choi Dalpyeong
Kim Haesook – Park Rosa
Yoon Gyunsang – Ki Jaemyung
Kim Younghoon – Lee Iljoo
Jung Inki – Ki Hosang
Noh Jungeui – młoda Choi Inha
Jang Youngnam – matka Hamyeonga
Nam Dareum – młody Choi Dalpo / Ki Hamyung
Shin Jaeha – młdy Ki Jaemyung / prezenter YGN(odc. 20)
Lee Jooseung – Ahn Chansoo
Tae Hanho – Cha Woocheol
Yoon Seohyun – Lee Joho
Jo Dukhyun – Jo Wongo
GOŚCINNE ROLE:
Yeom Donghun – Moon Deoksoo
Jang Gwang – dyrektor (odc. 1)
Choi Jonghoon – pracownik fabryki (odc 1)
Woo Hyun – wychowawca (odc. 1-3)
Ahn Sunyoung – pisarka wiadomości (odc. 1-2)
Kim Youngjoon – sąsiad z syndromem Pinokia (odc. 1-2)
Jung Woongin – Min Joongook (odc. 2)
Jang Hangjoon – reżyser (odc. 2)
Lee Boyoung – nawigacja głosowa Hye Sung [tylko głos] (odc. 3)
Kim Minyoung – Song Yeongjoo (odc. 7)
Yoon Sanghyun – Prawnik Cha Gwangwoo (odc. 12)
Kangnam – studnet w niebieskiej kurtce (odc. 20)
Lee Joon – FAMA (odc. 19)
Lee Seungho – Jo Daegook
Oh Seungah – kobieta, z którą robiono wywiad (odc. 20)
Im Byungki – Yoon Doyeong
Ri Min – piany kierowca (odc. 8)
Noh Taeyeob – agresor (odc. 18)
Park Shijin – młody Seo Bumjo
Im Doyoon – Jihee
Yeo Hoehyn – kolega z klasy Dalpo
Park Sooyoung – Jung Kibong
Park Kilsoo – Jo Jangwoo / właścicel firmy autobusowej (odc. 12)
Kim Hyungkoon – nowy reporter MSC (odc. 20)
Lee Dongjin – Kang Sunghak
Yoon Jinyoung – strażak
Nam Junghee – matka strażaka (odc. 1)
Sung Chanho – lekarz
Lee Sooryun – pracownica sklepu
Meang Seungji – reporterka wiadomości YGN
Go Yooan
Shin Jihoon
Ciekawostki:
Drama zajęła czas antenowy dramy "My Lovely Girl", a po niej weszła drama "Hyde, Jekyll, Me".
Pierwszoplanową rolę zaproponowano najpierw Kim Woo Binowi, jednakże odmówił z powodu zajętego grafiku.
Pierwsze czytanie skryptu odbyło się w październiku 2014 r.
Aktor Yoon Sanghyun pojawił się w 11 odcinku dramy jako prawnik Cha Kwanwoo, który jest postacią, którą grał w dramie "I Can Hear Your Voice", w której również grał Lee Jongsuk.
Teasery:
RECENZJA:
Neko:
Pinokio jest to dość ciekawa drama. Nie jest aż tak bardzo nudna, jednakże romans jest bardzo widoczny, według mnie byłaby lepsza, gdyby był on subtelniejszy. Nie mogę powiedzieć oglądałam ją z powodu Park Shinhye, w trakcje serialu zakochałam się w Kim Youngkwangu i SLS. Ogólnie tematyka ciężka przedstawiona w nietrudzący sposób. Nie myślcie sobie, że nie ma w tej dramie wątku komediowego, bo jest i to całkiem dobry. Co do OSTów, niektóre całkiem spoko, a niektóre strasznie wyjące, których nie mogę słuchać, ale pasują ogólnie do dramy.
Gra aktorska: 7/10 (za Lee Jongsuka)
Muzyka: 7/10
Ogólna ocena: 7/10