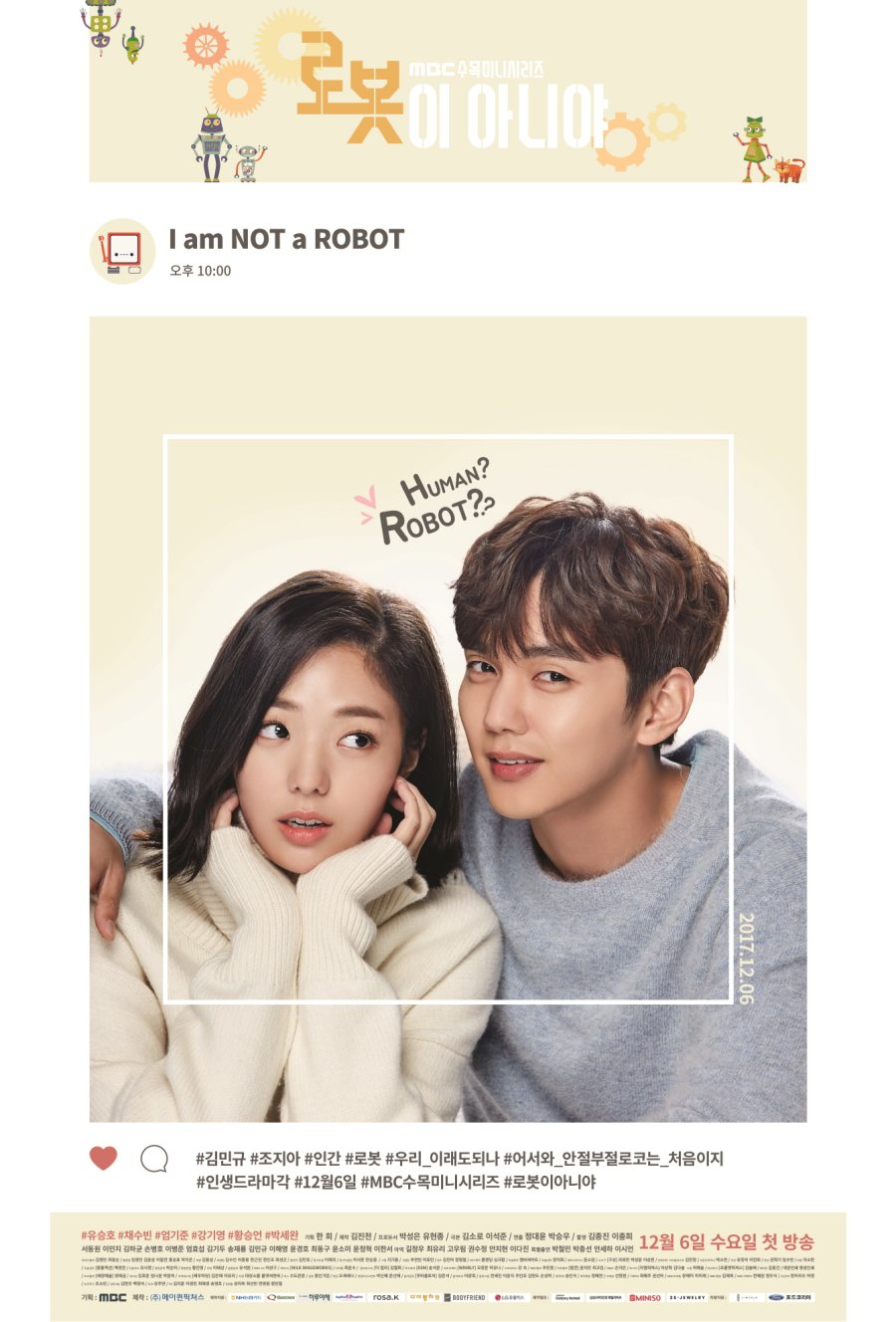 Nazwa dramy: I'm not a Robot
Hangul: 로봇이 아니야
Reżyser: Jung Daeyoon
Scenarzysta: Kim Sunmi
Stacja telewizyjna: MBC
Ilość odcinków: 32
Długość odcinka: 35 minut
Wskazana dla widzów: 15+
Data wydania: 6 grudnia 2017 – 25 stycznia 2018
Czas emisji: Środa, Czwartek 22:00
Gatunek: Komedia, Romans, Sci-Fi, Dramat, Przyjaźń
Zarys fabuły:
Kim Min Kyu jest największym udziałowcem spółki finansowej. Cierpi na "ludzką alergię", uniemożliwiając mu normalne interakcje z innymi ludźmi. Zainteresował się robotycznym projektem o nazwie Aji-3 stworzonym przez zespół robotów Santa Maria. Zespołem kieruje Hong Baek Gyun, wynalazca Aji-3 i światowej sławy profesor robotyki. Modelował Aji-3 na podobieństwo swojej byłej dziewczyny Jo Ji Ah, która pragnie być wynalazcą, ale obecnie walczy, aby związać koniec z końcem. Gdy Kim Min Kyu chce przetestować robota, wypadek powoduje awarię akumulatora robota. Hong Baek Gyun błaga Jo Ji Ah, by zajął miejsce Aji-3 i udawał robota, aby mogli uzyskać fundusze od Kim Min Kyu. Ale Aji-3 substytutem kontaktów z innym człowiekiem, dla Kim Min Kyu.
OBSADA:
GŁÓWNE ROLE:
POZOSTAŁE ROLE:
Hwang Seungeon – Ye Ri El
Park Sewon – Pi
Kang Kiyoung– Hwang Yoo Cheol
Song Jaeryong – Hoktal
Kim Minkyu – Ssanip
Lee Byungjoon – Ye Sung Tae
Uhm Hyosob – Doktor Oh
Kim Hakyoon – Kamerdyner Sang
Seo Dongwon – Jo Jin Bae
Lee Minji – Sun Hye
Yoon Somi – Hong Joo
Son Byungho – Hwang Do Won
Lee Hanseo – Dongyeon
Kim Kidoo – Miami
Choi Donggoo – Alps
Gil Jungwoo – Kim Min Kyu [młody]
Choi Yoori – Jo Ji Ah [młoda]
Go Woorim – Hwang Yoo Cheol [młody]
GOŚCINNE ROLE:
Yoon Gyungho – Szef działu ochrony
Yoon Junghyuk – Sekretarz Jang
Lee Shieon – mężczyzna (odc. 1)
Ahn Seha – Doktor (odc. 1)
Park Youngsoo– (odc.9)
Kim Daegook – detektyw
Park Noshik – Bezdomny
Ok Joori –
Ciekawostki:
Zajęła czas antenowy dramy "Hospital Ship", a po niej zaczęła lecieć drama "Let's Hold Hands Tightly and Watch The Sunset".
Główną rolę damską proponowano Minah z Girl's Day, ale odmówiła.
Główną rolę męską proponowano Dong Ha, jednakże on po rozmowie z MBC nie zgodził się na warunki.
Pierwsze czytanie scenariusza odbyło się 27 września 2017.
Teasery:
RECENZJA:
Neko:
W sumie czekałam na tę dramę jak tylko przeczytałam jej zarys fabuły. Myślałam, jednak że będzie o wiele cięższa. Na całe moje szczęście okazała się miłą komedią ze słodkim romansem. Najlepsze w całej dramie jest to, że główna bohaterka ma dość silny charakter. Dodatkowo pokazuje to, że nie ważne jak perfekcyjny zrobimy komputer czy androida, to tylko rzecz, która może ulec zniszczeniu, a części mogą być trudno dostępne. Dla mnie była to jedna z lepszych dram Sci-Fi jakie widziałam.
Gra aktorska: 8/10
Muzyka:  9/10
Ogólna ocena: 8,5/10
Alieena;
Na początku nie chciałam za bardzo oglądać tej dramy, jednak po namowach zdecydowałam się ją obejrzeć. I twierdze, że jest genialną komedią! Dawno się nie śmiałam jak wtedy, gdy ją oglądałam. Nastąpiło tu coś co niestety nie zdarza się za często, nie zepsuto bohaterki. Bardzo mi się to podobało, że umiała ona sama o siebie zadbać. Inne postaci też były ciekawe, w szczególności przypadła mi do gustu postać Pi.
Gra aktorska: 8/10
Muzyka: 6/10
Ogólna ocena: 7/10