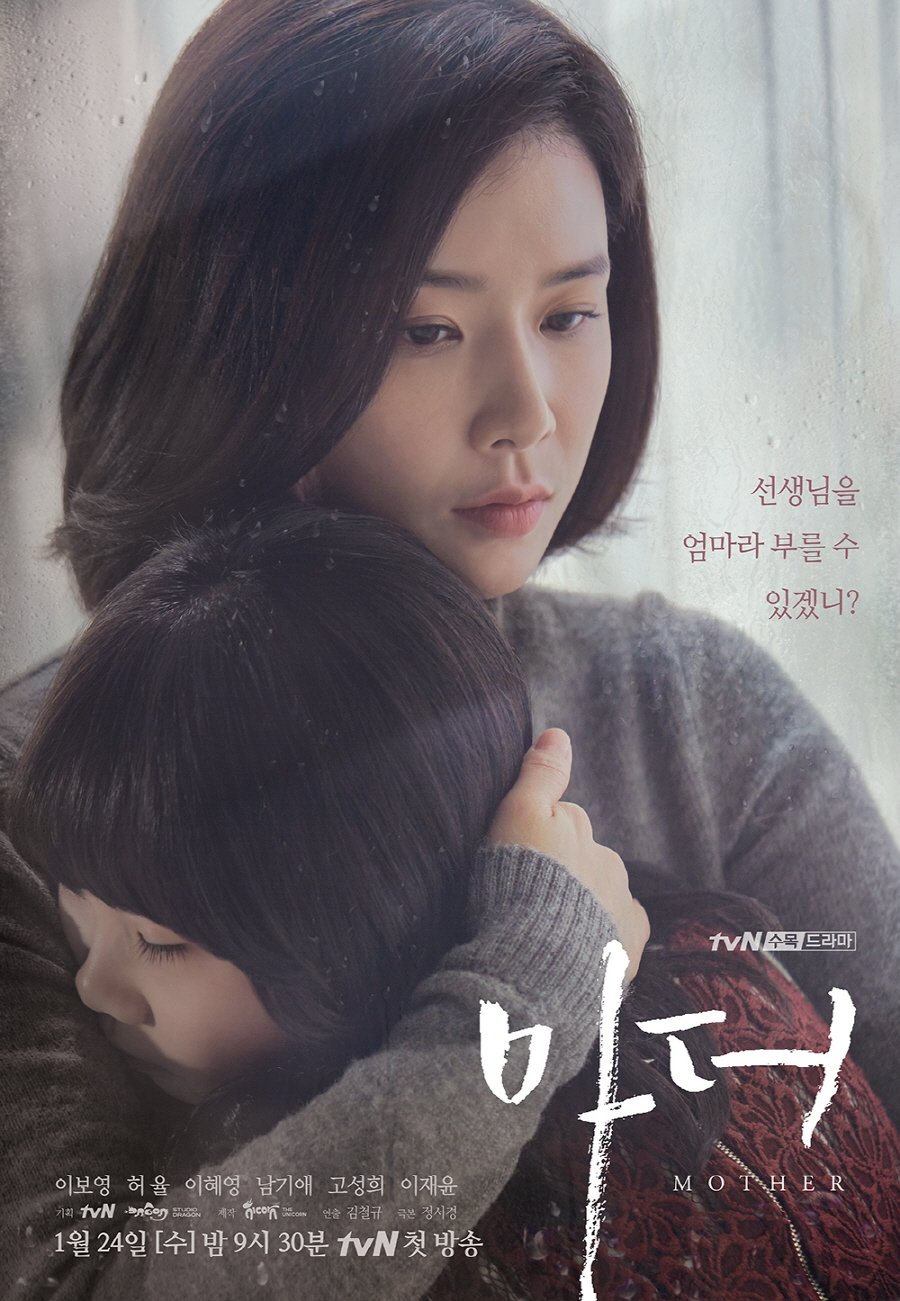 Nazwa dramy: Mother
Hangul: 마더
Reżyser: Kim Cheolkyu, Yoon Hyungi
Scenarzysta: Jung Seokyung
Stacja telewizyjna: tvN
Ilość odcinków: 16
Długość odcinka: 1 godzina 3 minuty
Wskazana dla widzów: 15+
Data wydania: 24 stycznia – 15 marca 2018
Czas emisji: Środa, Czwartek 21;30
Gatunek: Melodramat, Dramat, Psychologiczny, Rodzina, Obyczajowy
Zarys fabuły:
Hye Na jest wychowywana przez matkę i jej partnera. Dziewczynka doświadcza w domu przemocy. Pomimo że jest jej z tym ciężko, nigdy się do tego nie przyznaje. Soo Jin tymczasowo pracuje w szkole, do której uczęszcza Hye Na. Wiedząc w jakiej sytuacji znajduje się dziewczynka, postanawia ją porwać i zostać jej matką.
OBSADA:
GŁÓWNE ROLE:
POZOSTAŁE:
Go Sunghee – Shin Jayeong
Lee Jaeyoon – Jin Hong
Lee Hyeyoung – Yeong Shin
Go Bogyeol – Hyunjin
Jeon Hyejin –Yijin
Jo Hanchul – Chang Geum
Kim Youngjae – Eunchul
Ha Kyung– Park Kyungseok
Seo Yisook – Madam Ra
Nam Kiae – Nam Honghee
Son Seokkoo – Lee Seokak
Park Sooyeon –Sorak Moyeon
Ye Soojung– Siostra Clara
Kim Taeyul – Lee Seokak [młody]
Jun Jungkwan
GOŚCINNIE:
Son Youngsoon – Starsza pani z sąsiedztwa
Choi Yoonso – Yeong Shin [młoda]
Im Jihyun – Nam Honghee [młoda]
Song Yoohyun – Yeeun
Kim Hyunsoo – Kang Soojin [młoda]
Moon Kiyoung
Min Daeshik
Lee Joowon
Park Hyunjung
Yoo Jisoo
Choi Gyoshik 
Park Hosan – Wookjae
Ok Joori
CIEKAWOSTKI:
Drama weszła na miejsce dramy 'Prison Playbook', jej miejsce zajęła drama 'My Mister'.
Jest remakem japońskiej dramy "Mother" z 2010 roku.
Heo Yeol została wybrana do roli Hye Na z 400 innych osób biorących udział w przesłuchaniu.
Pierwsze czytanie dramy odbyło się 1 listopada 2017 roku.
Drama miała 2 plakaty promocyjne.
Teasery:
RECENZJA:
Alieena:
Jedna z najpiękniejszych i najbardziej wzruszających rzeczy jakie kiedykolwiek widziałam, nie tylko na rynku koreańskim, ale też ogólnie. Oglądając to miałam nie odparte wrażenie, że ludzie to potwory. Bo w końcu jak matka może tak traktować, bądź pozwalać traktować swoje dziecko. Jak to jest możliwe, że obca osoba ma więcej współczucia dla dziecka niż jego własna matka? I jak to możliwe, że obca osoba może pokochać dziecko tak bardzo, że będzie wstanie zaryzykować wszytko, aby pomoc dziecku. Wiara w ludzi przywrócona. Aktorstwo było bardzo dobre, nawet ta mała dziewczynka, która debiutowała odegrała swoją role ideale. Jednakże nie jest to łatwa i przyjemna drama dla każdego.
Gra aktorska: 10/10
Muzyka: 10/10
Ogólna ocena: 10/10