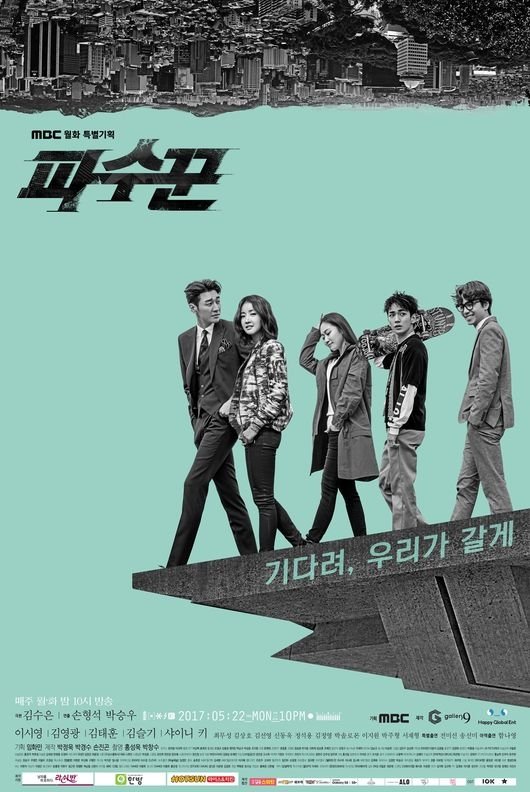 Nazwa dramy: Lookout, The Guardians
Hangul: 파수꾼
Reżyser: Song Hyungsuk
Scenarzysta: Kim Sooeun, Park Hyoyeon
Stacja telewizyjna: MBC
Ilość odcinków: 32
Długość odcinka: 35 minut
Wskazana dla widzów: 15+
Data wydania: 22 maja – 11 lipca 2017
Czas emisji: Poniedziałek, Wtorek 22:00
Gatunek: Akcja, Przyjaźń, Thriller, Kryminał
Zarys fabuły:
Fabuła skupia się na grupie osób, która w tragicznych okolicznościach traci członka swojej rodziny, a osoba odpowiedzialna za to nie zostaje ukarana. Dlatego też postanawiają poświęcić swoje życie, żeby pomóc innym osobą, aby nie musiały być w ich sytuacji. Zawstydzają również prokuratorów, którzy są skorumpowani oraz pilnują by przestępcy odpowiedzialni za swoje zbrodnie zostali ukarani.
OBSADA:
GŁÓWNE ROLE:
POZOSTAŁE ROLE:
Choi Moosung – Yoon Seung Ro
Kim Sangho – Ok Kwang Ho
Park Joohyung – Park Joon Pyo
Kim Sunyeong – Lee Soon Ae
Jung Seokyong – Nam Byung Jae
Seo Jaehyung – Ma Jin Ki
Shin Dongwook – Lee Gwan Woo
Kim Jungyoung – Soo Ji Mo
Jeon Miseon – Park Yoon Hee
Song Sunmi – Chae Hye Sun
Lee Jiwon – Jin Se Won
Yoon Dayoung – Kim Kyung Mi [reporter]
Park Solomon – Yoon Shi Wan
Jung Hyunsuk – lekarz
Sahee – Seung Hee
Ham Nayoung –  Jo Yu Na
GOŚCINNE ROLE:
Kim Dongjoo – 
Hong Jinki –
Joey Albright –
Ciekawostki:
Zajęła czas antenowy dramy "Rebel: Thief Who Stole the People", a po niej zaczęła lecieć drama "The King in Love".
Pierwsze czytanie skryptu odbyło się 29 marca 2017 roku.
Aktorka Lee Shiyoung nagrywała niektóre sceny akcji będąc w ciąży(był to początek i nie była tego świadoma), chociaż na planie miała kilka wypadków dziecku nic się nie stało.
Teasery:
RECENZJA:
Neko:
Świetna drama, która pokazuje determinacji matki tracącej dziecko, która chce zrobić wszystko by ukarać mordercę. Trzyma praktycznie cały czas w napięciu, ma czasami komiczne elementy. Ogólnie gra aktorska jest całkiem dobra. Co do muzyki osty są świetnie i muszę wspomnieć o "Amen" od Damiano, tę piosenkę słucham do dziś.
Gra aktorska: 7/10
Muzyka: 10/10
Ogólna ocena: 8,5/10