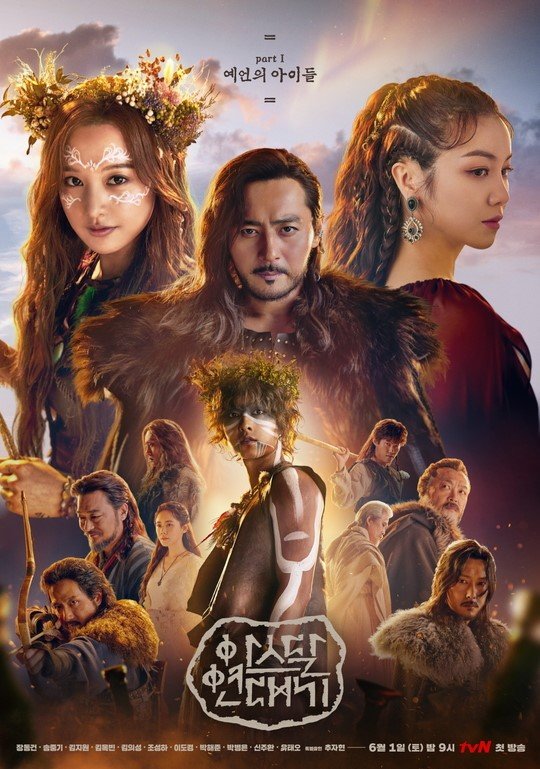 Nazwa dramy: Arthdal Chronicles Part 1: The Children of Prophecy
Hangul:아스달 연대기 Part 1 예언의 아이들
Reżyser: Kim Wonsuk
Scenarzysta: Kim Younghyun, Park Sangyeon
Stacja telewizyjna: tvN
Ilość odcinków: 6
Długość odcinka: 1h 20 min
Wskazana dla widzów: 15+
Data wydania: 1 czerwca – 16 czerwca 2019
Czas emisji: Sobota, Niedziela o 21:00
Gatunek: Historyczna, Romans, Dramat, Fantastyczna, Polityczna
Zarys fabuły:
Eunsom to przeklęte dziecko, które urodziło się w wiosce Blue Stone jako złowieszczy znak. Po jakimś czasie staje się on zdobywcą Arthdal, stolicy Gojoseon, i zmienia je z miasta na państwo.
Tagon jest bohaterem wojennym wśród plemienia Saenyeok i mistrzem strategii. Jest bardzo ambitny i chce zostać pierwszym królem Arthdal.
Tanya to kobieta, która urodziła się pod przeklętym znakiem, ale pokonuje przeciwności losu i staje się pierwszą kobietą-politykiem w Arthdal. Jest ona również pierwszą miłością Eunsom.
Taeha to ostatnia żyjąca Neoantal(rasa inna niż ludzka), a także pierwsza cesarzowa Arthdal.
OBSADA:
GŁÓWNE ROLE:
POZOSTAŁE ROLE:
Kim Choonggil – Book Soi
Shin Moonsung – Doon Ji
Song Jaeryong – Gum Bool
Go Na Hee – Do Ti
Kim Euisung – San Woong
Lee Hochul – Kitoha
Yoon Sabong – Hae Tooak
Park Jin – Moongtae
Kim Bibi – Woo Roomi
Lee Hwang Ui – Dae Dae
Jung Sukyong – Yeol Son
Jang Yool – Ah Sayon
Kim Euisung – San Woong
Park Haejoon – Moo Baek
Jo Sungha – Hae Mihol
Choi Moosung – San Wook
Park Byungeun – Dan Byuk
Jo Byungkyoo – Satnick
Lee Dokyung – Ah Saron
Park Hyungsoo – Gil Seon
Shin Joohwan – Dal Sae
Ki Yejoon – mały Eun Som
Heo Jungeun – mała Tan Ya
One – młody Ta Gon
Ki Dohoon – Yang Cha
Yoo Teo – Ragaz
Son Sook – Ah Sa Sa Kan
Go Bogyeol – Chae Eun
Kim Hojung – Cho Seol
Jo Seungyeon – Hae Rim
Hwang Hee – Moo Gwang
Moon Jongwon – Rakeuneuroopeu
Song Jongho – Isseuroobeu
Choi Rowoon – Rottib
Yang Kyungwon – Teo Dae
Seo Eunah – Ah Samot
Park Jiwon – Ah Samu
Elena An – Noon Byeol
Lee Sungwoo
Ha Joon
Baek Seungik
ROLE GOŚCINNE:
Ciekawostki:
Drama zajmie miejsce antenowe po serialu "Confession", a po niej zaczęła się emisja drugiego sezonu dramy "Arthdal Chronicles Part 2: The Sky Turning Inside Out, Rising Land".
Pierwotna nazwa dramy to "Aseudal".
Drama ma mieć 3 sezony, każda część ma składać się z 6 odcinków, wszystkie sezony mają wyjść w 2019 roku.
Niektóre zdjęcia do dramy zostały nakręcone w Bali.
Drama również będzie wychodzić na platformie Netfilx.
Teasery:
RECENZJA: 
Neko:
Jak "Gra o Tron" nie jest w moim stylu i nie byłam jej w stanie obejrzeć, to ta drama spełniła moje oczekiwanie. Nie wiem czemu wiele osób ją porównuje do wcześniej wymienionego przeze mnie serialu. Jako, że oglądam z osobą, która jest fanem GOT, to wiem, że historie nie są podobne, tylko gatunkowo są bliskie siebie. Jak dla mnie osoby robiące makijaż i kostiumy odwaliły kawał niesamowitej roboty. Jestem zakochana w efektach specjalnych, które stworzono komputerowo. Muzyka jest niesamowita i bardzo nastrojowa, sama gra aktorska kupiła mnie jak nie wiem co, jakby się nie patrzeć obsada to perełka. Jeżeli utrzymają ten poziom serialu przez 3 sezony to będę pod wielkim wrażeniem.
Gra aktorska: 20/10
Muzyka: 20/10
Ogólna ocena: 20/10