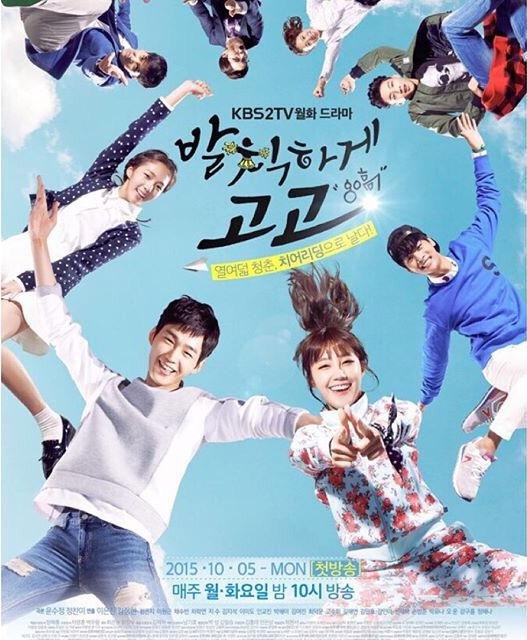 Nazwa dramy: Sassy Go Go
Hangul: 발칙하게 고고
Reżyser: Lee Eunjin, Kim Junghyun
Scenarzysta: Jung Chanmi, Yoo Soojung
Stacja telewizyjna: KBS2
Ilość odcinków: 12
Długość odcinka: 60 minut
Wskazana dla widzów: 15+
Data wydania: 5 października – 10 listopada 2015
Czas emisji: Poniedziałek, Wtorek godzina 21:55
Gatunek: Komedia, Romans, Szkoła, Młodzieżowa, Przyjaźń, Sport
Zarys fabuły:
Drama opowiada o licealnej drużynie cheerleaderek, absurdach systemu edukacji, a także o miłości i przyjaźni wśród młodzieży, rozwijającej się w trudnym środowisku edukacyjnym, w którym rządzi konkurencja. "Białe Tygrysy" – to grupa szkolnych prymusów dowodzona przez Kim Yeola. Dla nich najważniejsze są najwyższe stopnie w szkole, a wolny czas poświęcają głównie na naukę. Jednak w szkole istnieje też "Prawdziwy Król", czyli grupa tańca ulicznego, na której czele stoi Kang Yeon Doo. Ów klub jest całkowitym przeciwieństwem Białych Tygrysów. Co się jednak stanie, gdy pewnego dnia oba zespoły będą musiały współpracować? I z jakimi problemami zarówno uczniowie, jak i grono pedagogiczne będą musieli zmierzyć się w Liceum Sevit?
OBSADA:
GŁÓWNE ROLE: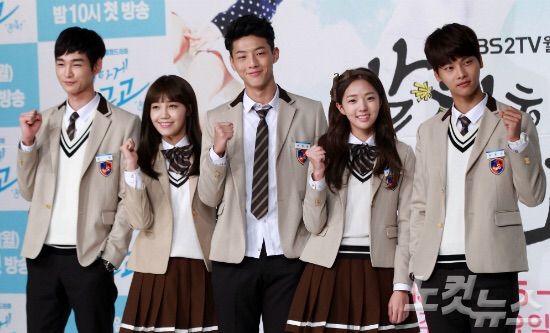 POZOSTAŁE:
Lee Mido – nauczycielka Nam Jung Ah
Kang Minah – Da Mi
Shin Jaeha  – Tae Pyung
In Gyojin – nauczyciel Im Soo Yong
Park Haemi – Dyrektora szkoły Sevit
Kim Yeonjin – Park Sun Yeong (mama Yeon Doo)
Go Soohee – Choi Hyun Mi (mama Sooah)
Kil Haeyeon – Doradczyni Lee
Son Beomjoon – Cha Seung Woo
Park Yoona – Jung Eun
Kim Minho – Min Ho Shik
Choi Deokmoon – Kim Byung Jae (tata Yeola)
Jung Hae Na –Jae Yeong
Kang Gureum – Na Yeon
Ooon – Joon Soo
Jo Wonhee – Seo Byeong Joon
GOŚCINNIE:
Go Inbum – Właściciel szkoły Sevit
Choi Yoonjoon  –
Choi Byungchan – 
Ciekawostki:
Po zakończonej emisji na miejsce tej dramy weszło "Oh My Venus".
Drama weszła na miejsce  "The Virtual Bride"
Główną rolę damską zaproponowano Kim Youjung, ale odrzuciła ją.
Roboczy tytuł dramy brzmiał "Jigeumbooteo, Chieoeob".
Teasery:
RECENZJA:
Neko:
Drama, którą zaczęłam oglądać, ale jakoś miałam ogromny problem z kończeniem jej. Chyba dramy szkolne nie są czymś dla mnie… Jak wychodziła to oglądałam ją jak skończyło mi się wszystko inne. Choć pewnie większość ludzi polubi ten temat. Drama lekka i dość przyjemna(chyba, że jesteście mną xD).
Gra aktorska: 6/10
Muzyka:  6/10
Ocena Ogólna: 6/10
Alieena:
Jest to zdecydowanie jedna z najprzyjemniejszych dram w tematyce szkolnej jakie widziałam. Co więcej Sassy Go Go tak zdobyła moje serduszko, że widziałam ją już z 3 czy 4 razy. Bardzo dobre aktorstwo, dopracowanie i codzienne problemy sprawiają, że bardziej przejmujesz się tym co dzieje się w dramie niż swoim własnym życiu, a czy nie o to chodzi w niektórych dramach? Szczerze mogę ją polecić każdemu!
Gra aktorska: 8/10
Muzyka: 8/10
Ogólna ocena: 9/10