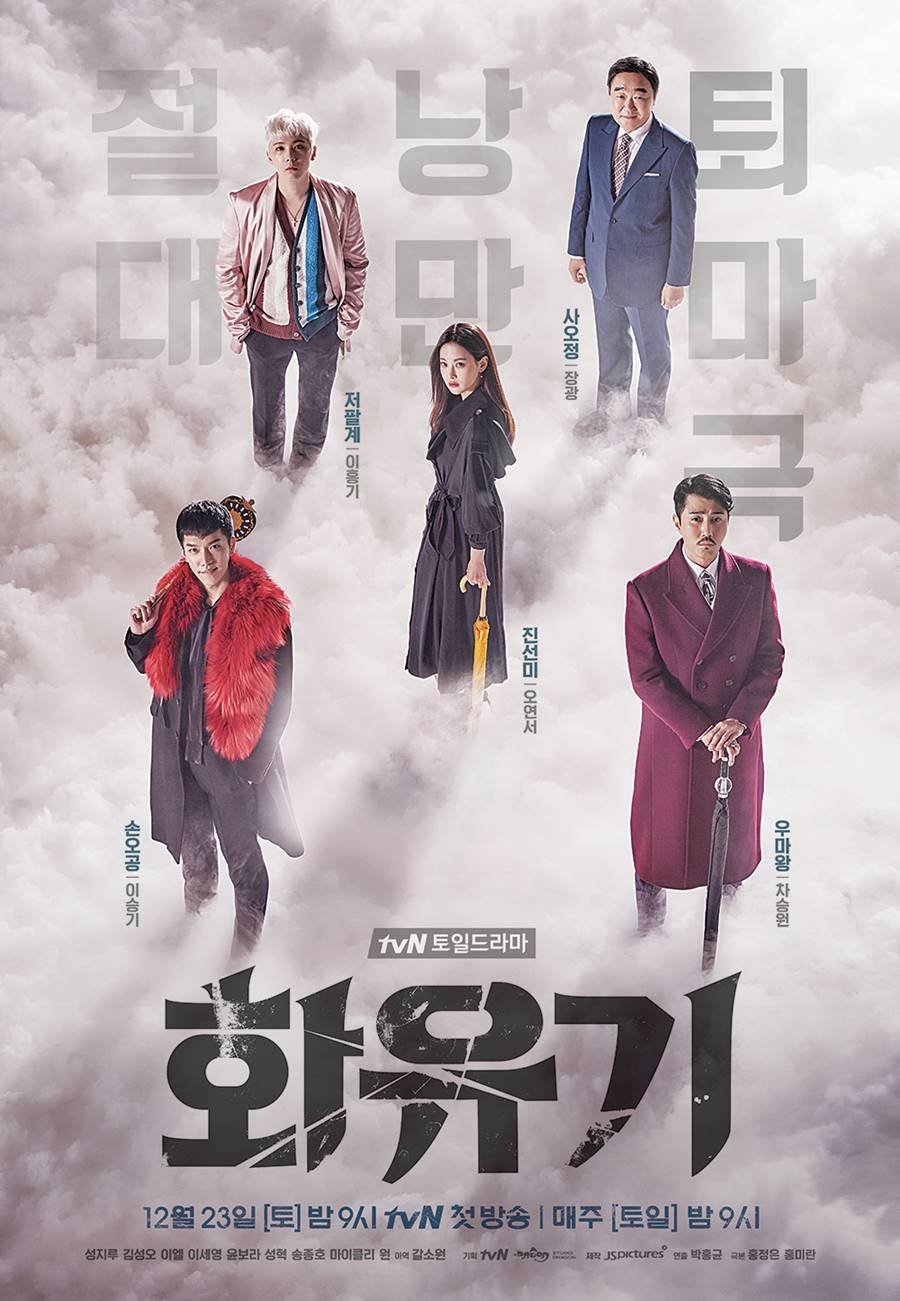 Nazwa dramy: Hwayugi: A Korean Odyssey
Hangul: 화유기
Reżyser: Park Hongkyun, Kim Junghyun, Kim Byungsoo
Scenarzysta: Hong Jungeun, Hong Miran
Stacja telewizyjna: tvN
Ilość odcinków: 20
Długość odcinka: 1 h 20 minut
Wskazana dla widzów: 15+
Data wydania: 23 grudnia 2017 – 4 marca 2018
Czas emisji: Sobota, Niedziela, 21:00
Gatunek: Komedia, Romans, Horror, Fantasty
Zarys fabuły:
Son Oh Gong jest psotnym i kłopotliwym bogiem. Szybko puszczają mu nerwy, przez co ma wiele do odpokutowania, jednakże przez swoją dumę nie jest w stanie tego uczynić. Dlatego jego moce zostały zapieczętowane, a on sam zesłany na ziemię i uwięziony. Tam spotyka  Jin Seon Mi, która to od dzieciństwa widzi potwory. Na prośbę Woo Ma Wanga – innego z bogów, dziewczynka udaje się do Gór Marmurowych, gdzie wstęp mają tylko ludzie, daje się oszukać Son Oh Gongowi i uwalnia go. 25 lat później Woo Ma Wang nie może sobie wybaczyć, iż przyczynił się do uwolnienia swojego wroga, z kolei dorosła już Seon Mi jest prezeską agencji nieruchomości, która potrafi odpędzić pecha i sprzedać nawiedzone domy. Pewnego dnia bogowie dowiadują się, iż krew Sam Jang może uczynić ich niezwyciężonymi, więc postanawiają ją pożreć.
OBSADA:
GŁÓWNE ROLE:
POZOSTAŁE ROLE:
Lee El – Sekretarka Ma Ji Yeong
Kim Sungoh – Lee Han Joo
Yoon Bora – Alice/ Ok Ryung
Lee Seyoung – Zombie/Jin Bu Ja/Jung Se Ra
Sung Jiru – Soo Bo Ri
Sunghyuk – General Mróz Dong Jang Gun/Wróżka Ha
Song Jongho – Kang Dae Sung
Michael K. Lee – Jonathan/ Bong Sang Woo
Kal Sowon – Jin Sun Mi [dziecko]
Kim Jeesoo – Na Chul Nyeo (odc.5)
One – Hong Hae Ah
Lee Yongyi – babcia Seon Mi
Kim Daegook – M-Mart właściciel
GOŚCINNE ROLE:
Jang Geoksuk  – Gong Jak (odc.3)
Im Yejin – Babcia
Jung Jaeeun – Ciocia
Kang Sungpil – Gangster
Lee Youngti– babcia Seon Mi
Son Youngsoon – uliczna sprzedawczyni
Seo Yoonah – Mi Joo
Baek Seunghee – duch panny młodej
Min Sungwook – Saekjungki
Park Seulgi – reporter
Kim Yeonwoo – juror w Superstar
Yoo Yeonjung – Lee Dain
Lee Soyeon – Sprzedawca (odc.9-10)
Seo Eunwoo – wróżka Ha
Oh Yeonah – Egret
Ok Yerin – Han Byul
Oh Ahrin – Lee Song Jung (odc. 9-10)
Choi Seunghoon – Starszy brat Song Jung
Choi Dae Sung 
Park Seung Tae – Kang Myung Ja
Park Noshik – Dokchi
Rimin – Mr. Park
Kim Hyunbin – Jonathan [dziecko]
Ciekawostki:
Zajęła czas antenowy dramy "The Most Beautiful Goodbye", a po niej zaczęła lecieć drama "Live".
Rolę pierwszoplanową proponowano Park Bogumowi, ale ją odrzucił.
Jest to pierwsza drama Lee Seunggiego, po wyjściu z wojska.
Pierwsze czytanie odbyło się 4 listopada 2017 roku.
Teasery:
RECENZJA:
Neko:
Jedna z lepszych dram fantasy, która jest też przyjemna dla oka dzięki wspaniałej obsadzie. Choć zazwyczaj nie przepadam za ekranizacjami legend czy baśni, to to trafiło w samą dziesiątkę. Każde inna ekranizacja może się przy tym chować. Polecam tę dramę wszystkim nie tylko z powodu aktorstwa czy dobrej muzyki, ale także dlatego, że jest to świetna komedia. W tej dramie komedia jest ważniejsza czasami niż romans, chyba, że tylko mi się tak wydaje.
Gra aktorska: 10/10
Muzyka: 9/10
Ogólna ocena: 9,5/10
Alieena:
Dramą jestem zachwycona do teraz, jest to jedna z tych dram, które bardzo mi się podobały. Uważam, że wszytko było jak najbardziej dopracowane. Lee Seunggi jest po prostu stworzony do tej roli. W mojej opinii 10/10. Na pewno obejrzę jeszcze raz.
Gra aktorska: 10/10
Muzyka: 10/10
Ogólna ocena: 100/10