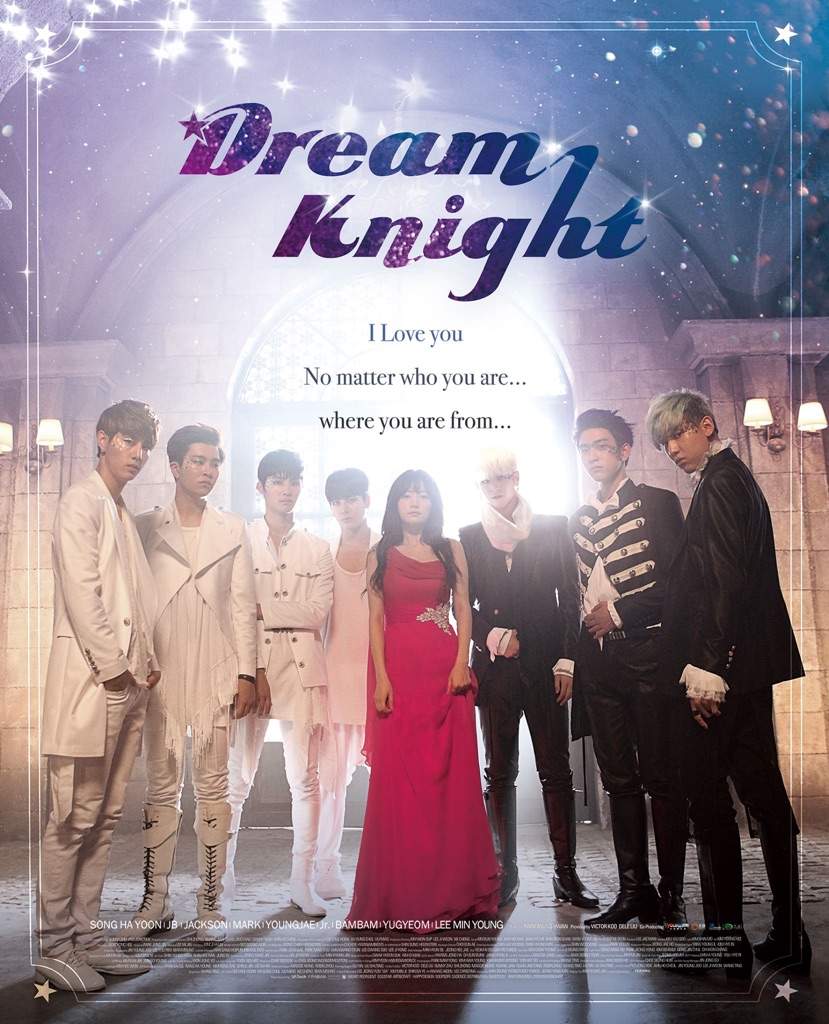 Nazwa dramy: Dream Knight
Hangul: 드림 나이트
Stacja telewizyjna: Naver TV Cast
Ilość odcinków: 12
Długość odcinka: 13 min
Wskazana dla widzów: 15+
Data wydania: 27 stycznia – 5 marca 2015
Czas emisji: Wtorek, Czwartek
Gatunek: Romans, Fantasty
Zarys fabuły:
Młoda dziewczyna o imieniu Ju In Hyung, cierpi z powodu wcześniejszych doświadczeń. Niespodziewanie w jej życiu pojawia się grupa młodych chłopaków. Fantastyczna drama, która porusza temat miłości, marzeń i przyjaźni.
OBSADA:
GŁÓWNE ROLE:
Song Hayoon – Joo In Hyung
JB – JB
Park Jinyoung – JR
Mark – Mark
Jackson Wang – Jackson
Bambam – Bambam
Kim Yugyeom – Yugyeom
Choi Youngjae – Youngjae
POZOSTAŁE ROLE:
Min – Lee Jenny
Park Jinyoung (JYP) – Księżyc
ROLE GOŚCINNIE:
Hwang Chaesung – On Sam
Kim Hyunjin  – Host w TV
Clara – ?
Suzy – ?
Choi Wooshik – były uczeń
Ciekawostki:
Jest to drama promująca zespół GOT7.
Wystąpili tam wszyty członkowie zespołu.
Teasery:
RECENZJA:
Neko:
Miła i lekka drama fantastyczna, czekałam na nią i oglądałam na bieżąco, może dlatego, że to GOT7. Ogólnie zabił mnie Papa JYP jako Księżyc. Ogólnie miła i lekka do oglądania. Polecam wszystkim fanom GOT7 by zobaczyć jak wszyscy panowie grają.
Gra aktorska: 7/10
Muzyka: 7/10
Ocena Ogólna: 7/10
Alieena:
Podział GOT7 na tych dobrych i złych nie do końca mi się podobał, a sama historia nie do końca trzymała się ryzów normalności nawet na możliwości twórców koreańskich. Jednak pomijając logikę, mogę stwierdzić, że oglądało się to całkiem całkiem. Aktorstwo chłopaków w szczególności JB i Jinyounga jest na wysokim poziomie. Ta web-drama jest godna polecenia.
Gra aktorska: 8/10
Muzyka: 9/10
Ogólna ocena: 7/10