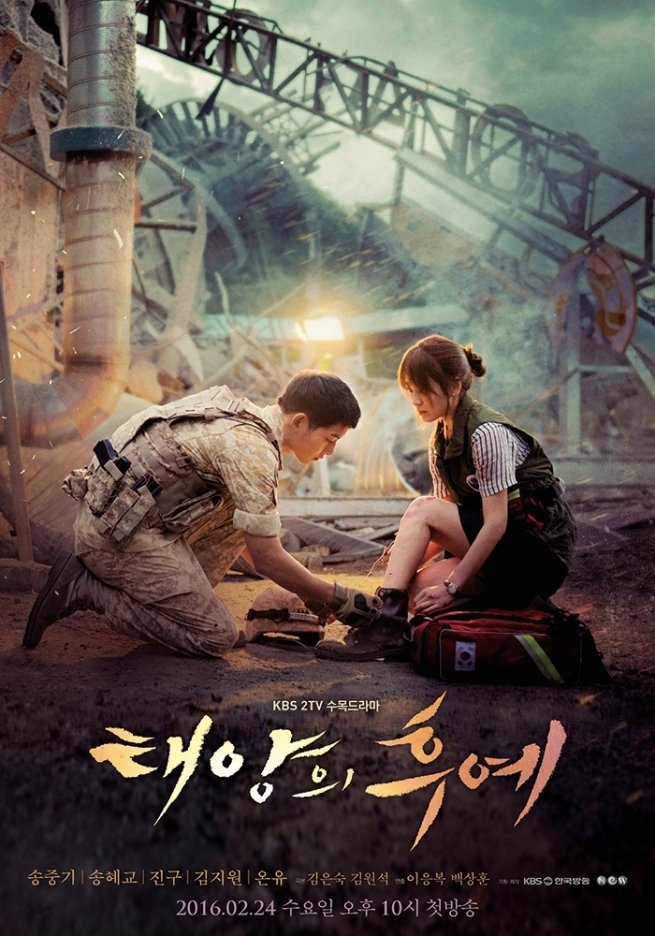 Nazwa dramy: Descendants of the Sun
Hangul: 태양의 후예
Reżyser: Baek Sanghoon, Lee Eungbok
Scenarzysta: Kim Eunsook, Kim Wonseok
Stacja telewizyjna: KBS
Ilość odcinków: 16 + 3 speciale
Długość odcinka: 60 min
Wskazana dla widzów: 15+
Data wydania: 24 luty – 14 kwietnia 2016
Czas emisji: Środa, Czwartek o 22:00
Gatunek: Akcja, Wojskowa, Komedia, Romans, Dramat, Medyczna, Melodramat
Zarys fabuły:
Ko Moyeon jest ładną i stanowczą kobietą, która pracuje jako chirurg kardiologiczny w szpitalu Haesung. Nie boi się przyznać do swoich błędów i wierzy, że umiejętności są ważniejsze niż znajomości. Jednakże nie długo po tym zderza się z rzeczywistością, w której nie mogła nic zmienić. Jej życie zmienia się, gdy spotyka Yoo Sijina, kapitana i lidera Zespołu Alpha, który troszczy się o ochronę każdego, kto potrzebuje pomocy, jak również swojego kraju, nawet jeśli jest to sprzeczne z rozkazami jego przełożonych. Drama ta opowiada historię tej dwójki jak zaczynają ze sobą współpracować w czasie wojny i pokonują razem przeciwieństwa.
OBSADA:
GŁÓWNE ROLE:
POZOSTAŁE ROLE:
David McInnis – David Agus
Onew – Lee Chihoon
Jo Woori – Jang Heeeun
Hyun Jyuni – Pyo Jisoo
Jo Jaeyun – Jin Yeongsoo
Seo Jungyeon – Ha Jaae
Lee Seungjun – Song Sanghyeon
Kwak Injoon – Lee Hansoo
Choi Woong – Sierżant Kong Chulho
Ahn Bohyun – Sierżant Im Gwangnam
Jeon Soojin – Ri Yehwa
Kim Byungchul – Porucznik Park Byungsoo
Kim Minseok – szeregowiec Kim Gibum
Park Hwanhee – Choi Minji
Tae Inho – Han Sukwon
Park Ahin – Kim Eunji
Kang Shinil – Generał Yoon
Lee Yikyung – Kang Minjae
Jasper Cho – doctor Daniel Spencer
Ji Seunghyun – Ahn Jungjoon
Jung Younghoon – Jung Yeonghoon [unit Taebaek]
Jung Sunghoon – lekarz
Park Hoon – Choi Woogeum
Go Mankyu – sierżant w zespole Parka
ROLE GOŚCINNE:
Lee Kwangsoo – pracownik stoiska z strzelaniem do celu (odc.1)
Jung Donggyu – pacjent VIP (odc. 2)
Ryu Hwayoung – była dziewczyna Daeyeonga (odc. 4)
Lee Jonghyuk – partner Shijin (odc. 5)
Lee Hyunkul – były żołnierz pod Daeyongiem (odc. 6)
Park Joongeum – matka Chi Hoon
Nam Moonchul – Pan Go
Douma Matthew – Jordan
Nam Kiae – mama Moyeon
Yeri – siebie (Red Velvet) (odc. 16)
Joy – siebie (Red Velvet) (odc. 16)
Wendy – (Red Velvet) (odc. 16)
Seulgi – (Red Velvet) (odc. 16)
Irene – (Red Velvet) (odc. 16)
Ariane Desgafnes-Leclerc – kelnerka w Vancouver (odc. 16)
Shin Donghoon – agent
Park Kiyoon – prezydent
Yoo Ahin – pracownik banku Uhm Hongsik (odc. 13)
Ciekawostki:
Drama zajęła miejsce antenowe po serialu "The Merchant: Gaekju 2015", a po niej zaczęto emisję "The Master of Revenge".
Pierwsze czytanie skryptu odbyło się 28 maja 2015 roku, przeczytano wtedy skrypt odcinka 8 i 9.
Była to pierwsza rola Song Joonkiego, po ukończeniu służby wojskowej.
Akcja dzieje się w fikcyjnym kraju Wooreukeu.
Pierwsze zdjęcia do dramy zaczęto kręcić 12 czerwca 2015.
Przez miesiąc od 28 września kręcono w Grecji.
Kręcenie dramy zakończono 30 grudnia 2015 roku wczesnym rankiem.
Była to pierwsza drama KBS, nakręcona kompletnie przed emisją.
Para głównych aktorów Song Joonki oraz Song Hyekyo(Song Song Couple) wzięła ślub 31 października 2017 roku.
Teasery:
RECENZJA:
Neko:
Drama ogólnie pomysłowa i miło się ją oglądało, cały czas się coś w niej dzieje, dlatego trudno się nią znudzić, trochę bardzo dobrych żartów i pełno komicznych sytuacji, sprawia, że drama nie jest ciężka. Ogólnie super się ją ogląda, muzyka nie jest najgorsza, choć niektóre OSTy były dla mnie po prostu "wyciem". Gra aktorska klasa, bardzo czekałam na tę produkcję, bo lubię Song Joongki'ego. Ogólnie wszyscy shipowali go z Song Hyekyo i mówiąc szerze mega się cieszę, że ta dwójka wzięła ślub, mam nadzieję, że będzie więcej takich par.
Gra aktorska: 9/10
Muzyka: 7/10
Ogólna ocena: 8,5/10
Alieena
Gra aktorska:
Muzyka:
Ogólna ocena: