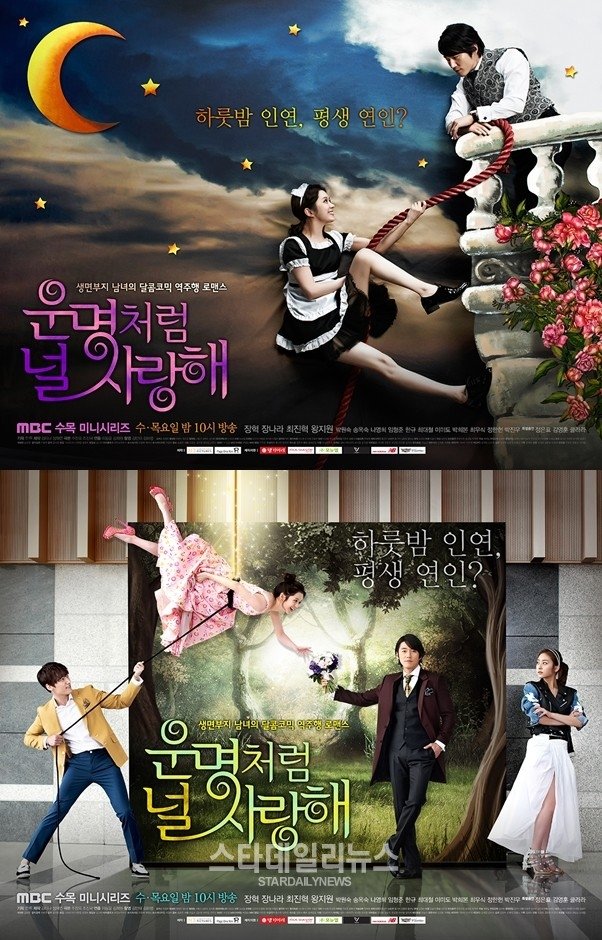 Nazwa dramy: Fated to Love You
Hangul: 운명처럼 널 사랑해
Reżyser: Kim Heewon
Scenarzysta: Park Eunyoung
Stacja telewizyjna: MBC
Ilość odcinków: 20
Długość odcinka: 60 min
Wskazana dla widzów: 15+
Data wydania: 2 lipca – 4 września 2014
Czas emisji: Środa, Czwartek 21;55
Gatunek: Komedia, Romans, Rodzina, Dramat
Zarys fabuły:
Jest to historia zwykłej dziewczyny, Mi Yeong, która nie ma wybitnego wyglądu, prestiżowego wykształcenia ani żadnych innych urokliwych cech, a której życie gwałtownie się zmienia, kiedy miłość puka do jej drzwi. Podczas wakacji przypadkowo spędza jedną noc z nieznanym bogatym mężczyzną, a nawet zachodzi w ciążę tej nocy. Przez ten incydent jej życie nie jest takie samo, a to fatalne spotkanie przynosi miłość, która przemienia tę nie tak wyjątkową dziewczynę w atrakcyjną, czarującą kobietę. 
POZOSTAŁE:
Choi Daechul –Menadżer Tak
Im Hyungjoon – mąż Mi Ja, szwagier Mi Yeong
Park Heebon  – Jeon Ji Yeon [przyjaciółka Mi Yeong]
Park Wonseok – CEO Wang [babcia Lee Gun]
Lee Mido – Kim Mi Ja [siostra Mi Yeong]
Choi Wooshik – Yong [brat przyrodni Lee Guna]
Kim Younghoon – prawnik Min
Jung Eunpyo – Dyrektor Park
Na Younghee – Mama Younga
Song Oksook – mama Mi Yeong
Oh Solmi– Kim Mi Suk [siostra Mi Yeong]
Jang Gwang– Doktor Ośmiornica
Park Heejin – nauczycielka zajęć przedporodowych
Yang Geumsuk – mama Se Ra
Jung Hanhun – Lee Sung Mok
Im Jihyun – Soo Hyeon
GOŚCINNIE:
Clara – modelka szamponu
Park Joon  – On Sam
Jung Joonyoung – 

DJ w radiu

Park Jinwoo – prawnik Hong
Jung Gyoosoo – psychiatra
Kim Sunwoong – Moon Woo Bin
Kim Hayoo – Kim Mi Yeong [dziecko]
Jo Yihyun – Yong [dziecko]
Yun Mijoo – Pani Kim
Ciekawostki:
Po zakończonej emisji na miejsce tej dramy weszło "A New Leaf".
Drama weszła na miejsce "The Spring Day of My Life".
Pierwsze czytanie dramy odbyło się 9 maja 2014 roku.
Jest popularnym remakem tajwańskiej dramy "Fated to Love You" z 2008 roku.
Teasery:
RECENZJA:
Neko:
Drama, która ma bardzo przyjemną obsadę i fabułę, która czasami sprawi, że śmiejesz się do łez, ale za równo wzruszasz. Ogólnie oglądałam ją jak wychodziła i mogę powiedzieć tylko tyle, że jest bardzo lekka.
Gra aktorska: 8/10
Muzyka:  7/10
Ocena Ogólna: 8,5 /10
Alieena:
Drama miła i przyjemna, ogląda się ją szybko i przyjemnie, można się wzruszyć oraz pośmiać. Jednak nie jest to drama wybitnych lotów. Taka idealna na odstresowanie w czasie sesji egzaminacyjnej.
Gra aktorska: 7/10 (Nara jak zawsze daje radę)
Muzyka: niestety nie pamiętam, oglądałam w 2015
Ogólna ocena: 7/10