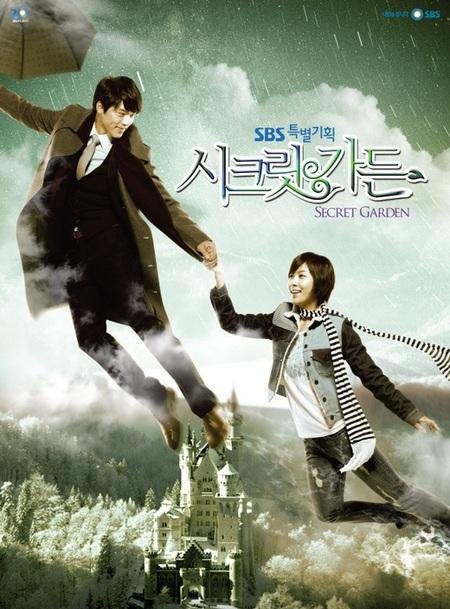 Nazwa dramy: Secret Garden
Hangul: 시크릿 가든
Reżyser: Kwon Hyukchan, Shin Woocheol
Scenarzysta: Kim Eunsook
Stacja telewizyjna: SBS
Ilość odcinków: 20
Długość odcinka: 1h 5 min.
Wskazana dla widzów: 15+
Data wydania: 13 listopada 2010 – 16 stycznia 2011
Czas emisji: Sobota, Niedziela o 21:55
Gatunek: Komedia, Romans, Dramat, Melodramat, Fantastyczny
Zarys fabuły:
Drama przedstawia historię Kim Joowona, aroganckiego i ekscentrycznego CEO, który posiada wszystko i wydaje się perfekcyjny, oraz Gil Raim, biednej i pokornej kaskaderki, której piękno i ciało jest przedmiotem zazdrości wśród najlepszych aktorek. Spotykają się przez przypadek, gdy Joowon bierze Raim za aktorkę Park Chaerin, co rozpoczyna napiętej i kłótliwej relacji, W której Kim stara się ukryć rosnące zainteresowanie dziewczyną, która sprawia, że jest zdezorientowany i go niepokoi. Aby jeszcze bardziej skomplikować sprawę, dziwna sekwencja wydarzeń sprawia, że zamieniają się ciałami.
OBSADA:
GŁÓWNE ROLE:
POZOSTAŁE ROLE:
Lee Phillip – Im Jongsoo
Yoo Seojin – Lee Jihyun
Yoo Inna – Ah Young
Park Joongeum – Moon Boonhon
Kim Seungoh – Sekretaż Kim Sungwoo
Yoon Giwon – Choi Dongkyu
Jang Seowon – Hwang Junghwan
Lee Byungjoon – Park Bongho
Kim Sungkyum – Moon Changsoo
Choi Yoonsoo – Kim Heewon
Km Jisuk – Mun Yeonhong
Jung Inki – ojciec Gil Raim
Lee Jongsuk – Han Taeseon
Kim Sungkyum – Moon Changsoo
Park Seunghee – Park Chaerin
Sung Byungsook – Park Bonghee
Kim Gun – Yoo Jonghun
Kim Donggyun – dyrektor
ROLE GOŚCINNE:
Son Yejin – siebie
Kim Yewon – Kim Shinah (odc. 20)
Jo Jaeyun – fotograf (odc. 3)
Kim Mikyung – ahjumma z guest housu
Lee Joonhyuk – siebie
Lee Taewoo – syn Raim
Song Jaerim – piosenkarz
Nam Hyunjoo – dyrektor Nam
Ryu Sunghoon – członek gangu "Eungalchi"
Hwang Deokjung – recepcjonistka w saunie (odc. 6)
Choi Daesung – manager Choi
Kim Jooah – hostessa w restauracji
Baek Jiyoung – (odc. 13)
Jang Gahyun – kobieta z torebką w teatrze
Park Jongseol
Song Yoonah
Shim Hodung
Ciekawostki:
Drama zajęła miejsce antenowe po dramie "Life is Beautiful", a po niej leciał serial "New Tales of the Gisaeng".
Pierwsze czytanie skryptu odbyło się 14 sierpnia 2010.
Zdjęcia do dramy się we wrześniu 2010.
Jay Park oraz Jang Hyuk zostali odrzuceni z listy potencjalnych osób, które zagrają rolę Kim Joowona, ostatecznie wybrano Hyun Bina.
Teasery:
RECENZJA:
Neko:
Kolejna stara drama, którą odkopuję i polecam do obejrzenia. Może jest momentami przeciągana, ale ogólnie pomysł na nią był dobry, jest mega zabawna i bardzo dobrze się ją ogląda. Aktorstwo było bez zarzutów, a właśnie dzięki tej dramie zakochałam się w Hyun Binie jak aktorze. Powiem tak drama zapewnia dobrą dawkę śmiechu.
Gra aktorska: 7/10
Muzyka: 8/10
Ogólna ocena: 7,5 /10