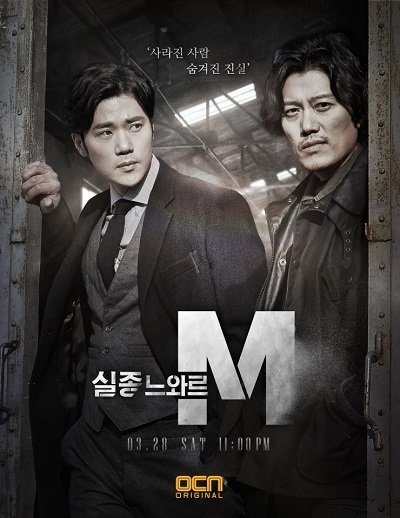 Nazwa dramy: Missing Noir M / The Missing / Special Missing Persons Unit M
Hangul: 실종느와르 M
Reżyser:  Lee Seungyoung
Scenarzysta: Lee Yoojin
Stacja telewizyjna: OCN
Ilość odcinków: 10
Długość odcinka: 1h 10 min
Wskazana dla widzów: 15+
Data wydania: 28 marca – 30 maja 2015
Czas emisji: Sobota o 23:00
Gatunek: Suspense, Thriller, Mystery, Kryminał
Zarys fabuły:
Gil Suhyeon jest niezwykle inteligentny. W wieku 10 lar uczęszczał na Uniwersytet Harvarda i po ukończeniu studiów rozpoczął pracę w FBI. 10 lat później postanowił wrócić do Korei. Obecnie pracuje jako lider jednostki specjalnej zajmujących się osobami zaginionymi. Jednostka zajmuje się około 1% spraw osób zaginionych, tymi które są powiązane z przestępstwami z użyciem przemocy. Jego pojawienie się wydaje się idealne, jednakże jest w nim tajemnica.
Oh Daeyeong dołączył do specjalnej jednostki. Pracuje on jako detektyw od 20 lat i ma obsesję na punkcie przestrzegania prawa. Znany jest również jako mistrz spraw zaginionych osób.
OBSADA:
GŁÓWNE ROLE: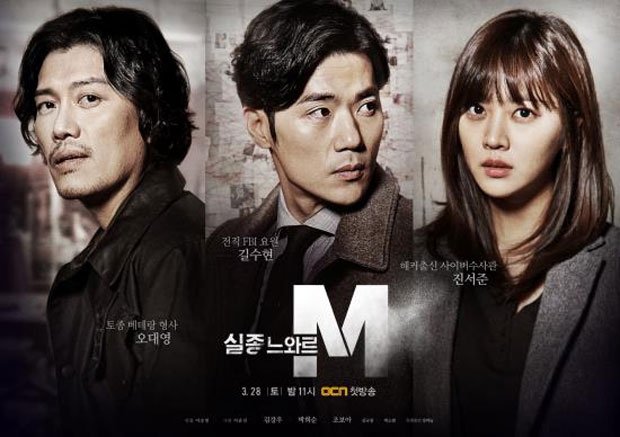 POZOSTAŁE ROLE:
Kim Gyuchul – Park Jeongdo
Park Sohyun – Kang Juyeong
Oh Soontae – Kim Seongtae
Jang Joonhak – Kim Minsoo
Lee Dongyong – policjant ze złamaną kością
Kang Mintae – lichwiarz
Shin Shinbeom
ROLE GOŚCINNE:
Lee Soejin – Lee Soyoon (doc. 2)
Kang Haneul – Lee Jeongshin (odc. 1-2)
Go Bogyeol – Kang Soonyeong (odc. 1-2)
Jung Wooshik – Kang Minchul / Joo Yosep (odc. 2)
Lee Seunghyung – Kim Seokjin (odc. 2)
Park Haejoon – Ha Taejo (odc.3-4)
Son Jonghak – Ryu Junggook (odc. 3-4)
Seo Eunah – Eun Chaerin (odc. 3-4)
Jang Gwang – Nam Suktae (odc. 5)
Yoo Jungsuk – Go Dongho (odc. 5)
Han Seunghyun – Kim Daesoo (odc. 5)
Kim Yeol – Ko Dongjoo (odc. 5 )
Lee Dooil – Lee Jongho (doc. 6)
Son Soohyun – Ban Hyojeong (odc. 7)
L.Joe – Yang Jeongho (odc. 7)
Yoon Yejoo – Lee Seyeong (odc. 7)
Lee Yeondoo – Jeong Seonmi / Jang Miyeong / Kim Junghee / Lee Soojin (odc. 8-9)
Lee Youngran – Oh Jungim (odc. 8-9)
Heo Junseok – PD Jung (odc. 8-9)
Yang Youngjo – Park Gwangchul (odc. 9)
Choi Yongmin – Moon Jungwook (odc. 10)
Kwon Haesung – Prokurator Jung Jiwoong (odc. 10)
Jung Chan – Hong Jingi (odc. 10)
Shim Yiyoung – żona Daeyeonga (odc. 8 i 10)
Choi Byungmo – Kim Younggeum (odc. 7)
Ryu Taeho – Kim Seokgyu (doc. 2)
Kim Jihoon – Kim yoonjae (odc. 4)
Kim Byungchul – Kang Yoongoo (odc. 6)
Yoon Gyungho
Park Kwisoon
Ciekawostki:
Drama zajęła czas antenowy po "Bad Guys", a po niej leciała drama "My Beautiful Bride".
Pierwotna nazwa dramy to "Special Missing Persons Unit M".
Teasery:
RECENZJA:
Neko:
Serial, który jak dla mnie był o wiele za krótki i niestety mam dalej żal, że nie produkuje się więcej takich dram. Ogólnie uwielbiam kryminały, a ten był specyficzny spośród wszystkich, które dotychczas widziałam, bo zajmował się tylko zaginionymi. Obsada była bardzo dobra, ogólna fabuła też, bo nie dało się jej przewidzieć, a sama muzyka w dramie była genialna(piosenki, trochę gorsze). Klasyk dram kryminalnych.
Gra aktorska: 10/10
Muzyka: 9/10
Ogólna ocena: 9,5 /10