Nazwa dramy: What's Wrong with Secretary Kim / Why Secretary Kim /Why Would Secretary Kim Do That
Hangul: 김비서가 왜 그럴까
Reżyser: Park Joohwa
Scenarzysta: Baek Sunwoo, Choi Borim
Stacja telewizyjna: tvN
Ilość odcinków: 16
Długość odcinka: 1h 9 min
Wskazana dla widzów: 15+
Data wydania: 6 czerwca – 26 lipca 2018
Czas emisji: Środa, Czwartek o 21:30
Gatunek: Przyjaźń, Romans, Biznes, Komedia
Zarys fabuły:
Rodzina Lee Yeongjoona prowadzi dużą firmę, w której on jest wiceprezesem. Jest bogaty, przystojny, mądry, jednakże jest arogancki. Jego sekretarką jest Kim Misoo. Pracuje ona dla niego od lat i jest idealną pracownicą dla niego, jednakże kobieta decyduje się odejść z pracy.
OBSADA:
GŁÓWNE ROLE: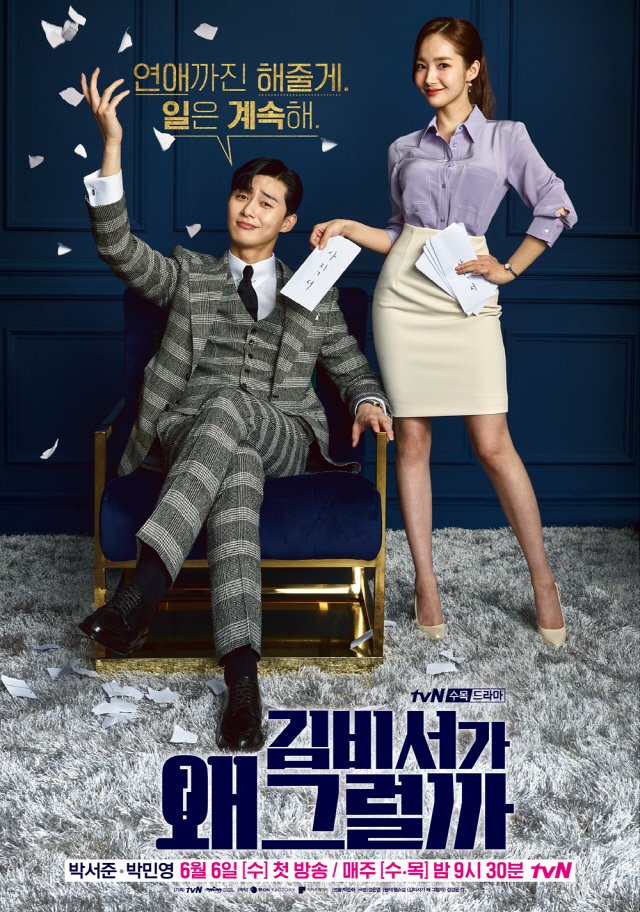 POZOSTAŁE ROLE:
Lee Taehwan – Lee Sungyeon
Pyo Yejin – Kim Jiah
Kim Hyeok – Pani Choi
Kim Byungok – Prezes Lee
Kang Kiyoung – Park Yooshik
Kang Hongsuk – Yang Cheol
Hwang Chansung – Go Gwinam
Kim Yewon – Sul Maeum
Lee Yoojoon – Jung Chiin
Hwang Bora – Bong Sera
Kim Jungwoon – Park Joonhwan
Lee Jungmin – Lee Yeong Ok
Hong Jiyoon – Oh Jiran
Moon Woojin – młody Lee Youngjoon / Lee Sunghyun
Heo Soonmi – Kim Malhee
Kim Jiyoo – mała Kim Misoo
Bark Eunhye – Kim Pilnam
Bae Gangyoo – mały Lee Sungyeon
ROLE GOŚCINNE:
Park Byungeun – Park Byungheon (odc. 3)
Jung Somin – matka Misoo (odc. 10)
Lee Minki – młody ojciec Misoo (odc. 10 )
Seo Hyorim – była żona Yooshika
Son Sungyoon – porywaczka (odc. 11)
Lee Sookyung – młoda Pani Choi (odc. 11-12)
Go Sewon – młody Prezes Lee (odc. 11-12)
Jung Yoomi – Jung Yoomi (odc. 14)
Jo Dukhyun – Kim Youngman (odc. 13-16)
Kim Hyunjoo – kobieta w samolocie od czapki Lee Sungyeona (odc. 3)
Lee Chang – dyrektor – Art. Center
Lee Byungjoon – projektant mody (odc. 16)
Lee Doyeon – dziennikarka (odc. 4)
Baehyunsung – stażysta (odc. 13)
Jung Sooyoung
Kim Jaeil
Ciekawostki:
Drama zajęła czas antenowy po serialu "My Mister", a po niej zaczęła się emisja "Familiar Wife".
Drama bazuje na powieści "Kimbiseoga Wae Geureolgga" napisanej przez Jung Kyungyoon oraz web komiksie o tym samym tytule bazującym na powieci, autorem komiksu jest Kim Youngmi.
Pierwsze czytanie scenariusza odbyło się 10 kwietnia 2018.
Teasery:
RECENZJA:
Neko:
Dużo śmiechu i słodkiego romansu. Jest to super przewidywalna drama, która jednak nie jest nudna. Cały czas coś się dzieje i jest wiele komizmu w niej, co jak dla mnie dodaje lekkości. Obsada bardzo dobra, na muzykę nie mogę narzekać. Idealny serial na gorące ostatnie dni czerwca.
Gra aktorska: 9/10
Muzyka: 8/10
Ogólna ocena: 8,5/10