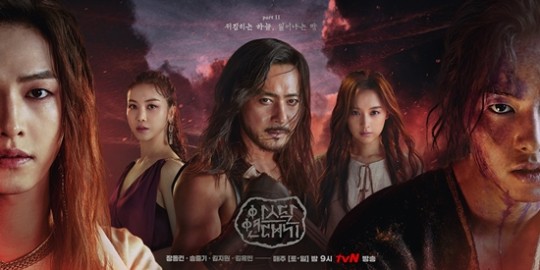 Nazwa dramy: Arthdal Chronicles Part 2: The Sky Turning Inside Out, Rising Land
Hangul:아스달 연대기 Part 2 뒤집히는 하늘, 일어나는 땅
Reżyser: Kim Wonsuk
Scenarzysta: Kim Younghyun, Park Sangyeon
Stacja telewizyjna: tvN
Ilość odcinków: 6
Długość odcinka: 1h 20 min
Wskazana dla widzów: 15+
Data wydania: 22 czerwca – 7 lipca 2019
Czas emisji: Sobota, Niedziela o 21:00
Gatunek: Historyczna, Romans, Dramat, Fantastyczna, Polityczna
Zarys fabuły:
Eunsom to przeklęte dziecko, które urodziło się w wiosce Blue Stone jako złowieszczy znak. Po jakimś czasie staje się on zdobywcą Arthdal, stolicy Gojoseon, i zmienia je z miasta na państwo.
Tagon jest bohaterem wojennym wśród plemienia Saenyeok i mistrzem strategii. Jest bardzo ambitny i chce zostać pierwszym królem Arthdal.
Tanya to kobieta, która urodziła się pod przeklętym znakiem, ale pokonuje przeciwności losu i staje się pierwszą kobietą-politykiem w Arthdal. Jest ona również pierwszą miłością Eunsom.
Taeha to ostatnia żyjąca Neoantal(rasa inna niż ludzka), a także pierwsza cesarzowa Arthdal.
OBSADA:
GŁÓWNE ROLE:
POZOSTAŁE ROLE:
Jo Sungha – Hae Mihol
Park Haejoon – Moo Baek
Choi Moosung – San Wook
Park Byungeun – Dan Byuk
Kim Euisung – San Woong
Jo Byungkyoo – Sateunik
Lee Dokyung – Ah Saron
Park Hyungsoo – Gil Seon
Shin Joohwan – Dal Sae
Kim Hojung – Cho Seol
Ki Dohoon – Yang Cha
Yoo Teo – Ragaz
Lee Hochul – Kitoha
Lee Hwang Ui – Dae Dae
Son Sook – Ah Sa Sa Kan
Jang Yool – Ah Sayon
Yoon Sabong – Hae Tooak
Go Bogyeol – Chae Eun
Hwang Hee – Moo Gwang
Jung Sukyong – Yeol Son
Park Jin – Moongtae
Kim Choonggil – Book Soi
Go Nahee – Do Ti
Shin Moonsung – Doon Ji
Song Jaeryong – Gum Bool
Kim Bibi – Woo Roomi
Jo Seungyeon – Hae Rim
Kim Yejoon – mały Eun Som / Saya
Heo Jungeun – mała Tan Ya
One – młody Ta Gon
Seo Eunah – Ah Samot
Park Jiwon – Ah Samu
Elena An – Noon Byeol
Kim Sungchul – Ipsaeng
Lee Sungwoo
Ha Joon
Baek Seungik
ROLE GOŚCINNE:
Cho Jahyun – Ah Sahon
Kim Jisoo – Saenarae (odc. 1)
Nichkhun – Rottip
Moon Woojin – mały Ta Gon
Song Jongho – Yiseuroobeu
Choi Donggoo
Karata Erika
Ciekawostki:
Teasery:
RECENZJA: 
POJAWI SIĘ JAK ALIEENA LUB NEKO ZAKOŃCZĄ OGLĄDANIE SERIALU.