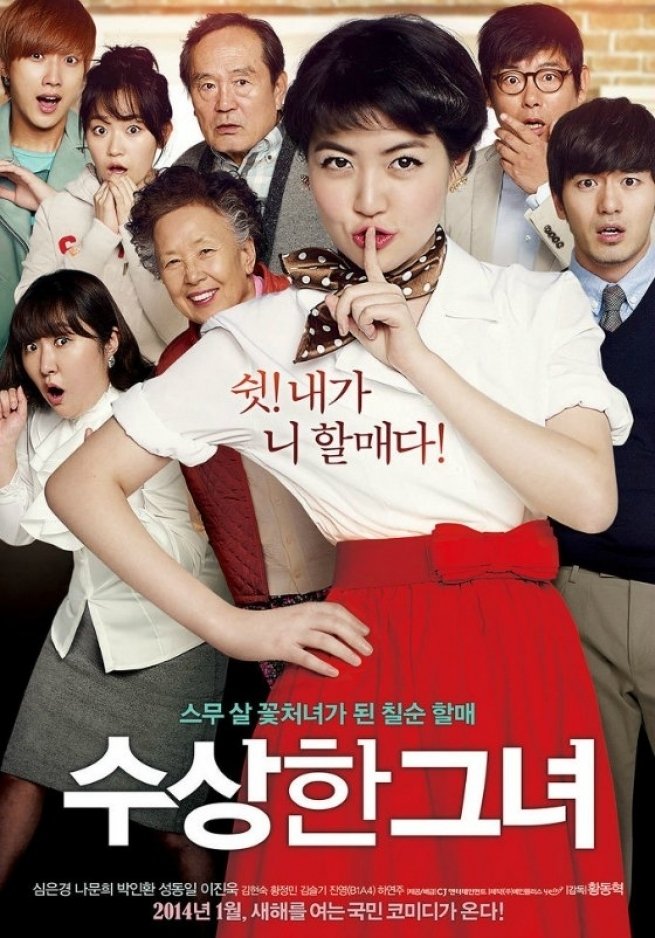 Nazwa filmu: Miss Granny / Suspicious Woman
Hangul: 수상한 그녀
Reżyser: Hwang Dong Hyuk
Scenarzysta: Hwang Dong Hyuk
Producenci: Han Hong Suk, Lim Ji Young, Jun Jae Soon
Kinematograf: Kim Ji Yong
Dystrybutor: CJ Entertainment
Długość filmu: 124 min
Data premiery: 22 stycznia 2014
Wskazania dla widzów: 15+
Gatunek: Muzyczna, Komedia, Dramat, Rodzinna, Fantasy
Zarys fabuły:
Oh Mal Soon jest 74-letnią wdową, która zdaje sobie sprawę, że jest utrapieniem dla swojej rodziny. Wędrując ulicami natrafia na studio fotograficzne, w którym się przebiera i robi sobie zdjęcie. Kiedy wychodzi w tajemniczy sposób odzyskuje swój wygląd z młodości, a dokładnie z momentu, gdy miała 20 lat. Wykorzystując ten dar losu, zmienia imię na Oh Doo Ri i postanawia cieszyć się młodością…
OBSADA:
GŁÓWNE ROLE:
POBOCZNE ROLE:
Park In Hwan – Pan Park
Lee Jin Wook – Seung Woo
Kim Seul Gi – Ha Na
Jung Jin Young – Ji Ha
Sung Dong Il – Hyun Chul
Hwang Jung Min – Ae Ja
Kim Hyun Sook – Na Yeong
Jang Gwang – fotograf
Park Seung Tae – Oh Bok
Han Ji Eun – Mi Ae
Lee Jung Woo – koleś z absem 3
Im Ji Hyun – matka w metrze
Pyo Ye Jin – prowadząca program muzyczny
Kim Mi Ra – uczennica
Kim Yong Jin – koleś z absem 1
Cha Seung Ho – detektyw
Kim Dong Seok – prowadzący program muzyczny
Lee Jang Yoo – właściciel sklepu z butami
Jeon Woo Jae – kierowca autobusu
Park Jae Hong
ROLE GOŚCINNE:
Kim Soo Hyun – młody Pan Park
Kim Ga Hee – uczennica liceum w busie
Hong Suk Youn – farmaceuta
Jo Myung Haeng – policjant
Jang Yoo – właściciel sklepu
Choi Ye Ji – studentka
Park Sun Hee – babcia w łaźni publicznej
Hwang Seung Eon
Hwang Young Hee
Ciekawostki:
Zdjęcia filmu rozpoczęły się 10 lipca 2013 roku, a zakończyły 13 października 2013 roku.
Film odniósł wielki sukces w Korei.
Film ten był na tyle popularny, że doczekał się serii remaków: chińskiego filmu "Back to 20" z 2015 r, japońskiego filmu "Sing My Life" z 2016, tajskiego filmu "Suddenly Twenty" z 2016, filipińskiego filmu "Miss Granny" z 2018, chińskiej dramy "Twenties Once Again" z 2018 oraz planowany jest koreański remake w formie dramy "Miss Granny".
Trailer:
RECENZJA:
Neko:
Słodko gorzki film, choć jest bardzo zabawny i bardzo lekki, pokazuje też smutną rzeczywistość, którą jest w jaki sposób traktujemy starszych ludzi. W każdym razie jest to film, który przede wszystkim jest komedią i filmem muzycznym. Aktorsko jest bardzo dobrze, co do gry nie mam też większych zastrzeżeń, muzyka przyjemna, a jest jej tu więcej niż w normalnym filmie. Fabuła dość złożona i jest wiele zwrotów akcji, które ożywiają cały film.
Gra aktorska: 8/10
Muzyka: 8/10
Ogólna ocena: 8/10