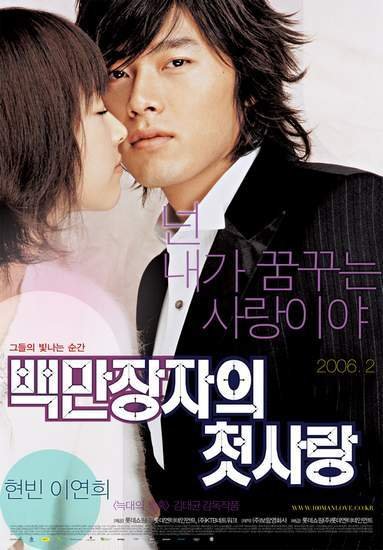 Nazwa filmu: A Millionaire's First Love
Hangul: 백만장자의 첫사랑
Reżyser: Kim Tae Gyun
Scenarzysta: Kim Eun Suk
Producenci: Jin Hee Moon, Lee Joon Ik, Kim Yong Duk
Kinematograf:  Choi Chan Min
Dystrybutor: Lotte Enrtertainment
Długość filmu: 116 min
Data premiery: 9 luty 2006
Wskazania dla widzów: 13+
Gatunek: Romans, Dramat, Melodramat, Tragedia
Zarys fabuły:
Kang Jae Kyung jest typowym dzieciakiem z bogatej rodziny, to znaczy jest arogancki, jeździ sportowymi samochodami, chodzi do dużych klubów i wagaruje. Podczas zbliżania się jego 19 urodzin, podczas których odziedziczy fortunę dziadka, dostaje warunek ukończenia szkoły w prowincji Gangwon. Do tego czasu odmawia mu się dostępu do jego apartamentu, domu i kart kredytowych. Jeżeli nie uda mu się ukończyć szkoły lub ją rzuci straci wszystko. Jeżeli się podda otrzyma jedynie 0,1% całego spadku. Mając to na uwadze udaje się do małego miasteczka, w którym codzienne życie kompletnie odbiega od tego, do którego był przyzwyczajony.  Krótko po przyjeździe do nowego domu poznaje 18-letnią Choi Eun Hwan, która spotkała go w Seoulu, która dalej widzi dla niego nadzieję i chce sprawić by on również ją zobaczył.
OBSADA:
GŁÓWNE ROLE: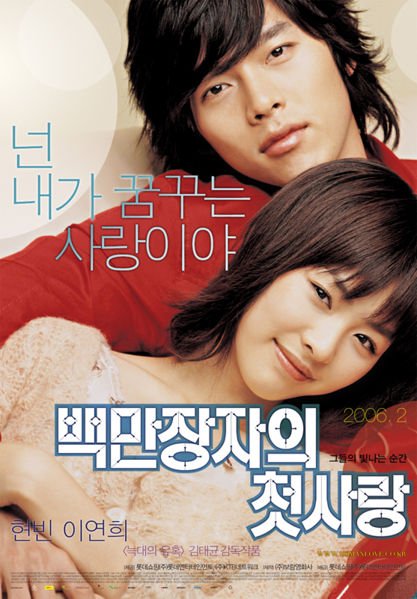 Hyun Bin – Kang Jae Kyung
Lee Yun Hee – Choi Eun Hwan
POBOCZNE ROLE:
Jung Wook – dyrektor
Kim Gyung Ae – babcia Soon Chula
Lee Han Sol – Myung Sik
Do Young Gu – ojciec Myung Sik
Kim Byeon Se – prawnik Yoo
Lee Jae Gu – nauczyciel
Ah Yong Joo – Goo Ho
Im Joo Hwan – Seung Jun
Won Duk Hyun – młody Jae Kyung
Park Jin Young – lokaj
Park Sang Hoon – Jae Su
Kwon Oh Jin – właściciel stacji paliw
Ciekawostki:
Budżet tego filmu to 3,5 miliona dolarów.
Film ten był podstawą dla filmu z Nepalu "Mero Euta Saathi Chha" z 2009 roku oraz tureckiego "Sendan Bana Kalan" i z Telugu "Pilla Zamindar" z 2011 roku.
Trailer:
RECENZJA:
Neko:
Film o młodych ludziach i bardzo głębokim przesłaniu. Zazwyczaj filmy dla młodzieży są o wiele lżejsze niż ten, ponieważ nie chcą straszyć przed dorosłością. Ten film świetnie ukazuje, że bycie dorosłym wcale nie jest takie wspaniałe jak się je maluje. Bardzo podoba mi się gra aktorka w tym filmie, nie można powiedzieć, że jest słaba. Co do muzyki nie ma jej tu wiele. Oczywiście jakość obrazu trzeba wybaczyć, bo jednak film ma swoje lata. Jak dla mnie jest to świetny wyciskacz łez.
Gra aktorska: 9/10
Muzyka: 7/10
Ogólna ocena: 8/10