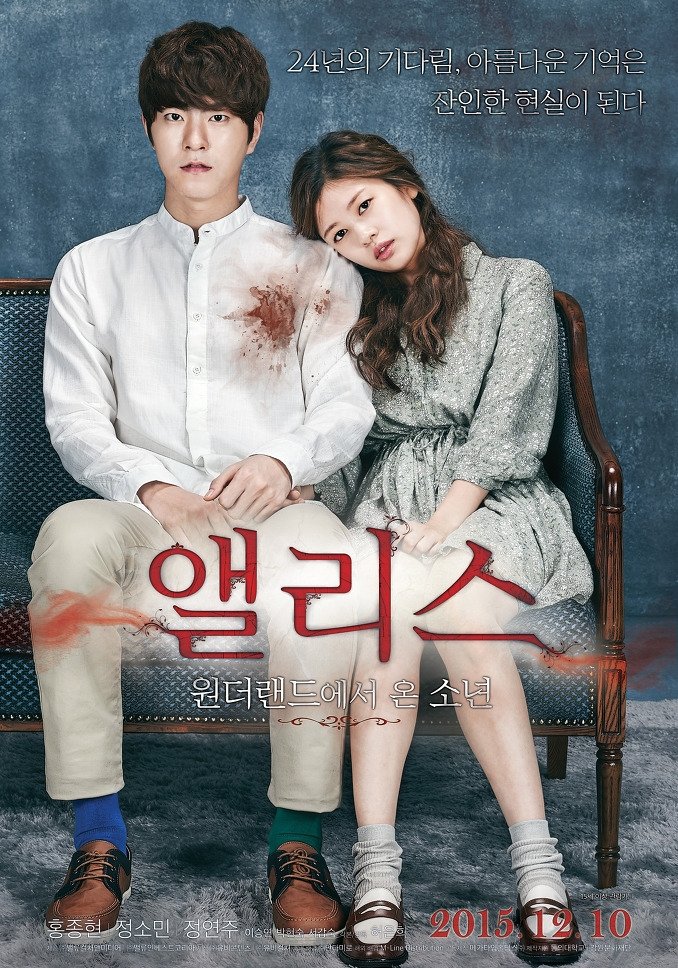 Nazwa filmu: Alice: Boy from Wonderland
Hangul: 앨리스: 원더랜드에서 온 소년
Reżyser: Heo Eun Hee
Scenarzysta: Heo Eun Hee
Producenci: Choi Yoon, Choi Wook
Kinematograf: Kim Hak Bae
Dystrybutor: M-Line Distribution
Długość filmu: 115 min
Data premiery: 10 grudnia 2015
Wskazania dla widzów: 15+
Gatunek: Mystery, Horror, Romans, Dramat, Melodramat, Supernatural
Zarys fabuły:
Film przedstawia historię Hye Joong, która cierpi na koszmary, które są tak okropne, że przenoszą się do rzeczywistości przez co zagrażają jej życiu. Aby znaleźć źródło strachu, udaje się ona w podróż do prywatnego kurortu "Wonderland", który odsiedziała 24 lata temu z rodziną. Czeka tam na nia tajemniczy i czarujący mężczyzna. Dziewczyna w ciągu 15 dni musi znaleźć to co straciła, by powstrzymać swoje koszmary, jeśli jej się nie uda wszyscy umrą.
OBSADA:
GŁÓWNE ROLE:
POBOCZNE ROLE:
Lee Seung Yeon – szamanka
Park Hyun Sook – ciotka Soo Mi
Jang Seo Won – Kim Seul Gi
Seo Kab Sook – babcia
Lee Go Eun – mała Hye Joong
Son Jong Bum – agent nieruchomości
Trailer:
RECENZJA:
Neko:
Pokręcony film, w którym łatwo się pogubić i zgubić wątek. Mówiąc, a bardziej pasowało by pisząc, szczerze oglądałam go po pracy i nie przyniósł mi on za bardzo przyjemności, jednakże potrafił mnie wzruszyć (co w sumie nie jest jakieś ciężkie). Gra aktorska jest średnia choć Hong Jonghyun jest niesamowity w tym filmie. Muzyka to często utwory klasyczne i trochę oryginalnych ost, które czasami monotonne. Film nie jest zły, ale na pewno nie nadaje się na wieczór, gdy jest się zmęczonym.
Gra aktorska: 6/10
Muzyka: 7/10
Ogólna ocena: 6,5 / 10