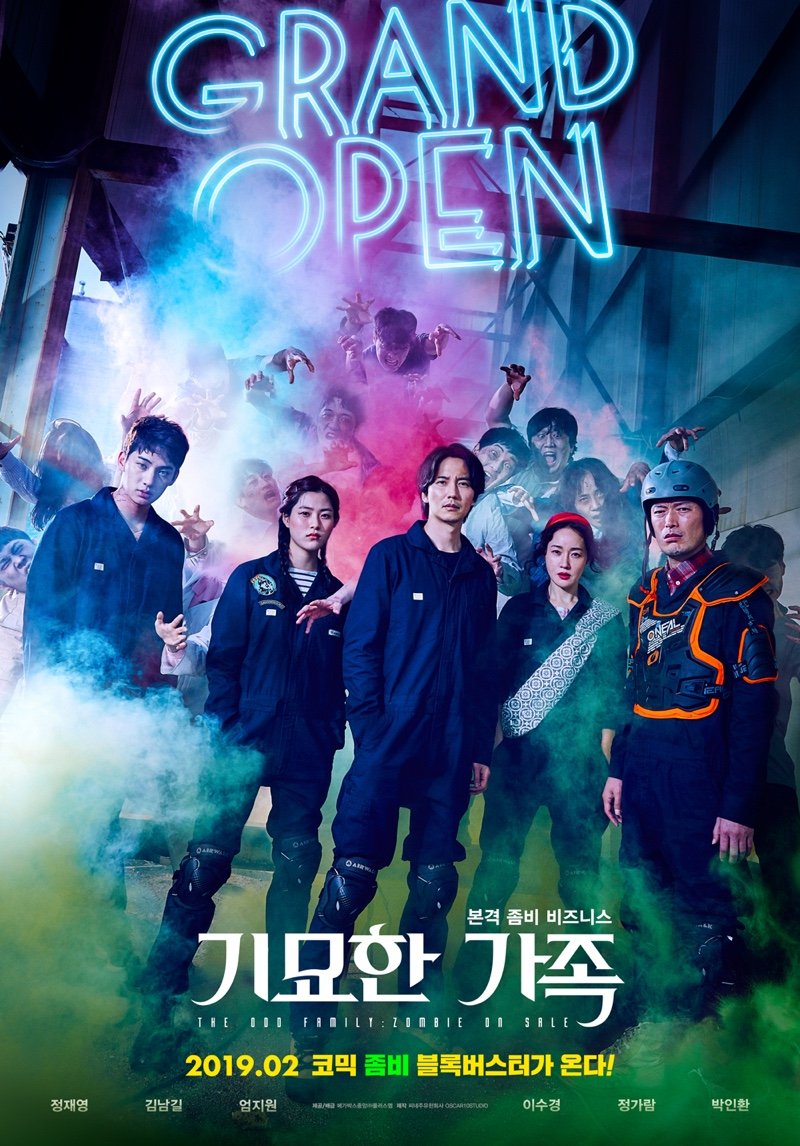 Nazwa filmu: The Odd Family: Zombie on Sale / Strange Family
Hangul: 기묘한 가족
Reżyser: Lee Min Jae
Scenarzysta: Lee Min Jae
Producenci: Lee Ji Yeon, Lee Chi Bum, Park In Jung
Kinematograf: Jo Hyung Rae
Dystrybutor: Megabox Plus M
Długość filmu: 112 min
Data premiery: 14 luty 2019
Wskazania dla widzów: 13+
Gatunek: Horror, Komedia, Romans, Rodzinny, Supernatural
Zarys fabuły:
Man Deok prowadzi stację paliw w małej i spokojnej wiosce. Ma on trójkę dorosłych dzieci: Joon Geola, Min Gyeola oraz Hae Geol. Marzy on tylko o tym by spędzić resztę swojego życia na Hawajach.
Najstarsze dziecko Joon Geol ożenił się z Nam Joo, kocha swoją rodzinę, ale nie chcę pokazywać im swoich uczuć. Jako jedyny ukończył uniwersytet z całej rodziny. Min Geol jest środkowym dzieckiem i jako jedyny ukończył studia w rodzinie, jednakże nie uchroniło go to przed zwolnieniem z firmy, po którym wraca do rodzinnej miejscowości. Hae Gyeol jest najmłodszą członkinią rodziny.
Pewnego dnia dziwny mężczyzna pojawia się w wiosce. To właśnie on wstrząśnie całą wioską oraz rodziną Man Deoka.
OBSADA:
GŁÓWNE ROLE: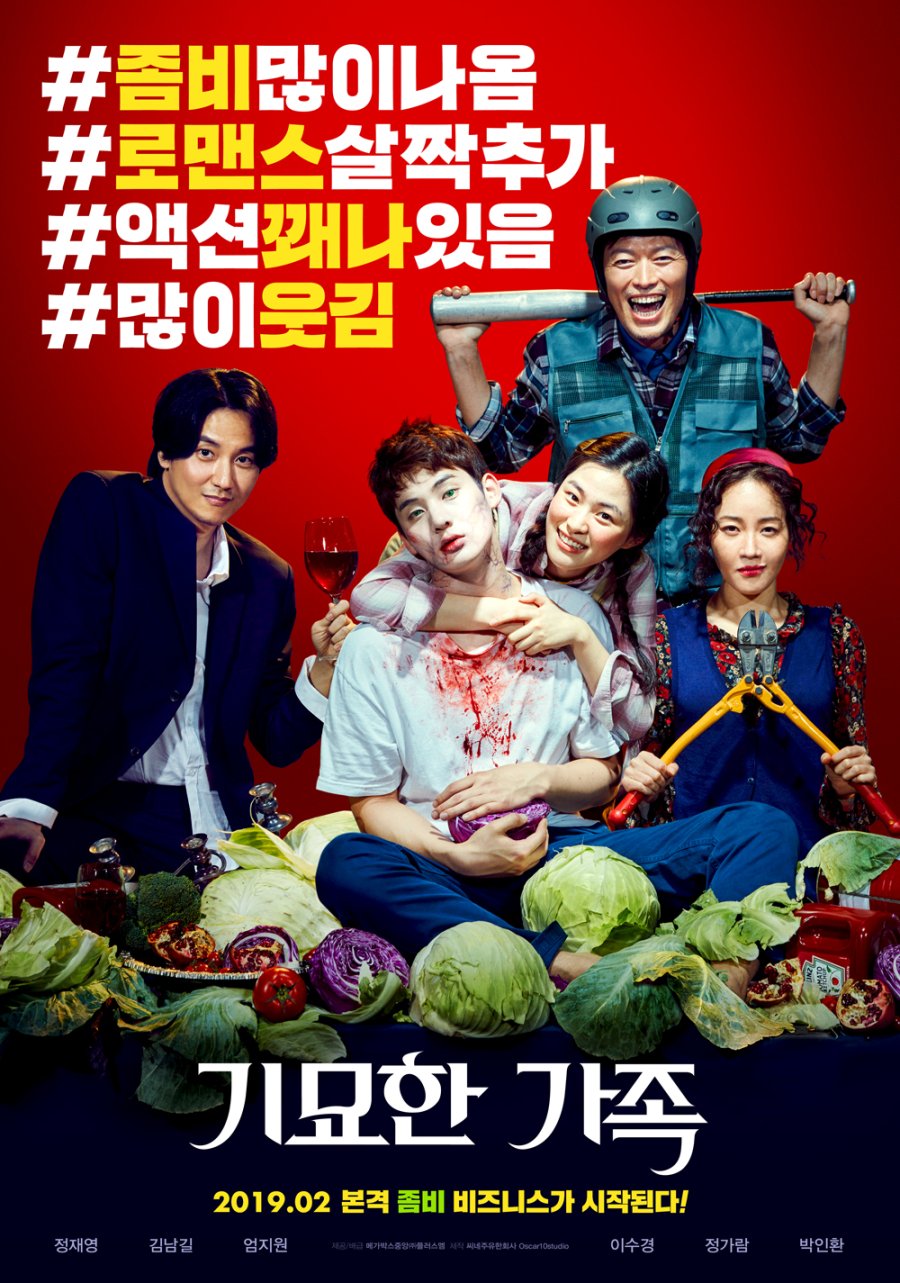 Park In Hwan – Man Deok
Jung Jae Young – Joon Geol
Kim Nam Gil – Min Geol
Lee Soo Kyung – Hae Gyeol
Uhm Ji Won – Nam Joo
Jung Ga Ram – dziwny mężczyzna / Jjong Bi
POBOCZNE ROLE:
Kim Ki Cheon – starszy człowiek
Lee Young Suk – starszy człowiek
Choi Jung Ryul – starszy człowiek
Jeon Bae Soo – oficer Park
Oh Eui Shik – oficer Choi
Shin Jung Keun – oficer Oh
Baek Song Hee – Min Ji
Kim Yeon Jung – właścicielka salonu piękności
Jo Eun Joo – głos kotwicy / głos matki Sang Gu
Koo Bon Woong – Chun Sam
ROLE GOŚCINNE:                
Lee Sung Woo – mężczyzna w Sedanie
Lee Ga Ryeong – kobieta w Sedanie
Kim Chang Jo – zombie na stacji benzynowej
Jo Eun Ah – zombie z miasteczka
Jang Se Ah – zombie na stacji benzynowej
Na Ae Jin – zombie
Kim Yun Hee – zombie na stacji benzynowej
Kang Min Gu – zombie
Jo Ah Ra – kontrolerka biletów
Lee Seung Chul – mężczyzna z peruką
Lee Soo Ah – zombie na stacji benzynowej
Ciekawostki:
Zdjęcia do filmu rozpoczęły się 13 października 2017 roku, a zakończyły 21 stycznia 2018.
Trailer:
RECENZJA:
Neko:
Jak już kiedyś wspominałam nie cierpię filmów o zombie, ale na tym popłakałam się ze śmiechu. Gra aktorska była świetna, fabuła przekomiczna (popłakałam się ze śmiechu). Muzyka jest dość żywiołowa, a czasami przerysowany dramatyzm jest ukazaniem groteski. Mogę szczerze powiedzieć, że to był najgłupszy film jaki widziałam ostatnimi dniami i dzięki czemu był najlepszy dla mnie po ciężkiej pracy i uczelni.
Gra aktorska: 10/10
Muzyka: 10/10
Ogólna ocena: 10/10