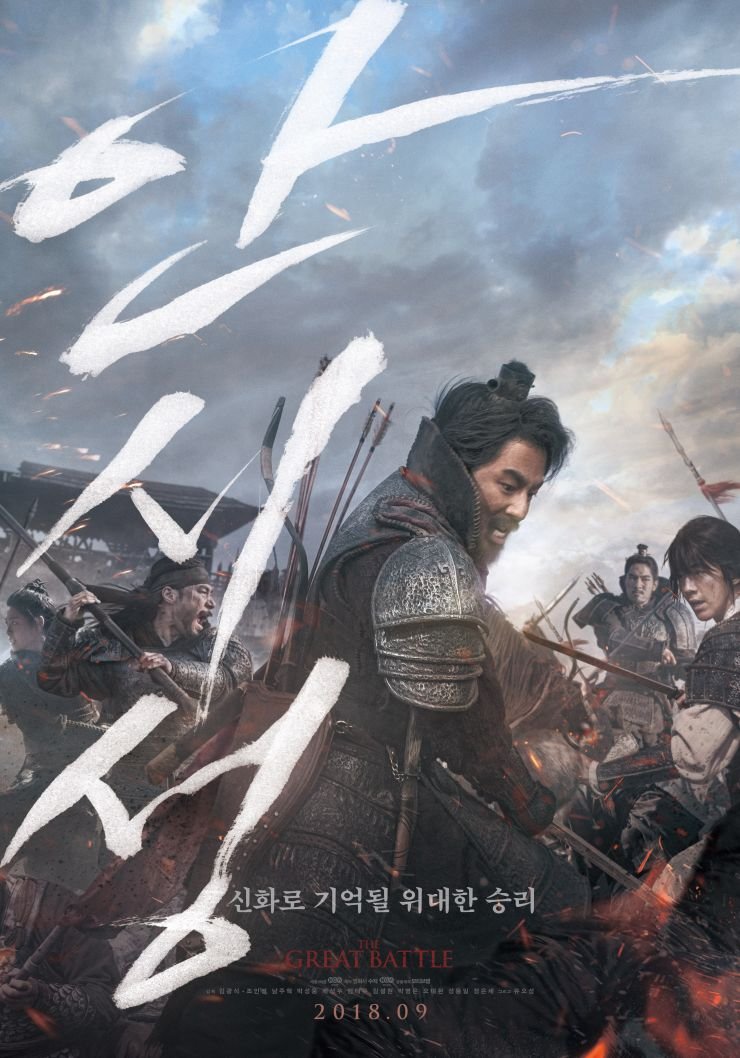 Nazwa filmu: The Great Battle
Hangul: 안시성
Reżyser: Kim Kwang Shik
Scenarzysta: Kim Kwang Shik, Kim Yoo Jin, Park Eun Kyo, Jung Eui Mok
Producenci: Koo Tae Jin, Kim Yong Sun
Kinematograf: Nam Dong Geun
Dystrybutor: Next Entertainment World
Długość filmu: 135 min
Data premiery: 19 września 2018
Wskazania dla widzów: 13+
Gatunek: Akcja, Historyczny, Dramat, Wojenny
Zarys fabuły:
W 645 roku cesarz Li z dynastii Tang rozpoczyna inwazję na Gouguryeo, jedno ze starożytnych królestw Korei. Dzięki kolejnemu zwycięstwu armia Tang dociera do Ansi, chronionej przez generała Yanga, który stał się władcą twierdzy. Porzucony przez swój kraj i przewyższony liczebnie o tysiące wrogów, gromadzi on swoich mężczyzn i kobiety aby stawiali czoła armii Tang.
OBSADA:
GŁÓWNE ROLE:
POBOCZNE ROLE:
Go Han Min – z oddziału Zhangsun Wuji
Bae Yoo Ri – członkini oddziału Baek Ha
Bae Sung Woo – Choo Soo Ji
Uhm Tae Goo – Pa So
Sung Dong Il – Woo Dae
Jung Eun Chae – Shi Mi
Oh Dae Hwan – Hwal Bo
Yoo Oh Sung – Yeon Gae So Mun
Ha Soo Ho – szpieg
Shin Yoo Ram – Xue Rengui
Jong Ho – mężczyzna operujący toporami i halabardami
Jang Gwang – Pan
Cha Bo Sung – obsługujący Manchun
Yeo Hoe Hyun – Ma Ro
Jung Ji Hoon – Da Woo
Jung In Kyum – Bang Yeon
Joo Seok Tae – Ga Hye Jin
Park In Soo – Lee Jeok
Kim Wook – Nool Ham
Lee Sang Hong – Lee Do Jong
Im Chul Soo – żołnierz 3
Jang Nam Boo – Zhangsun Wuji
Ok Ja Yeon – żona żołnierza 3
Han Chul Woo – Boo Bok Ae
Son Young Sun – matka Woo Dae
Yoo Sang Jae – z obozu Yeon Gaesomuna
Kim Gil Dong – Asanasai
Lee Young Ho – szef Goguryeo
Yoon Young Kyun – Mak Deok
Lee Ho Chul – szpieg 2
Jung Tae Ya – z obozu Hwal Bo
Cha Eun Woo – żołnierz graniczny
Kim Jae Rok – robotnik
Jo Suk Hyun – robotnik
Park Tae San – żołnierz wspinający się po ścianie
Kim Young Bin – uczony
Jung Taek Hyun – łucznik
Hwang Jae Pil – kawaler z oddziału Pa So
Lee Jong Sung – kawaler z oddziału Pa So
Kim Kyung Hwan – żołnierz dynastii Tang
MJ – żołnierz dynastii Tang
Kim Ji Mi – członkini oddziału Baek Ha / szamanka łuku
Lee Min Ji – członkini oddziału Baek Ha
Lee Da Hae – członkini oddziału Baek Ha
Lee Myung Ja – kobieta żyjąca w fortecy Ansi
Lee Sung Wook – mężczyzna żyjący w fortecy Ansi
Kim Min Hyuk – mężczyzna żyjący w fortecy Ansi
Yoo Jung Rae – pijąca kobieta
Kim Tae Yul – dziecko z domu ropuchy
Stephanie Lee – Dal Rae
Bang Gil Seung – Go Yeon Soo
Kim Myung Joon – żołnierz dynastii Tang
Lee Sang Kyung – kawaler z oddziału Pa So
ROLE GOŚCINNE:
Mn Sang Woo – ułan
Kim Dae Hyun – kadet
Bae Joon Soo – kadet
Kim Dong Min – żołnierz
Han Tae Yang – kadet
Yoo Jin
Ciekawostki:
Zdjęcia do filmu rozpoczęły się 23 sierpnia 2017 roku, a zakończyły się 24 stycznia 2018.
Pierwszoplanową rolę początkowo zaproponowano Pakr Bo Gumowi, jednakże on ją odrzucił.
Aktor Lee Byung Hun również odrzucił rolę w tym filmie.
Trailer:
RECENZJA:
Neko:
Nie jestem wielką fanką aktorstwa Nam Joo Hyuka, ponieważ w swoich dramach pokazuje bardzo ubogie aktorstwo, byłam wielce zaskoczona jego rolą tutaj i w jaki sposób ją odegrał. Widocznie jak ma dobrych aktorów przy sobie potrafi pokazać coś więcej ze swoich umiejętności. Ogólnie nie lubię filmów wojennych, jednakże ten był ciekawy, pokazujący do czego może doprowadzić dobra strategia. Aktorstwo wyśmienite, fabuła jak najbardziej trafiona, nie jest to jakiś głupi film, a z bardzo patriotycznym przesłaniem. Muzyka pasująca do akcji, często wyniosła.  Jest to film godny poleceni.
Gra aktorska: 10/10
Muzyka: 10/10
Ogólna ocena: 10/10