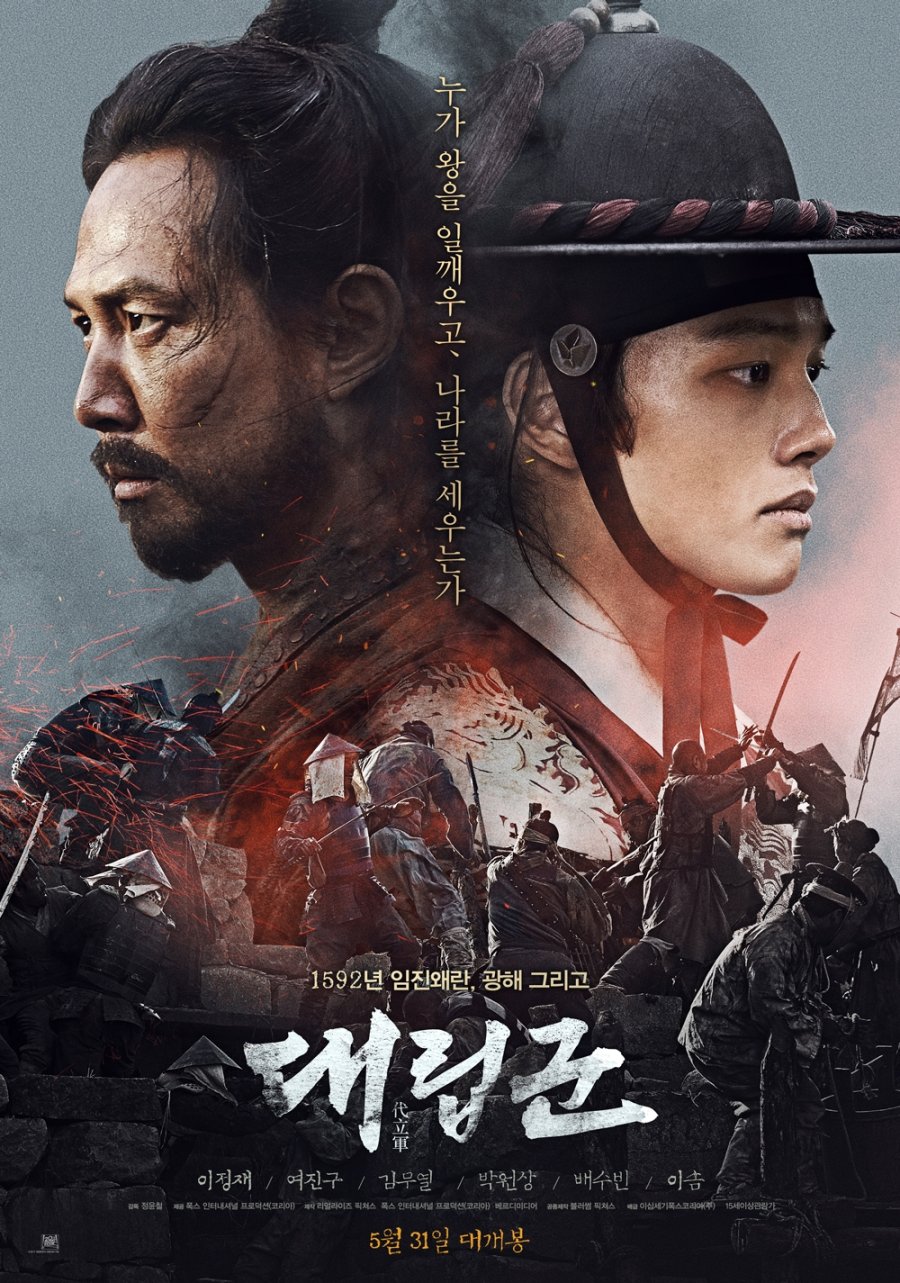 Nazwa filmu: Warriors of the Dawn
Hangul: 대립군
Reżyser: Jeong Yoon Chul
Scenarzysta: Shin Do Young, Jeong Yoon Chul
Producenci: Jung Moon Goo, Kim Ho Sung, Won Dong Yeon, Yoon Young Ha
Kinematograf: Byun Bong Sun
Dystrybutor: 20th Century Fox Korea
Długość filmu: 130 min
Data premiery: 31 maja 2017
Wskazania dla widzów: 15+
Gatunek: Wojenny, Historyczny
Zarys fabuły:
By uniknąć inwazji sił japońskich, król Seon Jo wyjeżdża do dynastii Ming i porzuca swój lud. Jego miejsce ma zająć książę Gwang Hae, który prowadzi pod nieobecność ojca królewski dwór. Tymczasem To Woo dowodzi jednostką Daerip, która jest jednostką najemników wojskowych. W pewnym momencie królewski dwór łączy siły z Daerip.
OBSADA:
GŁÓWNE ROLE:
Yeo Jin Goo – książe Gwang Hae
Lee Jung Jae – To Woo
Kim Mu Yeol – Gok Soo
POBOCZNE ROLE:
Bae Soo Bin – Jang Yang Sa
Lee Ga Kyung – gisaeng
Geum Kwang San – mnich wojownik
Jo Sung Hee – sługa Yeong Byun
Jo Dong In – Shwe Dol
Park Ji Hwan – Golluta
Park Hae Joon – Tarobe
Park Ho San – król Sun Jo
Kim Myung Gon – Jung Pan Seo
Lee Som – Duk Yi
Park Won Sang – członek Daerip
Im Tae Poong – wnuk starego człowieka
Park Joo Yong – podwładny Yeongbyuna
Lee Seung Chul – japoński żołnierz
Park Sang Hoon – książe Shin Seong
Shin Shin Beom – dworzanin
Jang Tae Min – żołnierz Jurchen
Choi Ji Woong – minister Seo In
Ahn Soo Ho – dworzanin
Park Sang Gyu – jego wysokość Park
Son Seung Hun – japoński żołnierz
Lee Dong Yong – uchodźca
Jeon Young Woon – starszy Yeong Byun
Kim Jae Rok – uchodźca
Kim Young Min – człowiek przenoszący wiadomości
Ahn He Joo – dwórka
Kim Yoo – szef jednostki
Han Song Woo – mnisi wojownik
Son Hyun Joon – żołnierz z obozu Shincheol
Kim Yeon Jung – uchodźca
Kim Fil Dong – lider Jurchen
Kim Shi Woo – mnisi wojownik
Lee Sang Hyun – mnisi wojownik
Seo Kwang Jae – podopieczny Yeongbyuna
Kim Ri Woo – tłumacz
Jung Jae Jin – stary buddyjski mnich
Yoon Sung Min – Jeong Nam
Lee Hyun Woong – oficer 2
Lee Seung Hun – żołnierz Joseon
Kang Shin Goo – mnisi wojownik
Ciekawostki:
Zdjęcia do filmu rozpoczęły się 5 września 2016 roku, a zakończyły 10 stycznia 2017.
Wcześniejszym tytuł angielski brzmiał "The Proxy Soldiers".
Trailer:
RECENZJA:
Neko:
Film pokazuje bardzo ładnie przemianę wszystkich bohaterów, którzy są doświadczani na każdym kroku oraz czym jest lojalność wobec przyjaciół. Gra aktorska wyśmienita, fabuła zaskakująca na każdym kroku. Muzyka pasująca idealnie do tematu filmu. Jeden z lepszych filmów wojennych jaki widziałam.
Gra aktorska: 8/10
Muzyka: 8/10
Ogólna ocena: 8/10