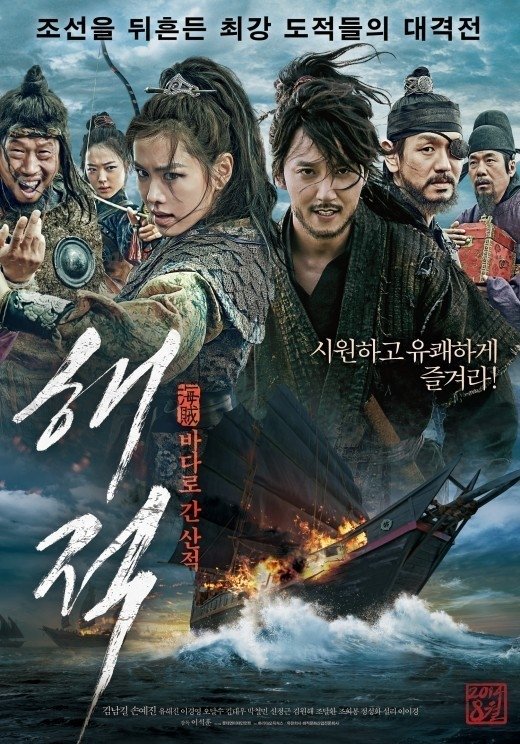 Nazwa filmu: The Pirates
Hangul: 해적: 바다로 간 산적
Reżyser:  Lee Suk Hoon
Scenarzysta: Chun Sung Il, Lee Suk Hoon, Choi Lee Young
Producenci: Park A Hyoung, Kim Dae Sung, Lim Young Ho, Chun Sung Il
Kinematograf: Kim Young Ho
Dystrybutor: Lotte Entertainment
Długość filmu: 130 min
Data premiery: 6 sierpnia 2014
Wskazania dla widzów: 13+
Gatunek: Akcja, Przygodowy, Komedia
Zarys fabuły:
W przeddzień założenia dynastii Joseon wieloryb połyka Cesarską Pieczęć Stanu, która miała być dostarczona do Joseon przez wysłanników z Chin. Król Joseon obiecuje wielką nagrodę dla każdego, komu uda się przywrócić królewską pieczęć, słysząc to górscy bandyci pod przywództwem Jang Sa Junga wyruszają na morze by polować na wieloryba. Wówczaj niespodziewanie Sa Jung spotyka Yeo Wol, która jest kapitanem piratów, a zarazem kobietą, przez co rozpoczyna się ich nieoczekiwana przygoda.
OBSADA:
GŁÓWNE ROLE:
POBOCZNE ROLE:
Jo Dal Hwan – San Man (badyta)
Sulli – Heuk Myo (pirat)
Lee Kyung Young – So Ma
Park Chul Min – "mnich" (bandyta)
Ahn Nae Sang – Jung Do Jun
Yoo Hae Jin – Chul Bong (bandyta)
Oh Dal Soo – Han Sang Jil
Kim Won Hae – Choon Seop (bandyta)
Kim Tae Woo – Mo Hong Gap
Shin Jung Keun – Yong Kap (pirat)
Lee Yi Kyung – Cham Bok (pirat)
Jo Hee Bong – Oh Man Ho
Lee Gyu Ho – "wodny nieździedź"
Kim Han Joon – "muszelka"
Hong In – [bbiddakyi]
Jeon Young Won – starszy człowiek z wioski rybackiej
Kim Han Jong – spotkany człowiek
Jung Won – (bandyta)
Shin Jung Yoon – Dol Soo
Woo Sang Ki – "koń morski"
Jo Joon – Sa Haen Seon
Son Kwang Eop – cesarz Ming
Jeon Bae Soo – Baek Seon Gi
Lee Je Kwan – (bandyta)
Yoon Byung Hee – "Chłodny"
Kim Kang Il – kupiec Hang Soo
Joo Kwang Hyun – "tyczka fasoli"
Kwak Jin Moo – Moo Dae Po
Kim Yoon Chan – "Bliźniak"
Hyun Bong Shik – "Bliźniak"
Park Hae Soo – Hwang Joong Geun
Shim Yoon Bo – Heol Raeng
ROLE GOŚCINNE:
Kim Dae Hyun – (bandyta)
Jang Ji Woong – szpieg
Lee Joon Sang – członek brygady
Geum Bo – "Guzek"
Song Yong Ho
Ciekawostki:
Zdjęcia do filmu rozpoczęły się 15 sierpnia 2013 roku, a zakończyły się 9 stycznia 2014.
Film ten pojawił się na Festiwalu Filmowym Cannes w 2014 roku i został sprzedany do 15 krajów, a wśród nich były Niemcy, USA, Japonia, Belgia czy Holandia.
Trailer:
RECENZJA:
Neko:
Jak dla mnie początek filmu był mega nudny, jednakże później akcja się rozwija. Szkoda, że musiałam czekać na to przez prawie 40 minut, by mnie zaciekawił. Ogólnie nie mogę narzekać, że film jest słaby. Jest zabawny i lekki idealny na chwilę odpoczynku. Gra aktorska jest bardzo dobra, muzyka znośna, trochę widać greenroom, ale pamiętajmy, że to 2014 rok.
Gra aktorska: 9/10
Muzyka: 8/10
Ogólna ocena: 8,5/10