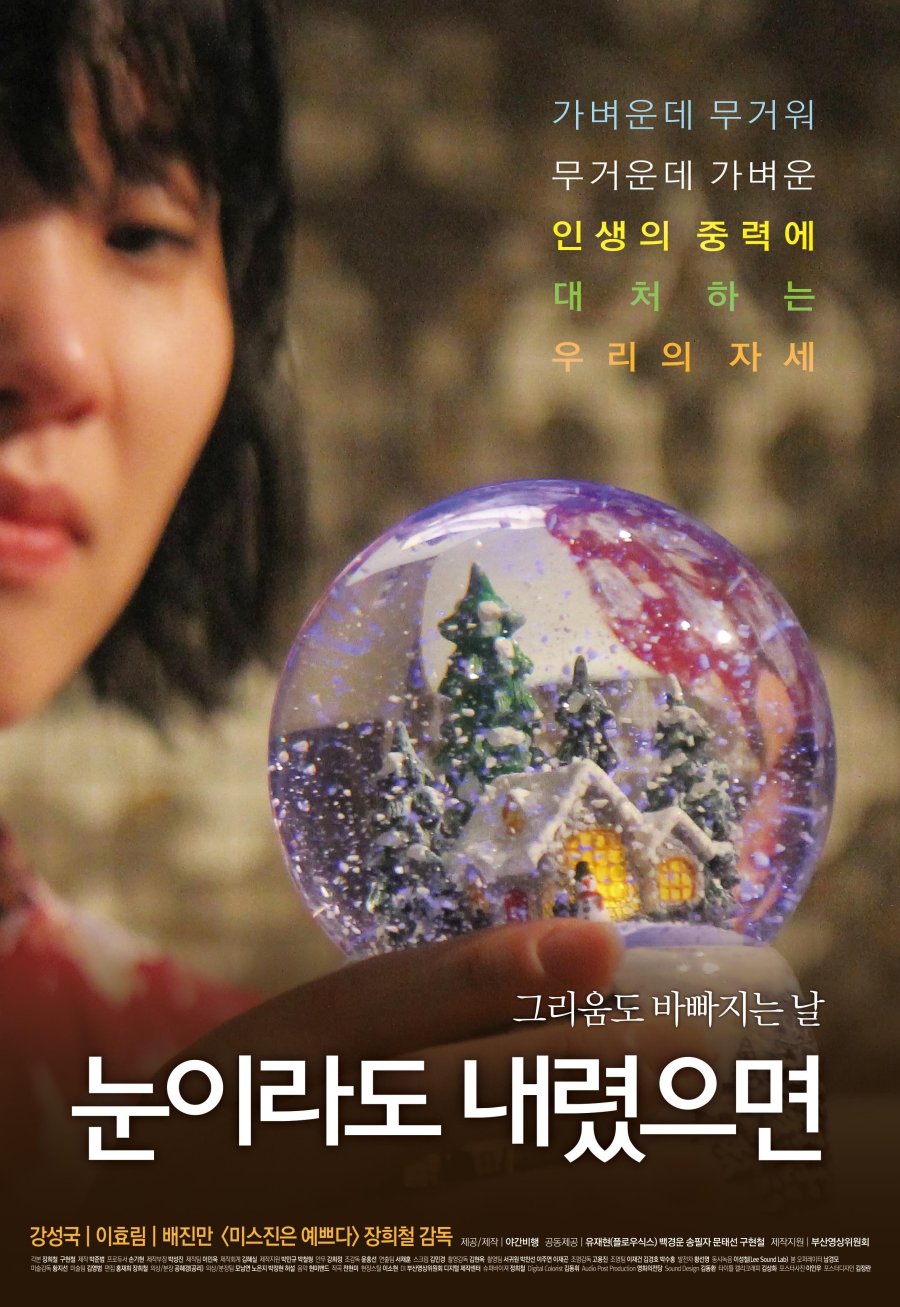 Nazwa filmu: Waiting for the Snow
Hangul: 눈이라도 내렸으면
Reżyser: Jang Heechul
Scenarzysta: Jang Heechul
Producenci: Son Gi Hyeon
Kinematograf: Kim Hyun Ok
Dystrybutor: Night Flight Films
Długość filmu: 99 min
Data premiery: 12 maja 2016
Wskazania dla widzów: 15+
Gatunek: Obyczajowy, Dramat
Zarys fabuły:
Młoda dziewczyna wkraczająca w dorosłe życie, Sunwoo, upija się na pierwszym spotkaniu firmowym i spotyka Seonggooka, z którym spaceruje w nocy. Film o ciepłym przedstawieniu zwyczajnego życia.
OBSADA:
GŁÓWNE ROLE:
Lee Hyo Rim – Seon Woo
Kang Seong Gook – Seong Gook
POBOCZNE ROLE:
Bae Jin Man – ojciec / mąż
Kim Min Ji – Jong Mi
Lim Hee Seon – Han Seok
Son Gi Hyeon – szef sekcji Choi
Choi Seong Hee – przełożony Hong
Ha Hyeon Gwan – Soo Dong
Choi Wong – Dong Jin
Kim Yoo Jin – Yoo Jin
Hwang Ji Seon – matka Yoo Jin
Lee Yoon – nauczyciel Lee
Park Hoon yeong – Baek Soo
Eom Joon Pil – kochanek
Jeon Ja Yeon – kochanka
Ryoo Hyeon Sook – żona
Heo Jong Oh – Pani Heo
Jin Seon Mi – Pani Jin
Kim Dong Jin – motocyklista
Kim Min Kyung – pracownik na zlecenie w sklepie spożywczym
Lee Hyung Won – przyjaciel brata
Trailer:
RECENZJA:
Neko:
Kolejny film o normalnym życiu, bardziej słodki niż gorzki, ukazujący pierwsze poznanie dwóch małomównych osób. Gdy się przypatrujesz postaciom są to normalni ludzie, tacy sami jak my, co ciekawsze wybrano również bardzo mało znanych aktorów na role główne, przez co są to twarze praktycznie nieznane. Mówiąc szczerze jest to kino niezależne, dlatego też nie wszystkim może się spodobać i porusza temat niepełnosprawności.
Gra aktorska: 7/10
Muzyka: 7/10
Ogólna ocena: 8/10