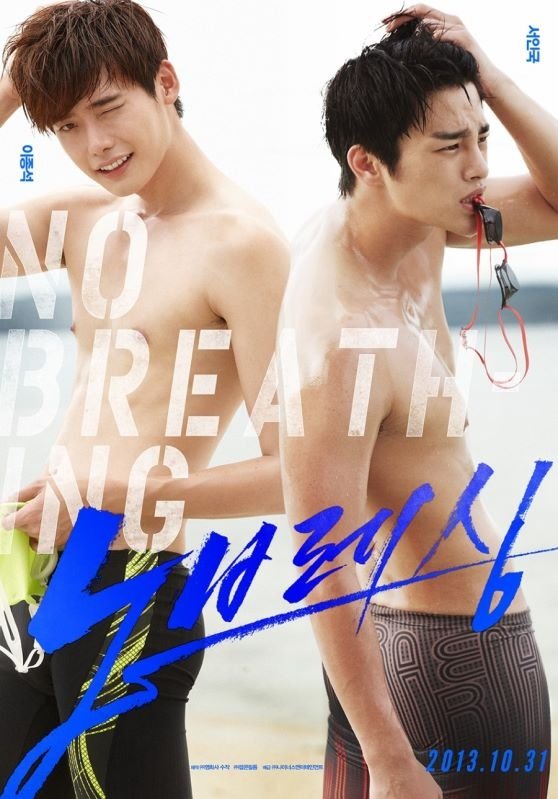 Nazwa filmu: No Breathing
Hangul: 노브레싱
Reżyser: Jo Yong Sun
Scenarzysta: Jo Yong Sun, Yoo Young Ah
Producenci: Lee Song Joon, Park Chang Hyun, Jung Dae Hyun
Kinematograf: Lee Joon Gyu
Dystrybutor: 9ers Entertainment
Długość filmu: 118 min
Data premiery: 31 października 2013
Wskazania dla widzów: 15+
Gatunek: Sportowa, Przyjaźń, Romans, Szkolna, Młodzieżowa, Dramat
Zarys fabuły:
Woo Sang to narodowy pływak, który zawsze dąży do zdobycia pierwszego miejsca. Won Il jest cudownym pływakiem, który przestał brać udział w sporcie i teraz chce powrócić. Chłopacy stają się rywalami nie tylko w sporcie, ale także w miłości, ponieważ obydwoje zakochują się w Jung Eun, która zaczyna pracę w muzyce, a zarazem przyjaźni się z nimi od dziecka. Trójka przyjaciół na całe życie nagle musi zmierzyć się z miłością, przyjaźnią i rywalizacją podczas okresu dojrzewania.
OBSADA:
GŁÓWNE ROLE:
POBOCZNE ROLE:
Park Chul Min – Jar Seok
Jeon Bo Mi – Ha Na
Park Jung Chul – trener Jang
Jo Ayoung – Se Mi
Shin Min Chul – Lee Jeong Dong
Sun Woo Jar Duk – ojciec Woo Sanga
Lee Chang Joo – starszy pływak
Yoon Gyun Sang – Yoon Kyun Sang
Lee Il Min – członek drużyny pływackiej
Kim Jae Young – Dae Chan
Ahn So Hyun – matka Woo Ila
Park Hyun Woo – Jo Min Gook
Yeom Ji Young – nauczycielka angielskiego
Kim RI Won – reporterka 2
Yang Joon Hyuk – Yang Joon Hyuk
Park Hyun Ji – kobieta na przesłuchaniu
Choi Min Grum – hostessa w chińskim domu
ROLE GOŚCINNE:
Oh In Hye – trenerka w liceum
Joo Hye Ji – dziewczyna na przesłuchaniu
Kim Young Sun – matka Woo Sanga
Nam Da Reum – młody Woo Sang
Go Yoon An – chłopak z sekcji pływania 4
Ciekawostki:
Zdjęcia do filmu rozpoczęły się 19 maja, a zakończyły się w połowie sierpnia 2013.
Niektóre sceny były kręcone w mieście Davao City na Filipinach.
Trailer:
RECENZJA:
Neko:
Film, który jest skierowany głównie do młodych osób, im człowiek jest starszy tym bardziej naiwny on się wydaje. Ogólnie dużo rywalizacji, czasami trochę śmiechu. Gra aktorska nie najgorsza, ale najlepsza też nie jest. Jak dla mnie to dość przeciętny film, choć wiele młodszych ode mnie osób pewnie go polubi.
Gra aktorska: 6/10
Muzyka: 6/10
Ogólna ocena: 6/10