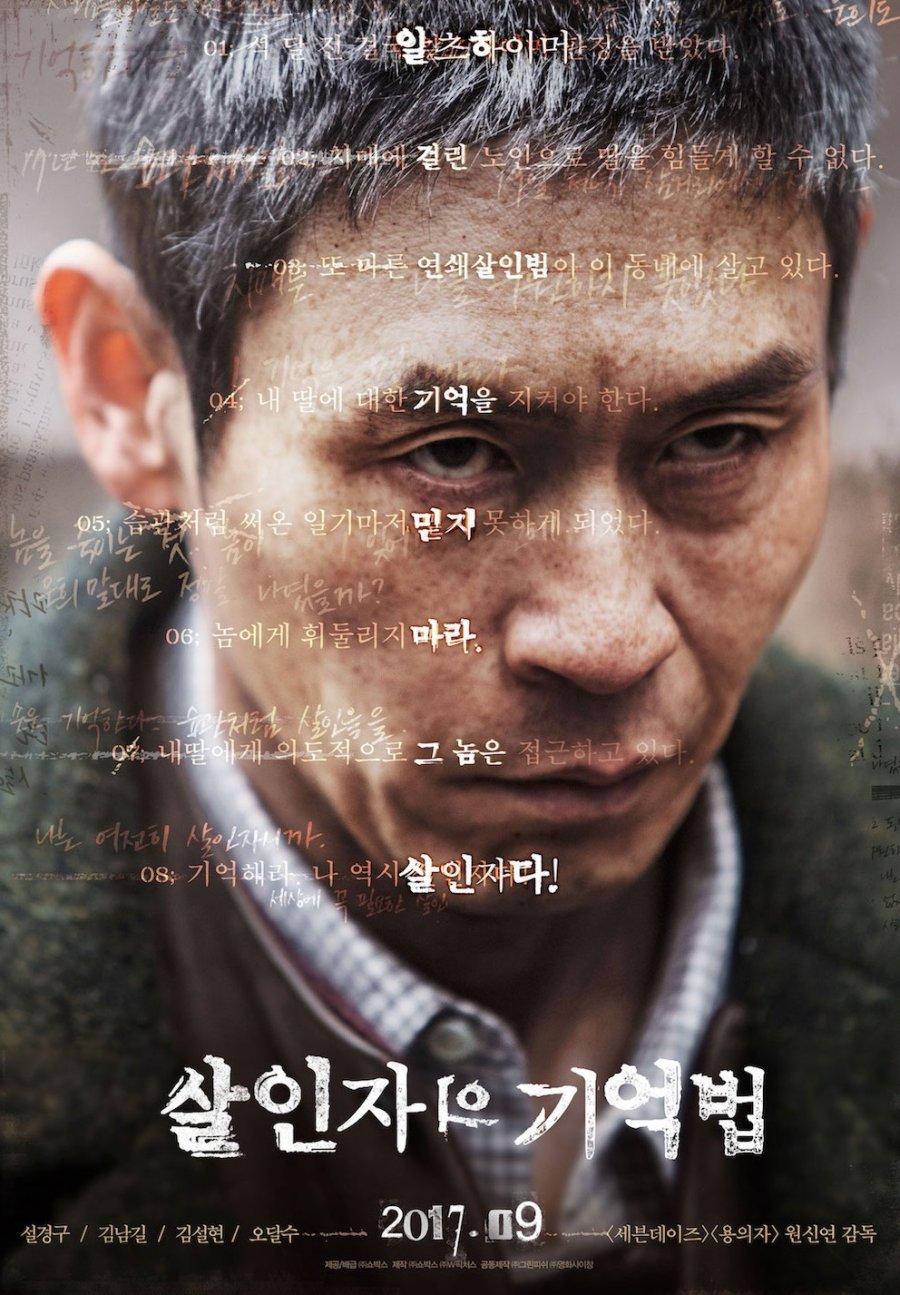 Nazwa filmu: Memoir of a Murderer
Hangul: 살인자의 기억법
Reżyser: Won Sin Yun
Scenarzysta: Won Sin Yun, Hwang Jo Yoon
Producenci: Ku Tae Jin, Yoo Jung Hoon, Won Shin Yun
Kinematograf: Choi Young Hwan
Dystrybutor: Showbox
Długość filmu: 118 min
Data premiery: 6 września 2017
Wskazania dla widzów: 15+
Gatunek: Akcja, Thriller, Mystery, Psychologiczny, Dramat, Suspense
Zarys fabuły:
U byłego seryjnego mordercy Byung Soo zostaje zdiagnozowany Alzheimer. Lekarz mówi mu, że jest to następstwo wypadku samochodowego, który wydarzył się 17 lat temu, który sprawił, że przestał zabijać i sprawił, że zaczął żyć normalnym życiem ze swoją córką. Kiedy więc w okolicy pojawiają się przypadki seryjnych zabójstw, zaczyna się on martwić, że są one jego sprawką podczas utrat pamięci. Właśnie wtedy spotyka Tae Joo i instynktownie zdaje sobie sprawę, że on jest seryjnym zabójcą. Zgłasza to policji, że Tae Joo jest tym, którego szukają. Byung Soo próbuje znaleźć mocne dowody, że Tae Joo jest psychopatą, ale tylko zwiększa zainteresowanie Tae Joo nim i jego córką. A teraz, gdy jego ma zaniki pamięci, Byung Soo musi znaleźć sposób na ochronę swojej córki przed Tae Joo.
OBSADA:
GŁÓWNE ROLE: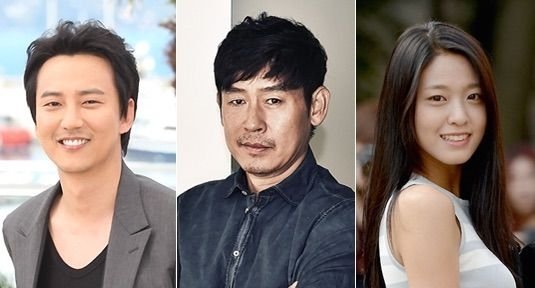 POBOCZNE ROLE:
Kim Han Joon – detektyw
Oh Dal Soo – An Byung Man
Kil Hae Yeon – Maria
Hwang Seok Jung – Jo Yeon Joo
Lee Byung Joon – nauczyciel poezji
Kim Hye Yoon – młoda Maria
Hwang In Joon – dyrektor policji
Kim Joon Heon – policjant pod przykrywką 2
Kim Ji Hyun – właścicielka psa
Ok Joo Ri – kobieta w restauracji
Kim Min Jae – prokurator Kim Min Jae
Lee Myung Ha – policjantka
Yoo Ji Hyun – kobieta z popcornem obok Byeong Soo w kinie
Jung In Kyum – ojciec Byung Soo
Kim Jin Ok – uczennica w centrum kultury
Choi Yoo Song – matka Byung Soo
Lee Sae Ro Mi – właścicielka kota
Jung Joo Hee – dziewczyna, która źle potraktowała mężczyznę w kinie
Kim Soo Yeon – pielęgniarka w psychiatryku 1
ROLE GOŚCINNE:
Jo Jae Yoon – lekarz
Kim Jung Young – kobieta uzależniona od hazardu
Ciekawostki:
Film jest na podstawie bestselleru Ki Young Ha o tytule "Memoir of a Murderer". Książka została opublikowana po raz pierwszy 25 lipca 2013 roku.
Kręcenie filmu rozpoczęło się 20 października 2015, a zakończone 30 stycznia 2016.
Istnieje druga część filmu o nazwie "Memoir of a Murderer: Another Memory".
Trailer:
RECENZJA:
Neko:
Bardzo silny film jako widz sama nie wiem co było fikcją, a co było rzeczywistością. Kryminał, którego rozwiązanie znamy od początku, ale to jak to wszystko się skończy jest tajemnicą nawet po zakończeniu całego filmu. Gra aktorska jest wspaniała, muzyka silna i pasująca do całego otoczenia. Ogólnie jedyne co mogę powiedzieć to to, że koniec mnie wzruszył. Już sama nie mogę się doczekać kiedy będę miała znów czas by obejrzeć drugą część filmu i jestem zainteresowana przeczytaniem oryginalnej historii.
Gra aktorska: 10/10
Muzyka: 10/10
Ogólna ocena: 10/10