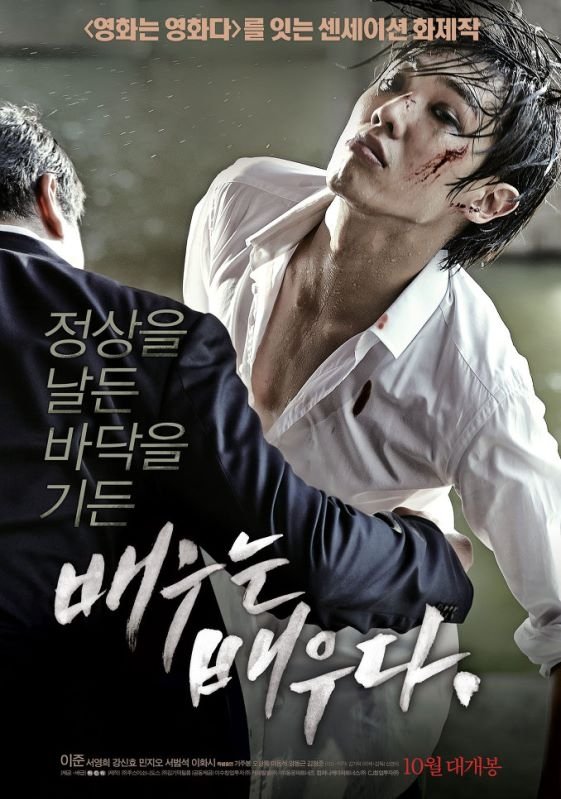 Nazwa filmu: Rough Play / An Actor is An Actor
Hangul: 배우는 배우다
Reżyser: Shin Yeon Shick
Scenarzysta: Kim Ki Duk, Shin Yeon Shick
Producenci: Kim Ki Duk, Kim Ji Young, Shin Yeon Shick
Kinematograf: Choi Yong Jin
Dystrybutor: Next Entertainmnet World
Długość filmu: 98 min
Data premiery: 24 października 2013
Wskazania dla widzów: 18+
Gatunek: Akcja, Thriller, Dramat, Erotyczny
Zarys fabuły:
Oh Young jest nieznanym aktorem, który marzy o pozostaniu wielką gwiazdą filmową. Pewnego dnia jego gra aktorska w filmie sprawia, że z dnia na dzień staje się gwiazdą. Odkrywa on nowy ukryty świat sławy, mocy i przyjemności, ale jak to bywa w życiu wszystko ma swoją ciemną stronę, przez co chłopak naraża wszystkich wokół siebie na niebezpieczeństwo.
OBSADA:
GŁÓWNE ROLE:
POBOCZNE ROLE:
Seo Young Hee – Oh Yun Hee
Kang Shin Hyo – Woo Geun
Kyung Sung Hwan – szef działu Kim
Min Ji Oh – Hong Ji Min
Ma Dong Seok – szef gangu
Seo Beom Seok – Kim Jang Ho
Lee Hwa Shi – bogata kobiet
Kim Jung Seok – reżyser Moebiusa
Kim Hyung Jun – Gong Myung
Yang Dong Geun – Kang Bin
Lee Hyun Ho – asystent reżysera w Moebiusie
Kim In Soo – reżyser "Rice Cake Hat"
Sung Hong Il – przedstawiciel Kang
Kim So Yeon – aktorka grająca w Moebiusie
Jo Sung Woo – manager Kang Bina
Jung Sung Il – czepiający się gangster
Lee Jae Hye – pracownica teatru
ROLE GOŚCINNE:
Ryu Seung Wan – VIP na festiwalu Jeonju
Im Kwon Taek – VIP na festiwalu Jeonju
Kim Kkot Bi – VIP na festiwalu Jeongju
Ciekawostki:
Zdjęcia do filmu rozpoczęły się 23 listopada 2012 roku, a zakończyły się 19 stycznia 2013.
Trailer:
RECENZJA:
Neko:
Film bardzo chaotyczny, brutalny i pełen nagości, pokazujący złą stronę show-biznesu. Szaleństwo chłopaka, który z dnia na dzień stał się sławny oraz układy, które rządzą w rynkiem rozrywkowym. Chociaż film na pierwszy rzut oka wydaje się bardzo płytki, ma on bardzo duże przesłanie i odsłania największe brudy. Gra aktorska Lee Joona jest bardzo dobra, bo głównie jego widzimy. Muzyki choć oglądałam to zaledwie wczoraj nawet już nie pamiętam, więc musiała być przeciętna.
Gra aktorska: 9/10
Muzyka: 5/10
Ogólna ocena: 7/10