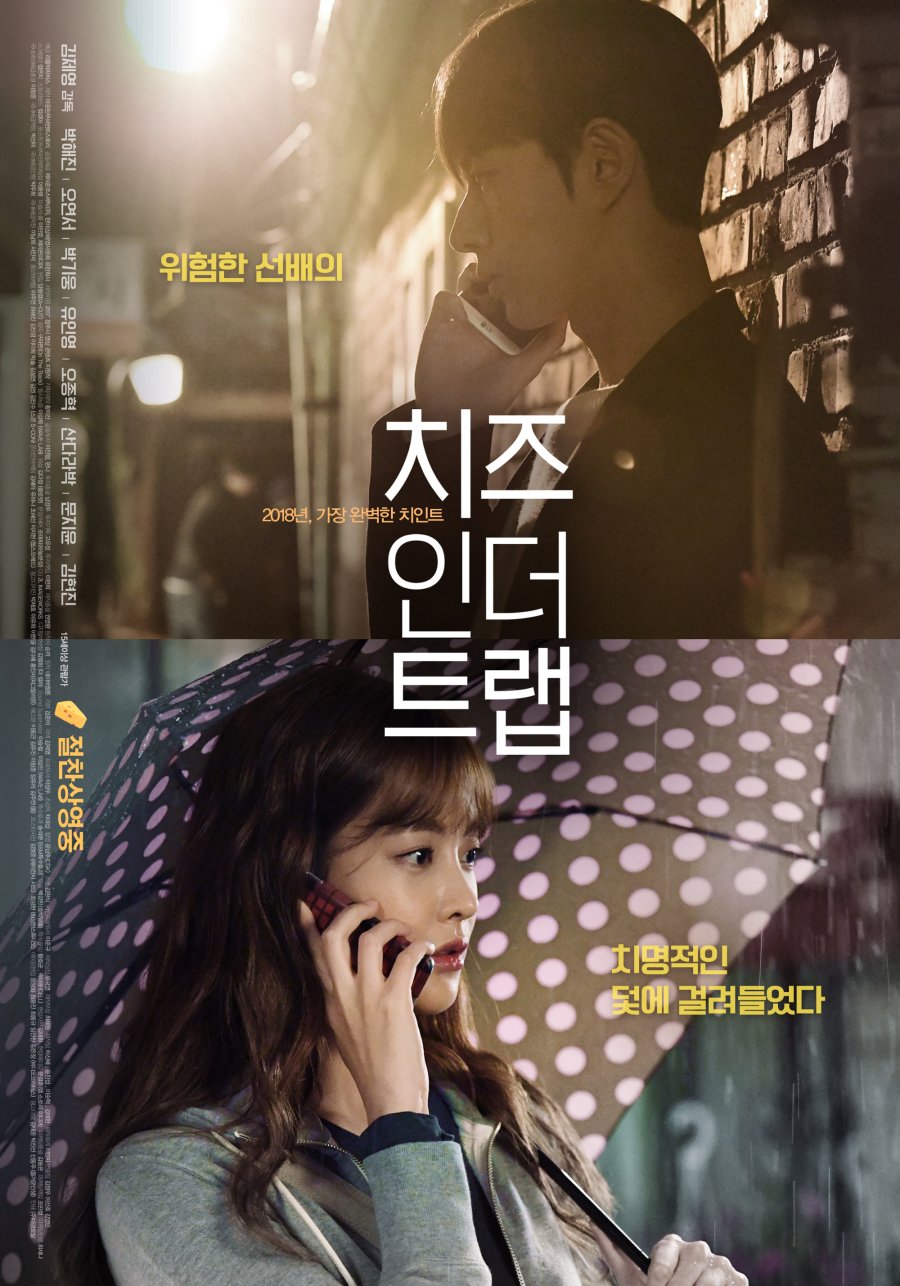 Nazwa filmu: Cheese in the Trap
Hangul: 치즈 인 더 트랩
Reżyser: Kim Je Young
Scenarzysta: Kim Joon Ah, Kim Je Young
Producenci: Lee Sung Doo, Hwang Ji Sun
Kinematograf: Yoon Nam Joo
Dystrybutor: Little Big Picture
Długość filmu: 116 min
Data premiery: 14 maja 2018
Wskazania dla widzów: 15 +
Gatunek: Przyjaźń, Psychologiczny, Romans, Obyczajowy, Dramat
Zarys fabuły:
Hong Seol jest normalną studentką, która pracuje na pół etatu by utrzymać się na studiach. Nagle Yoo Jung, który jest bogatym starszym studentem z jej uczelni, podchodzi do niej i pyta się czy nie chce się ona z nim umówić.
OBSADA:
GŁÓWNE ROLE:
POBOCZNE ROLE:
Yoo In Young – Baek In Ha
Oh Jong Hyuk – Oh Young Gon
Sandra Park – Jang Bo Ra
Moon Ji Yoon – Kim Sang Chul
Kim Hyun Jin – Kwon Eun Taek
Hong Yun Jae – Kyeong Hwan
Kim Do Wan – student
Lee Chung Hee – pracownica w sklepie spożywczym
Lee Jung Bin – studentka biznesu
Bark Jin Hwan – student
Kim Kang Hoon – młody Yoo Jung
Na Hye Mi – Da Young
Ciekawostki:
Drama bazuje na komiksie internetowym "Cheese in the Trap" napisanym przez Soon Ggi.
Przesłuchanie do roli Hong Seol odbyło się 1 sierpnia 2016.
Zdjęcia do filmu rozpoczęły się 20 kwietnia 2017.
W 2016 roku na podstawie tego samego komiksu postała drama, gdzie główna rola męska również była odgrywana przez Park Hae Jina, o tytule "Cheese in the Trap".
Trailer:
RECENZJA:
Neko:
Film o niebo lepszy od dramy, nie jest nudny. Muzyka w filmie jest bardzo dobra. Gra aktorska jest świetna, a bohaterki są mniej irytujące niż w dramie. Ogólnie lekka, podzielona na rozdziały historia, która jest lekka. Uniwersytecki romans z nutką grozy, jednakże wszystko jest normalną historią, która mogła przydarzyć się i nam.
Gra aktorska: 9/10
Muzyka: 8/10
Ogólna ocena: 8,5/10