HYOLYN
OFICJALNE STRONY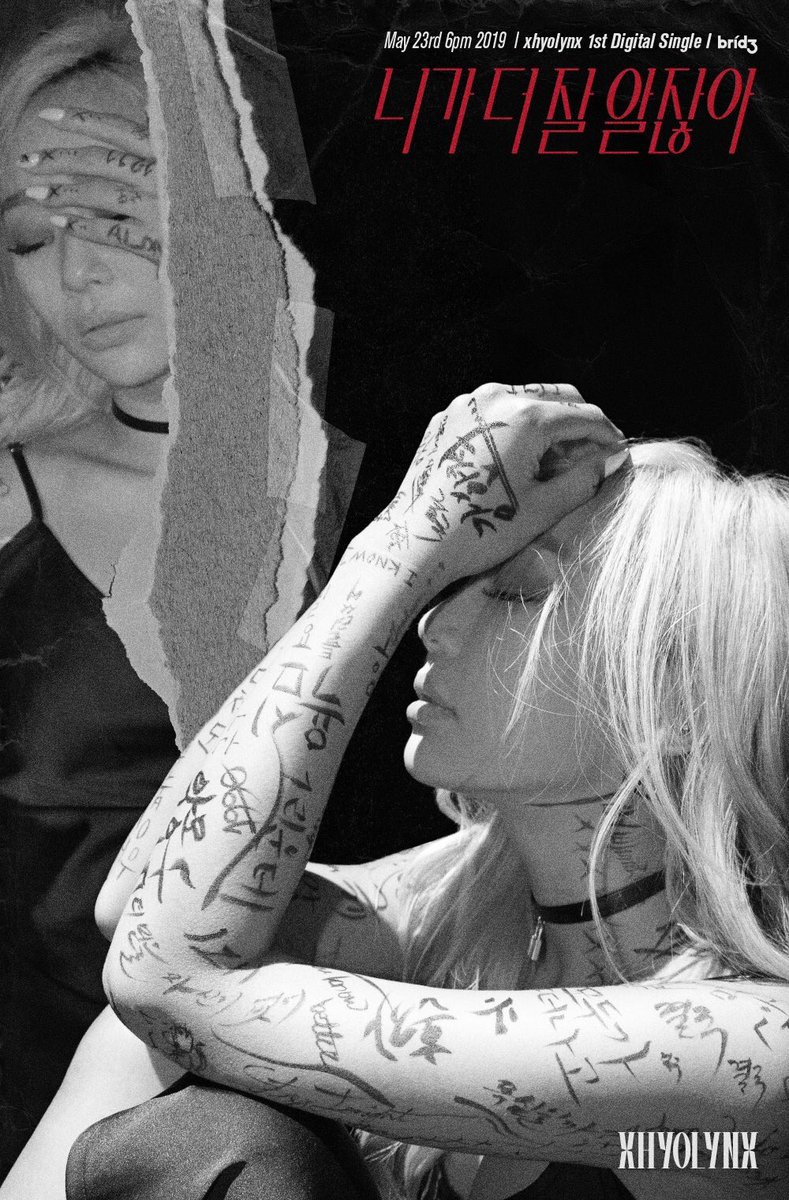 Imię sceniczne: Hyorin/Hyolyn
Nazwisko i imię: Kim Hyojung
Data urodzenia: 11 stycznia 1991
Miejsce Urodzenia: Incheon, Korea Południowa
Wzrost: 164 cm
Waga: 45 kg
Znak zodiaku: Koziorożec
Grupa krwi: B
CIEKAWOSTKI:
Ma o 3 lata młodszą siostrę.
Jest byłą członkinią SISTAR.
Kocha koty.
Lubi też psy.
Jej ulubionym kolorem jest czerwony.
Grała w dramie "Dream High 2".
Hyorin brała udział w programie "Unpretty Rapstar 2".
Była trainee w JYPE.
Lubi nosić jeansy, a wręcz nie przepada za sukienkami i spódniczkami.
Była fanką KARA jeszcze przed ich debiutem.
Hyorin i Park Seojoo(aktor) są bardzo bliskimi przyjaciółmi.
Jej najlepszą przyjaciółką jest UEE i Soyou.
Przyjaźni się również z Jessi.
Nigdy nie płakała przed innymi członkiniami zespołu, ponieważ pokazuje to, że jest słaba.
Jest dość głośną osobą.
Trudno ją obudzić.
Raz popadła w fobię społeczną. Przez co przez dwa miesiące nie wychodziła ze swojego pokoju, bo bała się ludzi.
Ma 3 koty: Leno(3 lata), Lego(3 lata) i Heungneo(2 lata). Nazywa swoje koty swoimi synami i nie boi się je całować.
Codziennie daje swoim kociakom witaminy.
W wolnym czasie zazwyczaj bawi się ze swoimi kotami.
Jest cierpliwa i nie gniewa się na koty, gdy podrą jej torebkę lub kanapę(co często się zdarza, bo uwielbiają to robić).
Chciała wziąć udział w "We Got Married" i być w parze z raperem BOOM.
Zapewnia, że jest najlepszym kierowcą z zespołu.
Mówi przez telefon tylko to, co potrzebuje i później się rozłącza, nie zważając na osobę, do której dzwoniła.
Jest jak dziecko i często bawi się na siłowni, zamiast ćwiczyć, przez to Soyou prosiła zawsze trenera by miał na nią oko.
Zazwyczaj nie nosi przy sobie pieniędzy.
Kiedyś będąc u Dasom patrzyła na jej zdjęcie i po chwili powiedziała, że jest śliczna.
Zazwyczaj używa swojego aegyo, kiedy prosi o więcej grzybów jako przystawki.
Nazywana jest koreańską Beyonce.
Nie lubi spotykać się sama ze swoim chłopakiem, woli to robić w towarzystwie swoich i/ lub jego przyjaciół.
Jej były chłopak zdradził ją z przyjaciółką.
Uważa, że nie jest najlepsza w pozowaniu.
Jest perfekcjonistką.
Jest zachłanna.
W 2016 roku pojawiła się w programie "King of Masked Singer".
Zdecydowała się odejść z Starship Entertainment by zająć się solową karierą.
Po odejściu z Starship Ent. założyła własną jednoosobową wytwórnię Brid3 Entertainment.
Jej idealny typ mężczyzny: "Lubię mężczyzn z dużym poczuciem odpowiedzialności i dobrym środkiem utrzymania." Wspomniała, że jej idealnym typem jest aktor Kang Dongwon.