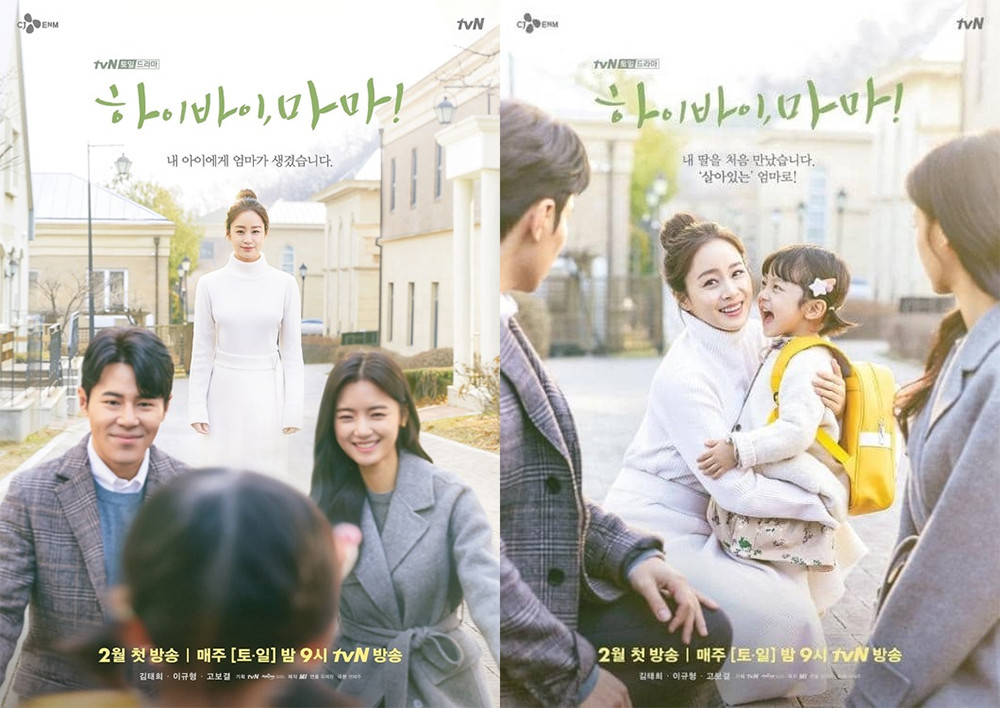 Nazwa dramy: Hi Bye, Mama!
Hangul: 하이바이, 마마!
Reżyser: Yoo Jewon
Scenarzysta: Kwon Hye Joo
Stacja telewizyjna: tvN, Netflix
Ilość odcinków: 16
Długość odcinka: 1 h 10 minut
Wskazana dla widzów: 15+
Data wydania: 22 luty – 19 kwietnia 2020
Gatunek: Komedia, Romans, Rodzinna, Medyczna, Fantasty, Melodramat, Supernatural
Zarys fabuły:
Jest to historia matki, która umiera, ale dostaje szanse na powrót do swojego życia, jeżeli przez 49 dni uda się jej wrócić na swoje miejsce. Problem polega na tym, że od chwili jej śmierci minęło już 5 lat, a jej mąż ma nową żonę. Czy Yuri uda się pozostać wśród żywych?
OBSADA:
GŁÓWNE ROLE:
Kim Taehee – Cha Yuri
Lee Kyuhyung – Jo Ganghwa
Go Bogyeol – Oh Minjung
Seo Woojin – Jo Seowoo (Córka Yuri i Ganghwa)
POZOSTAŁE:
Shin Dongmi – Go Hyunjung (Najlepsza przyjaciółka Yuri)
Oh Eunshik – Gye Geunsang (Najlepszy przyjaciel Ganghwa)
Kim Minkyung – Jun Eunsook (Mama Yuri)
Park Sooyoung  – Cha Moopoong (Tata Yuri)
Kim Misoo – Cha Yunji (Siostra Yuri)
Yoon Sabong – Ms. Mi Dong (szaman)
Lee Shiwoo – Jang PilSeung (pilot)
Kang Yunjung – Pielęgniarka Jung
Bae Haeseon – Sung Mija (duch)
Kim Daegon – Jang Daechoon (duch)
Lee Jaewoo – Kang Sangbong/Kang Bin (duch gracza w baseball)
Ahn Naesang – Dr. Jang
Ban Hyojung – Jung Gwisoon (duch)
Shin Sooyun – Jang Youngshim (duch)
Park Eunhye – Seo Bongyun (duch)
Shim Wanjoon – Shim Geumjae (duch)
Bae Yoonkyung – Park Hyejin (duch)
Choi Daesung – Kwon Mansuk (duch)
Kwon Eunsung – syn Hyunjung
Go Eunmin – Przedszkolanka Kim Hyesu
Gościnne:
Yoo Yeon – Mama Miso
Heo Soonmi – Mama Chini
Na Sooyoon – Mama Eunbi
Lee Joongok – duch
Park Jaejoon – duch chłopca
CIEKAWOSTKI:
Zajęła czas antenowy dramy "Crash landing on you", a po niej będzie emitowana drama "When My Love Blooms".
Rolę córeczki Yuri grał dziecięcy aktor, wybrany ze względu na podobieństwo do aktorki Kim Taehee.
Teasery:
RECENZJA:
Ari:
Chociaż drama zapowiadała się bardzo dobrze i tak również zaczęła, to im dalej trwała tym bardziej było dla mnie oczywiste, że średni mi się podoba. Mimo to trwałam w niej aż do końca, bo chciałam zobaczyć jak się skończy. I dla mnie było to jedno wielkie rozczarowanie! Mimo wszytko drama miała swoje momenty na plus. A gra aktorska była mega ciekawa. Tylko dlaczego postać małej dziewczynki grał chłopiec?
Gra aktorska: 19/10
Muzyka: 7/10
Ogólna ocena: 5/10