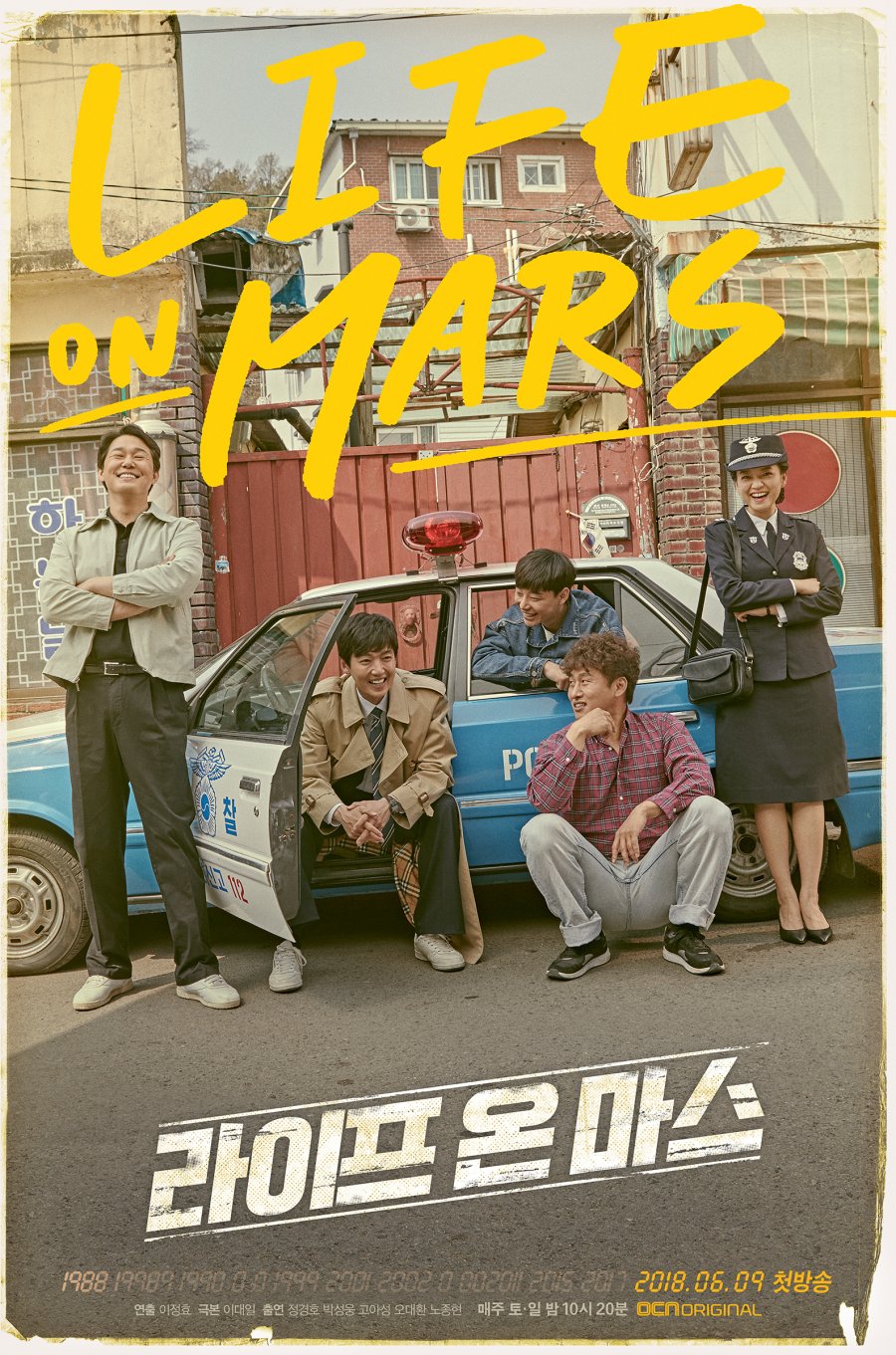 Nazwa dramy: Life on Mars
Hangul: 라이프 온 마스
Reżyser: Lee Daeil
Scenarzysta: Lee Junghyo
Stacja telewizyjna: OCN
Ilość odcinków: 16
Długość odcinka: 1h 5 min
Wskazana dla widzów: 15+
Data wydania: 9 czerwca – 5 sierpnia 2018
Czas emisji: Sobota, Niedziela o 22:20
Gatunek: Akcja, Mystery, Suspense, Psychologiczny, Fantastyczny, Komedia, Dramat, Kryminał
Zarys fabuły:
Han Taejoo jest liderem zespołu do spraw dochodzeń kryminalnych, który osiągnął tak wysoką rangę jedynie ufając na dowodach. Pewnego dnia badając sprawę seryjnego morderstwa, ma wypadek. Gdy budzi się po wypadku nagle znajduje się zimą 1988 roku. Nie wie dlaczego, ale jest detektywem wyznaczonym do pracy na posterunku policji w małym mieście. Aby wrócić do teraźniejszości stara się rozwiązać sprawę, którą dostaje w '88 roku.
OBSADA:
GŁÓWNE ROLE:
POZOSTAŁE ROLE:
Jun Sukho – Han Choongho
Yoo Jiyeon – Kim Miyeon [w roku 1988]
Kim Jaekyung – Han Malsook [w 1988]
Kim Minho – Han Taejoo [w 1988 – jako dziecko]
Kim Kicheon – Szef Park [w 1988]
Kim Youngpil – Kim Kyungse [w 1988]
Go Kyupil – Pan Yang [szef baru w 1988]
Kwak Jungwook – oficjer Lee Soonho / Kim Hyunseok [w 1988]
Oh Hankyul – Kim Minseok [jako dziecko w 1988]
Choi Seungyoon – Kim Minseok [w 2018 roku]
Jeon Hyebin – Jung Seohyun [w 2018]
Kang Shinchul – detektyw Jo [w 2018]
Choi Jinho – Ahn Minshik [inspektor w 1988 / chirurg w 2018]
Go Hanmin – pracownik biura
Yoo Yeon – Lee Sunja
ROLE GOŚCINNE:
Jung Jiahn – Lee Seunghee (odc. 1)
Hong Heewon – prawnik Minseoka [w 2018] (odc. 1)
Choi Boolam – aktor w dramie "Chef Inspector" w 1988 r. (odc. 1,9)
Jung Eunsung – Lee Hyangja (odc. 1-2)
Bae Hogeun – Jo Palbong (odc. 2)
Hong Boohyang – sprzątaczka w motelu (odc. 2)
Park Seungtae – pani pytająca gdzie na komisariacie jest łazienka (odc. 2)
Soo Mi – Kim Okjoo (odc. 2)
Kim Daegon – Park Byungdoo (odc. 3)
Jung Myungjoon – szef policji Kim w 1988 (odc. 3)
Kwon Soonjoon – Geunsoo (odc. 3)
Keum Donghyun – Lee Chankyu (odc. 4)
Lee Bongryun – Yoo Soonhee (odc. 4)
Oh Ahrin – Yeongjoo (odc. 4)
Kim Mikyung – siostra burmistrza (odc. 4)
Jeon Byungwook – Kim Kwangsoo (odc. 4)
Dong Hyehee – opiekunka prawna Malsook (odc. 4)
Park Yoomil – Choi Yeongshil (odc. 6)
Moon Woojin – Kyungho (odc. 6)
Bark Soojang – kotroler biletów(odc. 6)
Joo Seoktae – Lee Kangheon (odc. 7)
Han Samyung – Han Heechul (odc. 7)
Kim Nami – "Madam Jo" / Jo Chunhee (odc. 8)
Jung Minah – pracownica kawiarni Milky Way (odc. 8)
Kim Taehan – Oh Jongman (odc. 9)
Hong Kyung – "E.T" / Oh Youngsoo (odc. 10,12)
Jung Youngki – Oh Youngtae (odc. 13-14)
Moon Sook – Kim Miyeon (odc. 15-16)
Choi Hwajung – prezenterka radiowa [w 2018] (odc. 15, tylko głos)
Lee Seunghun – detektyw [w 2018] (odc. 15-16)
Ha Sungkwang – Kim Hyunseok [w 2018] (odc. 15)
Lee Jiha – Han Malsook [w 2018] (odc. 16)
Shin Eunjung – żona Dongcheola (odc. 16)
Jo Woori – córka Dongcheola (odc. 16)
Park Jungsoo – teściowa Dongcheola (odc. 16)
Kim Kyul
Kwon Hyuksoo
Kim Jungseok
Ciekawostki:
Serial zajął miejsce antenowe po "Mistress", a po nim leciała drama "Voice 2".
Jest to remake brytyjskiego serialu o tytule "Life on Mars" z 2006-2007 roku.
Pierwsze czytanie skryptu odbyło się 12 marca 2018 roku.
Odcinki 9 i 10 nie zostały wyemitowane zgodnie z ramówką 7 lipca i 8 lipca, ponieważ potrzebowano więcej czasu by je nakręcić, emisja tych odcinków odbyła się kolejno 14 lipca i 15 lipca.
Teasery:
RECENZJA:
Neko:
Obejrzałam tę dramę z nudów, bo nie miałam nic innego do oglądania. Nie byłam przekonana do kolejnej dramy, gdzie ktoś przenosi się do przeszłości, jednakże jak zaczęłam oglądać obejrzałam go w ciągu dwóch dni. Nie było to coś głupiego, do samego końca drama trzymała w napięciu i niepewności co się stanie. Były momenty, gdzie można było płakać ze śmiechu i takie, w których się wzruszałam. Obsada jest bardzo dobra, fabuła jeszcze lepsza, a muzyka to normalnie geniusz. Jeśli ktoś nie jest przekonany czy stacja OCN jest w stanie zrobić dobrą dramę to powinien obejrzeć tę produkcję.
Gra aktorska: 10/10
Muzyka: 10/10
Ogólna ocena: 10/10