Nazwa dramy: Mama Fairy and the Woodcutter / Tale of Gyeryong Fairy / Gyeryong Fairy Tale
Hangul: 계룡선녀전
Reżyser:Kim Yooncheol
Scenarzysta: Yoo Kyungsun
Stacja telewizyjna: tvN
Ilość odcinków: 16
Długość odcinka: 60 min
Wskazana dla widzów: 15+
Data wydania: 5 listopada – 25 grudnia 2018
Czas emisji: Wtorek, Poniedziałek o 21:30
Gatunek: Komedia, Romans, Dramat, Fantastyczny
Zarys fabuły:
Drama opowiada historię wróżki, która straciła swój hanbok podczas kąpieli, spotyka ona drwala i wychodzi za niego za mąż. Po śmiertelnym wypadku jej męża, wróżka czeka na jego reinkarnacje. Jest 699-letnią baristką, która dla normalnych ludzi wygląda jak starsza pani, jednakże wyjątkowe osoby widzą ją jako młodą. Ma ona również zdolność do rozmowy z roślinami.
OBSADA:
GŁÓWNE ROLE: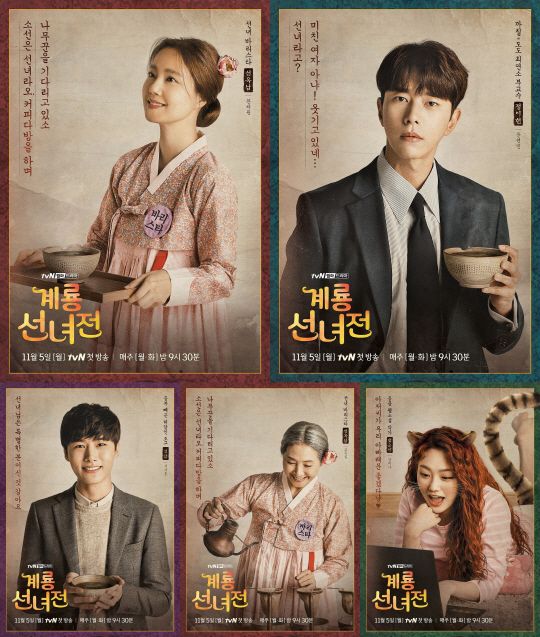 POZOSTAŁE ROLE:
Ahn Kilkang – Nauczyciel Goo
Hwang Younghee – wróżka Oh Seon Nyeo
Kim Minkyu – Park Shinseon [pustelnik]
Jeon Soojin – Lee Hamsook
Ahn Youngmi – Jo Bongdae
Im Haryong – Kim Bukdu
Ahn Seunggyun – Oh Kyungshik
Yoo Jungwoo – Um Kyungsul
Yoo Ahreum – Ahn Jeongmin
Baek Jyunjoo – matka Kim Geum
Yoon Soyi – Lee Ji
Kim Bitnari – studentka prof. Junga 2
Han Dahee – studentka prog. Junga 1
Jung Youngjoo – nauczycielka w świecie wróżek
Son Donghwa – asysten uniwersyteckki Park
Yoo Insoo – student prof. Junga 3
Jung Jihoon – młody Yihyun
ROLE GOŚCINNE:
Cha Yeonwoo – Szlachcic w opowiadaniu
Yeom Donghun – Profesor Park
Kim Sunah – larwa motyla [Głos]
Jung Kyungho – Jeum Dol [głos]
Ha Hyunmin – Calvin Nim [pustelnik] (odc. 3)
Eric Mun – Żaba [głos]
Song Youngjae – właściciel sklepu odzieżowego
Kanf Seungwan – kieszonkowiec
Park Seungtae – przyjaciółka matki
Kim Chaeahn – wróżka i wieśniaczka przed szopą
Son Heesoon – przyjaciółka matki (odc. 1)
Choi Namoo – asystentka profesora Lee Bon (odc. 2, 11)
Kwon Ohgeon – Jeum Dol [młody syn]
Hong Dongyoung – młody Kim Geum
Ji Sungguen – asystent na dworcu kolejowym (odc. 3)
Lee Yengnyeo – kwiat w jej włosach (odc. 4)
Jung Yoomi – Lotos [głos]
Kang Dahyun – studentka prof. Junga 4
Go Doyeon – młoda Jeom Soon
Ji Wonho – młody Kim Geum
Geum Kwansan – kierowca wana (odc. 6)
So Heejung – siostra Bowon (odc. 8)
Seo Yisoo – dziewczyna z watą cukrową
Kim Saekyung – niewolnik w opowiadaniu
Lee Hyorin – dziecko w szopie
Shin Shinbeom – wioskowy pijak (odc. 14)
Choi Jungnam – siostra Yesan (odc. 8)
Son Youngsoon – kobieta na zewnątrz zamkniętej szopy
Choi Gyoshik – osoba z wioski, która cieszy się powrotem Oknam (odc. 13)
Seo Eunsol – młoda Oknam
Ham Gunsoo – kapitan statku
Kim Dongkyu – asystent prof. Parka
Park Kwisoon – mnich (odc. 14)
Lee Doyeon – wieśniaczka proponująca owsiankę
Jang Sanghoon
Kim Jiwan
Ciekawostki:
Drama zajęła miejsce, które wcześniej zajmowała drama "100 Days My Prince", a po niej leciała drama "The Crowned Clown".
Drama bazuje na komiksie internetowym o tytule "Mama Fairy and Woodcutter" napisanego za Dol Bae.
Ogólnie historia opiera się na podstawie koreańskiej baśni "Wróżka i drwal".
Najpierw rolę Sun Oknam zaproponowano aktorce Kang Sora, ale ona odrzuciła ją z powodu konfliktu ze swoim grafikiem.
Pierwsze czytanie skryptu odbyło się 27 maja 2018 roku.
Teasery:
RECENZJA:
Neko:
Mówiąc szczerze, gdy ta drama wychodziła, nie byłam ja jakoś bardzo zafascynowana, miałam mieć ją na czarną godzinę, jakby miało wychodzić coś nudnego, ale z powodu projektu postanowiłam ją obejrzeć. Jak zaczęłam w poniedziałek ją oglądać tak skończyłam ją we wtorek. Była wciągająca aż po granice, nie trzeba kompletnie znać tej koreańskiej bajki, ponieważ została ona bardziej sfabularyzowana. Było dużo śmiechu, obrotów akcji, a końcówka kompletnie mnie zabiła i po raz pierwszy moje przewidywania nie były prawidłowe. Muzyka świetnie dobrana, bardzo dobre efekty specjalne i mimo wszystko gra aktorska.
Gra aktorska: 10/10
Muzyka: 9/10
Ogólna ocena: 9,5/10