Rok 2017 obfitował wręcz w debiuty i comebacki. Jednak oglądając teledyski czy słuchając piosenek można doszukać się pewnych trendów, które nie były albo bardzo popularne w zeszłych latach bądź nie były aż tak zauważalne. Chciałabym przedstawić wam kilka, które zauważyłam razem z Neko w tym roku.
#1 STYL TROPIKALNY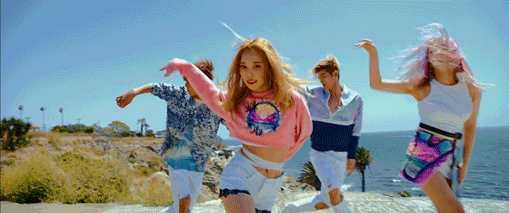 Teledyski w stylu tropikalnym bądź może nawet bardziej wakacyjnym wcale nie zaczęły się w 2017 roku, już wcześniej można było je zauważyć. Jednak zawsze można było rozpoznać go po świeżości brzmienia piosenek, są one bardziej radosne przeważnie w jasnych barwach. Grupy, soliści i nawet raperzy po prostu zachwycili się nim w tym roku!
Przykłady:
#2 DABBING ORAZ BACKPACK KIDS
Nie jest sekretem, że te dwa amerykańskie trendy podbijają świat. W szczególności  muszę przyznać, że dabbing jest tym co dość mnie irytuje. Kiedy Bambam z Got7 zaczął używać go w 2016 roku przy każdej okazji nie spodziewałam się, że aż tak bardzo podbije to koreańską scenę muzyczną. Drugą z rzeczy wymienionych zauważyłam tylko raz w piosence od programu Mixnine i mówiąc szczerze mam nadzieje, że na 2018 roku ta moda przeminie.
Przykłady:
Dabbing:

 PSY – NEW FACE
 backpacks:

MIXNINE – Just dance
BTS – Niestety nie wiem w jakiej piosence został ten ruch użyty, bo po prostu rzucił mi się w oczy podczas jednego z odcinków Countdown i nie było nazwy piosenki, za co bardzo was przepraszam, jeżeli ktoś wie może do nas napisać uzupełnimy.
#3  Zespoły
W 2017 mieliśmy pełno debiutów zespołów, znaczy pełno jako pojęcie względne bo po prostu debiutowało ich więcej niż kiedykolwiek indziej. Dodatkowo inne zespoły, już po debiucie, zdobyły większą popularność.
Przykłady:
#4 Solistki
Był to nie wątpliwe rok solistek! W 2017 bardzo, ale to bardzo dobrze na nie reagowano, i dziewczyny w końcu mogły się wybić. Dużo debiutowało też po tym jak odeszło z jakiegoś zespołu. Był to też po prostu bardzo kreatywny rok nie tylko dla debiutantek, ale i solistek debiutujących już wcześniej.
Przykłady:
#5 Instrumentalne przerwy muzyczne
Przyznam się szczerze nie zwróciłam na to uwagi, dopóki ktoś z mojego otoczenia tego nie zauważył, a stało się to nagminne. I nie powiem te dance break są zdecydowanie jednym z moich ulubionych momentów w piosenkach. Nic tylko słuchać i patrzeć.
Przykłady:
#6 Survival Show
Coś co akurat bardzo mnie cieszy, a mianowicie rok survival show! Od Produce101 sezon 2 aż po MIXNINE, było co oglądać! W dość trudnym dla mnie okresie właśnie The Unit i MIXNINE wyciągnęły mnie z depresji. Nie powiem nie żałuje ani minuty spędzonej na oglądaniu ich, oraz ani minuty na przekonywaniu znajomych z Korei na kogo mają głosować skoro ja nie mogę. Jednak mimo wszytko mam nadzieje, że w 2018 będzie ich jednak mniej, bo nie wiem jak zaliczę moje studia.
Przykłady:
Produce 101 sezon 2
Idol School
 Stray Kids
The Unit
  MIXNINE
#7 Mówione teksty
Chodzi po prostu o to, że sylaby są przeciągane. Nigdy wcześniej tego nie zauważyłam, a wiem, że jest to trend nie do końca podobający się ludziom. Według nich jest to słaba podróbka rapu, dla tych co nie umieją. Mi się to z rapem nie kojarzy, a wam?
Przykłady:
#8 Duże grupy
Jest to trend, który zauważyłyśmy z Neko już na początku roku, a mianowicie, grupy robią się coraz to większe i większe, nie są już to pojedyncze przypadki, a praktycznie co druga grupa liczy sobie średnio po 8 lub 9 osob,  skrajnie dochodzi to nawet do 14 osób. Niby fajnie gorzej z zapamiętywaniem imion ….
Przykłady:
Już nie mogę się doczekać co dla Kpopu przyniesie 2018